Richard's story: Becoming a family mentor
6 March 2019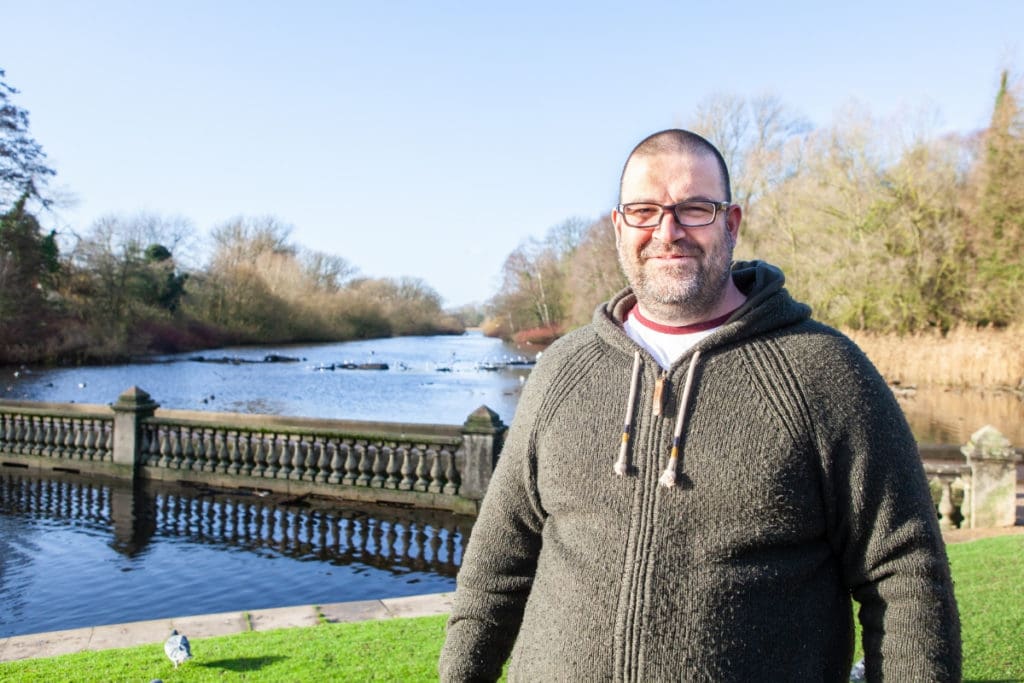 When Richard's wife Zoe went into hospital, they were expecting her surgery to be a routine procedure. Unfortunately, mistakes following the operation meant Zoe sustained a spinal cord injury. Not only was this life-changing for Zoe herself, the sudden injury had a massive impact on the whole family.
"Everything changed following Zoe's injury. I found myself commuting back and forth between home and the spinal injury unit, while juggling looking after our three-year-old daughter and trying to prevent my engineering business from failing."
During Zoe's rehabilitation, Richard was struggling to cope. He found himself constantly trying to "fight fires" – making hard decisions and overcoming problems on a daily basis.
"Some days I would have to decide between looking after Tilly and visiting Zoe. She didn't want her to visit at first, so there was a lot of pain and suffering around that. We also had family members constantly trying to jump in and help – which was a hindrance because many of them didn't understand the severity of the situation."
After Zoe returned home, Richard still found himself facing difficulties. He felt a lot of frustration at the issues Zoe faced as she adapted to day to day life. Although normally quite a laid-back person, he found "a bit of a red mist" descending when faced with problems like lack of disabled parking spaces. It was at this point that Richard realised that he needed to speak to someone in a similar situation.
Thinking back to an advert he saw for Back Up in the spinal centre, Richard got in touch with our family mentoring service. He was paired up with a mentor who had been through similar experiences to him.
"It was good to hear that the frustration and anger I was feeling was normal.
"I found it massively helpful to be able to chat with someone who had the same thoughts and feelings as me. It helped me realise that my emotions were all part of a natural process."  


A few years later, Richard received an email from Back Up advertising for new volunteer family mentors. Remembering how much having a mentor helped him, Richard decided to go for it and train to become a mentor himself. 
 
Passing on his advice and knowledge to other families is Richard's favourite part of mentoring. He feels great being able to "tell people things are going to get better. It's important that people understand that."  
 
Richard soon got involved with volunteering at relatives days at spinal centres around the UK too.  
 
"Andrew, Back Up's Interim Family Outreach Manager, convinced me to come down to lead a relatives day at Stoke Mandeville. I found it daunting at first – I'm an engineer, not a public speaker! – but after my first one I found it to be just like mentoring." 
 
Richard sees Back Up's spinal centre relatives' days as an essential part of the rehabilitation process. Through open communication, they let family members discuss issues they may not feel comfortable talking about with anyone else. Family members can often put their own needs to the side following the injury of a loved one. They don't always have all the information they need and can feel uncertain about the future.
"There's often a lot of denial and self-blame, so providing support for people around the injured person is so important." 
Through volunteering at relative's days, Richard wants family members to understand that they need to "not be hard on themselves." When a loved one sustains a spinal cord injury, you will find yourself having to adapt to a new life alongside them. You can end up facing whole new difficulties, so it's good to know that there are always people you can share your worries with. 
 
If one of your loved ones has sustained a spinal cord injury, we offer telephone and face-to-face support. Visit our website to find out how you can get paired up with a family mentor. If you want to find out more about relatives days and spinal centre visits you can get in touch with our family outreach service on 020 8875 1805.