Wheelchair user research 2017
Back Up recently commissioned research into how people choose, use and fund their wheelchairs.
Back Up is a leading UK spinal cord injury charity. Every year we support over 1,000 people affected by spinal cord injury through teaching essential wheelchair skills; supporting people going back to school or work; providing trained mentors to listen and offer advice to people with a spinal cord injury and their families; taking people on life-changing residential courses in everything from skiing to kayaking to negotiating a new city using a wheelchair – and much more. We work closely with the 11 spinal cord injury centres across the UK to ensure that people affected by spinal cord injury receive all the support they need. So, we knew we were well-placed to talk to people about the difficulties people might face when sourcing a wheelchair.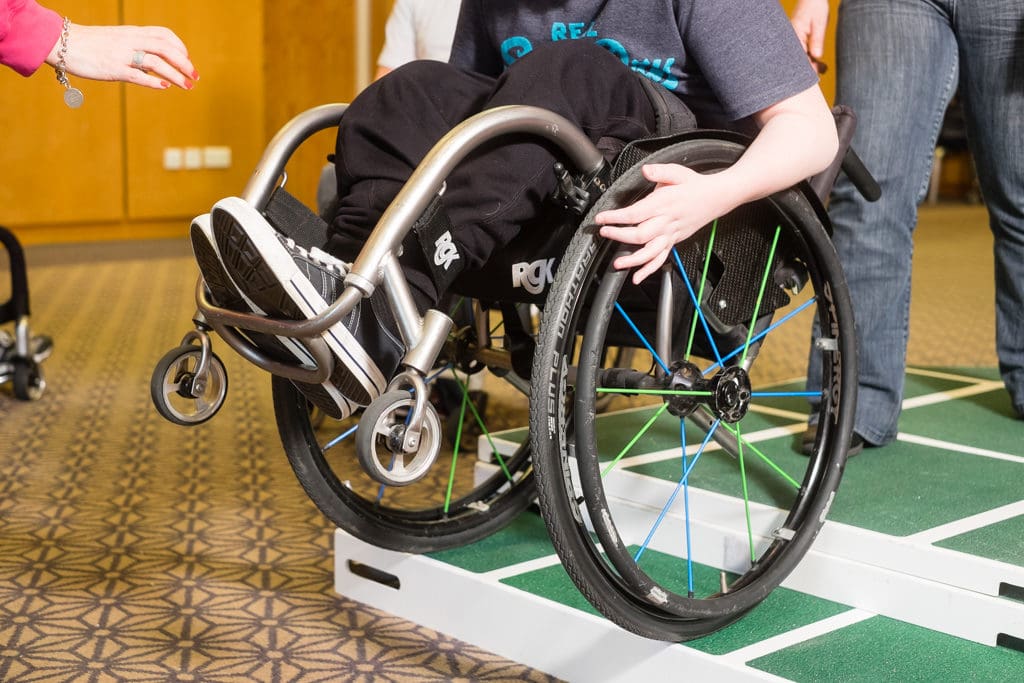 Earlier this year, we surveyed 540 people who have a spinal cord injury or a physical disability, and identified as full-time or part-time wheelchair users. They told us about their experiences of getting their first wheelchair, how they choose it, pay for it and how they use it. The results are worrying: what should be a seamless and painless experience – since it often follows a devastating injury – is in fact rarely straightforward, prohibitively expensive, often disproportionately time consuming and the outcome is frequently unsuitable.
Back Up has a voice on the Clinical Reference Group for Spinal Services and contributed to the recent NHS England Service Review. Through these channels and in collaboration with Aspire, SIA and others, we continue to voice our concerns around quality wheelchair provision ensuring that newly injured people can get timely access to a wheelchair that meets their needs.
Key findings
1.    The First Wheelchair
Usually, a first wheelchair is provided by NHS wheelchair services. They offer a chair or a budget – which used to be called the voucher scheme – towards the cost of a chair of the user's choosing. Making the right choice can be challenging at this stage, when people have limited knowledge of what they might need.
As it turns out, there are a vast number of factors to be considered: weight, comfort, size, durability and adjustability all play a huge bearing on getting the right wheelchair.
Support at this stage is therefore crucial. However, it is also variable: 24% of respondents stated that they bought a second wheelchair because their first one was uncomfortable.
Finding a chair that can adjust as your needs change is vital.  People need adjustable wheelchairs to enable independence and to prevent long-term injuries like shoulder problems.  However, 50% of those surveyed told us they bought a second wheelchair because of changing personal needs. This suggests that the current system is not addressing the issue.
48% stated that they only got a wheelchair they were happy with after one year, and 7% remain who have never been happy with their chair.
Comments from respondents:
"[the wheelchair was] completely [the] wrong shape and size for [my] body and [I] constantly fell out of it."
 "I took the free NHS one instead of the voucher the first time I needed one, but found it far too heavy and cumbersome for easy/sensible use."
"First chair was a 'temporary' steel-framed monstrosity which I had for three years before the NHS could be persuaded to replace it with my current, made-to-measure aluminium-framed chair."
"Don't rush into buying a chair, work out what you need first. They're expensive and so if you get the wrong one, it'll be an expensive mistake. If you're recently injured, you can change lots in the first year."
2.    Try Before You Buy
The consensus was that you should try out a prospective chair several times in different environments, and you should always make sure that it's practical.
72% of respondents said they trust other wheelchair users' opinions when choosing a new chair.
Other trusted sources include physiotherapists and occupational therapists, with wheelchair services the fifth most trusted source of expertise followed by sales representatives.
This suggests that professional support available to get a wheelchair can be of a variable quality. Many did report receiving excellent support from NHS professionals and peers, but not from other sources.
68% also recommended doing online research, particularly of wheelchair manufacturers' websites.
Comments from respondents:
"I would only trust myself and other wheelchair users."
"I would listen to anyone who works with wheelchairs and wheelchair users regularly or is one."
 "Define what you need the chair to do, speak to other wheelchair users, get as much info as possible, and always, if possible, try out the chair before buying.'
"… if I knew then what I know now then I'd have spoken with places like Back Up and other wheelchair users."
3.    Financing Your Wheelchair
We asked people how they funded their wheelchair and to select all that apply if it was funded by more than one option. 
| | |
| --- | --- |
| Paid for it myself | 39% |
| Paid for by friends / family | 8% |
| Grant from a charity | 7% |
| Wheelchair voucher scheme | 26% |
| Access to work | 8% |
| Finance scheme | 1% |
| Motability | 1% |
| Free option from Wheelchair Services | 37% |
| Other | 12% |
39% of respondents paid for their wheelchair themselves, some people using a mixture of funding streams. We do not know how respondents funded that payment for their wheelchair i.e whether respondents fully or partially funded the wheelchair, or if they received a voucher and what that voucher was worth. However, this suggests that the voucher was, in general, not enough to cover the cost of a wheelchair that allows someone to lead a full and active life.
Aspire, our partner spinal cord injury charity, provides grants for a range of disability equipment. Last year, 70% of all the grants they provided were for wheelchairs and mobility equipment. Of the people who had a NHS wheelchair voucher and applied to their grants programme, the average difference between the voucher and the wheelchair needed was just shy of £3,000.
50% of respondents stated their wheelchair cost up to £4,000, and 10% up to £6,000.
6% of respondents stated their wheelchair cost less than £1,000.
Many report that disability equipment is very expensive, placing them in a difficult position: you can choose an affordable wheelchair, that may not meet your needs, or pay a vast sum to get the chair that gives you the best quality of life.
At Back Up, we believe that with the right wheelchair, people can build on the skills they have learnt, increase their confidence and independence, and lead active and full lives.
Comments from respondents:
 "ALL wheelchairs are far too expensive, you could have a decent second-hand car for what it costs for a decent chair."
"So I asked for the voucher scheme and received a rather big shock. I was entitled to a "full" voucher about £200-£250. When I arrived in the shop hoping to purchase a new chair I was told I would need at least £1000 for one that suited my needs."
4.    Wheelchair Training
95% of respondents agreed that wheelchair training was essential.
But 33% – who did not specify what level of specialist care they had received, if any, following their illness or injury – had received no training in how to use a wheelchair.
People who did receive training attended sessions run by other wheelchair users, such as Back Up's wheelchair skills sessions in spinal units throughout the UK. These sessions are for both manual and power chair users.
However, 75% of respondents did state that they are using their current wheelchair to its full potential.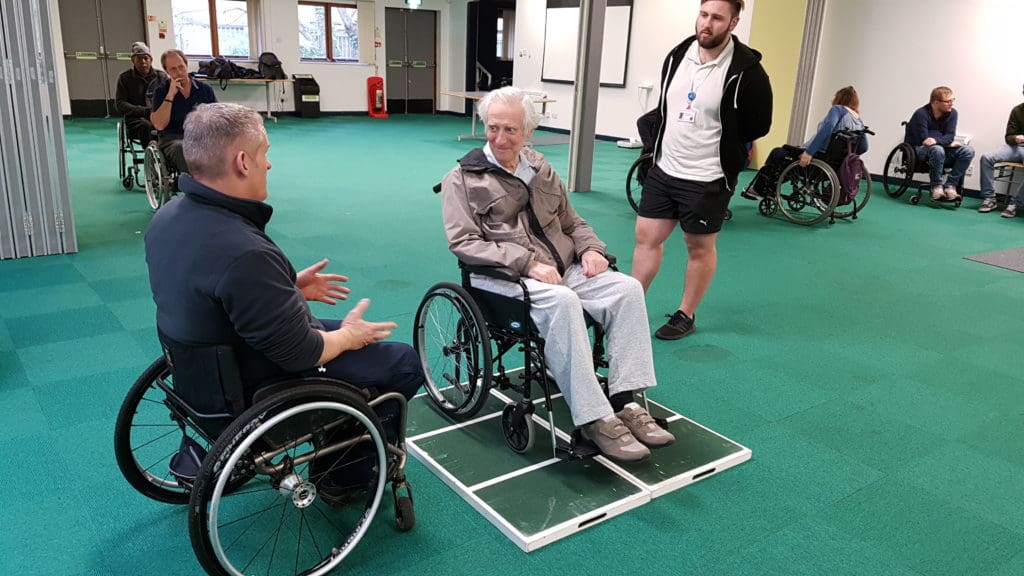 Case studies:
1.    Merryn, 25, London – ''My experience was pretty frustrating. I found it all very daunting and complicated. Different funding avenues are confusing and it's hard to know where to start. There needs to be a better way of measuring you up for a wheelchair too. There's currently no way of knowing if you'll be comfortable in your new chair before you buy it. So it feels like your risking a lot of money getting measured up for something that still might not feel right.
''Wheelchair skills training is so important. It allows me to live more independently, and gives me the ability to take more direct routes by choosing to go up or down a curb rather than looking for a ramp or dropped curb which could be far away. It allows me to do things for myself rather than relying on others too.''
2.    Jacques, 43, London – ''When I moved to the UK, I didn't know about funding for a wheelchair. It was only because I was playing wheelchair basketball that I found out about the voucher scheme. My first wheelchair I bought here was decent. I could have got a better one, but I couldn't afford to spend much more. I used the voucher and paid money on top to finance it. How much you receive through the voucher scheme is a total postcode lottery though.''
Methodology
We set out to ask a range of questions relating to all aspects of buying and using a wheelchair including:
Where you bought it and how much was it?
How do you use your wheelchair?
How satisfied are you with your wheelchair, the service you received, and the support available to make the choice?
How confident are you using a wheelchair? Where did you learn to use a wheelchair?
We received detailed responses from 540 people, all of whom had a spinal cord injury or a physical disability and identified as full-time or part-time wheelchair users. We approached people directly through our own channels, and through other charities that operate in the disability sector. The research was compiled between December 2016 and January 2017. Our questions were refined by Pragma, a specialist market research agency.
Contact
For more information and to discuss possible photography and filming, please email Mark Reed (Communications Manager) or call him on 020 8875 6773.