Reading Half Marathon
Date: Sunday 17 Mar 2019

Sponsorship Target:
£300
Distance:
Half marathon
Accessibility:
Suitable for wheelchair users
We're delighted to announce that Back Up have places available in The Sage Reading Half Marathon. This fantastic event not only takes in the highlights of the centre of Reading where you will experience huge crowd support, but also passes through the beautiful grounds of the University campus.
The race culminates in a finish rarely found outside an Olympic stadium. With over 15,000 people cheering you into the stadium and over the finish line, it will be a day to remember.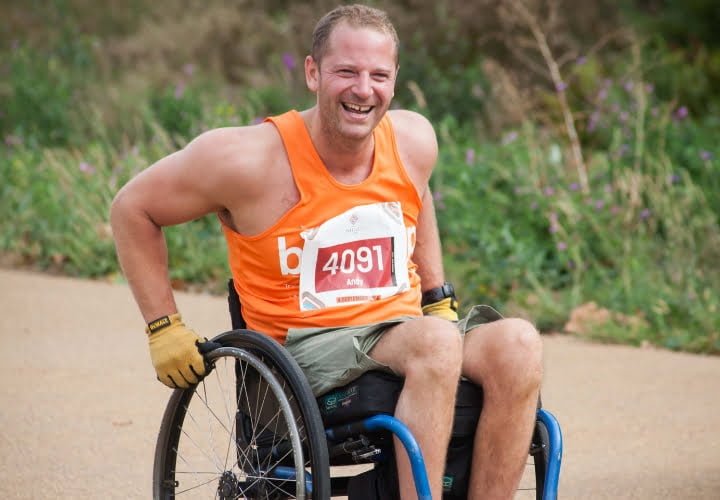 Why join the Back Up team?

You'll receive lots of support from our lovely fundraising team with regular updates, hints and tips to help with your preparation and targets.
We'll provide you with a bunch of goodies to help you reach your fundraising goal.
You'll receive one of our brightly coloured Back Up T-shirts/running vests to make sure you stand out.
As a runner for Back Up you will have exclusive access to the VIP hospitality lounge in the Madejski stadium, where you can celebrate your success with Sage colleagues, customers, partners and other charities.
In addition to this, you will receive:
A sage foundation $1-million-dollar challenge running t-shirt complete with the Back Up logo.
Training support
Team Sage support on race day
Photography
We will be taking photos and videos at the Reading Half Marathon for use in Back Up's fundraising and marketing materials. If you want to find out more about how photos and videos will be used, or if you're attending this challenge and do not wish to be featured, please contact our fundraising team using the details at the bottom of this page.
You can find the link to our terms and conditions at the bottom of this page.
Contact
If you would like to take part in this amazing challenge or would like more information then please give Beth a call on 0208 8875 1805 or send her an email.