The Spinal Circuit
Registration: None
Sponsorship Target: £100
Distance: Push yourself as far as you can
Duration: Until 15 May 2020
Accessibility: Fully Accessible

During this current time of social distancing, you may be looking for a new challenge – we have the perfect answer for you. Back Up is excited to launch The Spinal Circuit. This is a solo, virtual challenge for you to help us raise the vital funds we need in the coming months. Our services rely on events and challenge fundraising and the global COVID-19 health crisis has left us rapidly adapting our work whilst facing a dramatic loss of income. We need your support now to keep vital projects alive and ensure we are here to support people affected by spinal cord injury now and in the future. We are aiming to raise £10,000 through this challenge.
The Spinal Circuit encourages you to walk, run, wheel, or cycle as far as you can around your local area. You can also complete the challenge on a piece of exercise equipment in your own home and record the distance you covered. We're challenging you to set yourself an individual target and contribute to our total distance. We want the Back Up community as a whole to complete as many virtual circuits around all 11 spinal units in the UK as possible before Spinal Cord Injury Awareness Day on 15 May. One complete circuit is a whopping 1799km!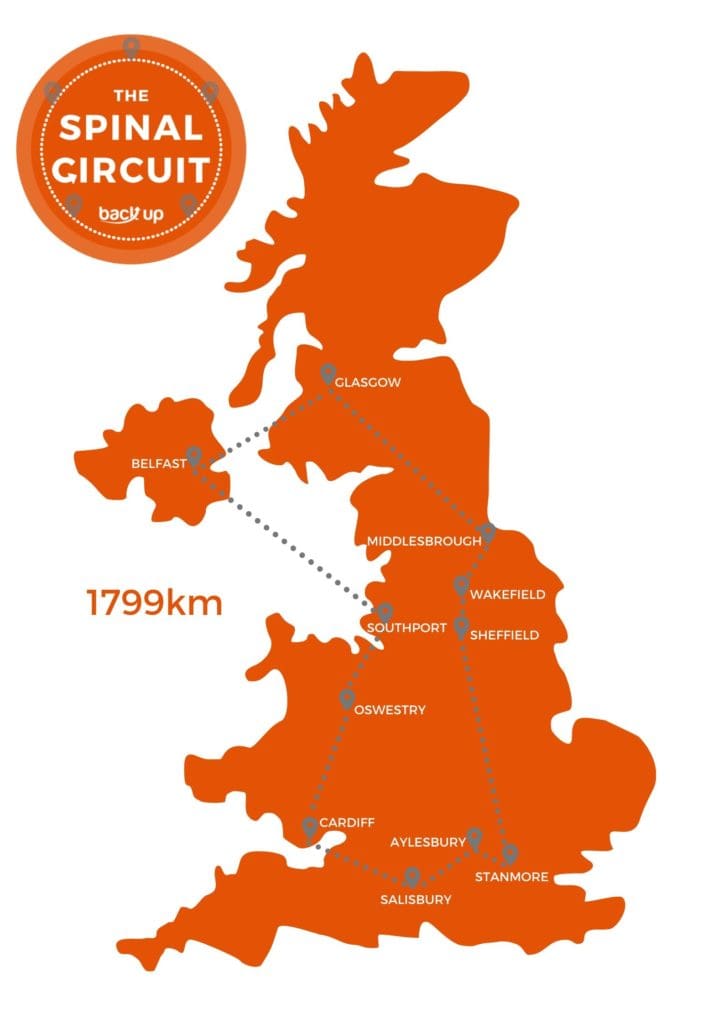 Please do not organise to do this in groups. Current government advice is that it's safe to exercise outside at a safe distance from other people. Please read and adhere to the Government's guidance which can be found here. If you have been identified as an extremely vulnerable person and advised to stay at home at all times as part of shielding you should complete the challenge using an indoor fitness bike, SkiErg or something similar which can record your distance covered. If the government advice changes, The Spinal Circuit will be paused, and re-opened for the remaining duration once it is safe to do so.
To take part, simply sign up for free, set your target then go out and do your chosen activity. Set yourself a challenge, be it to walk a total distance of 5km or to get on your bike and cover 500km over this period. The Spinal Circuit will run until Spinal Cord Injury Awareness Day on 15 May and we encourage you to fundraise for Back Up whilst taking part. If you raise over £100 you will be rewarded with an exclusive Spinal Circuit medal!
Know more people who would like to take part? Why not try and complete the whole circuit in your own virtual team?
Register to take part
If you'd like to take part in The Spinal Circuit, you can sign up for free below.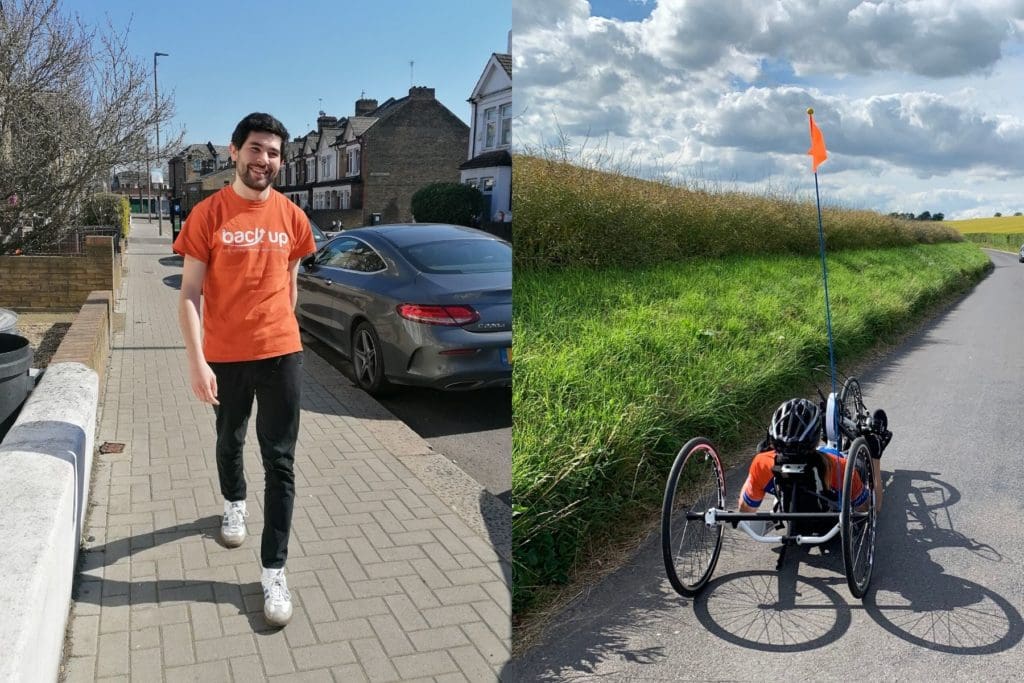 What next?
Once you have signed up, you can join our Club on Strava to see how well everyone else in the Back Up community is doing with their own separate challenges. Remember to share your pictures using #SpinalCircuit.
Don't worry if you don't use Strava! To log your distance, all you have to do is download any fitness app onto your phone (like Strava, Google Fit or RunKeeper) and use your phone to track your distance whilst you do your exercise. You can also use a sports watch or band like a Fitbit or Garmin or train using a indoor fitness bike or running machine. We will ask you to send your total distance each week so we can keep moving around the circuit. You can do this by sending a picture of your exercise with a distance on it – see the picture below for an example.
You can send your distance to us by: