Sit-Skiing in Colorado
Date: Saturday 2 - Tuesday 12 Feb 2019
Location: Colorado
"Being on the mountain felt like being on top of the world and then to ski down… all whilst still being paralysed. It's something good that truly seemed impossible until Back up changed that for me. Thank you so much.it It was just an incredible feeling."

Dan (31, T9 complete), Colorado participant 2017
This ski course is for people with a lower-level or incomplete spinal cord injury (typically T1 and lower but some people with low C level injuries may be suitable), where hand and arm function is not affected. The aim of the course is to boost your confidence in a challenging and exciting environment. There will be a spinal nurse or PA to help out with any care needs.
The course takes place in Colorado, USA and all participants will fly there and back as a group. This may be the first time that you have flown since your injury which will help develop confidence and independence. You will stay in a hotel in the centre of the resort for the duration of the course. There will also be the opportunity to experience the local apres ski.
The outward journey will be an early-morning flight from London Heathrow and the group will return on an over-night flight from Denver, Colorado. The course will include 6 days of skiing with a rest day and accommodation at the Winter Park resort.
Everyone will have ski tuition at the National Sports Center for the Disabled (NSCD) which is a Colorado-based adaptive sports programme and you will be supported by experienced ski instructors and Back Up volunteers.
Please note – Due to the nature of the ski equipment, the NSCD has a strict weight limit of 90kg/14st.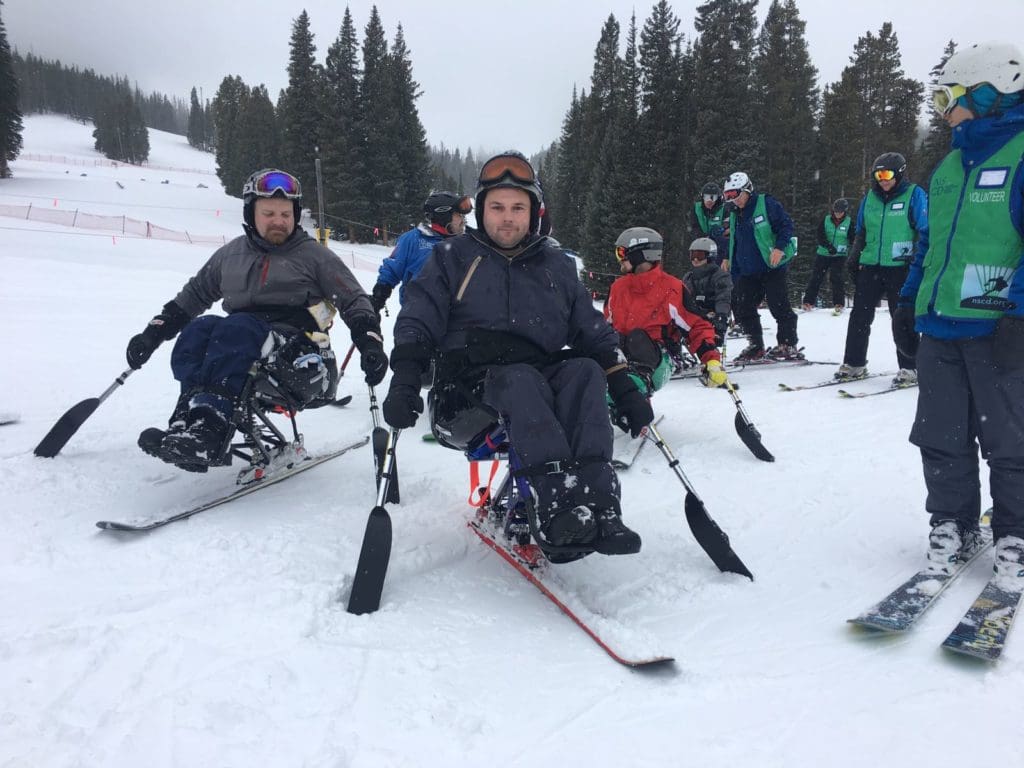 Contact
If you would like some further information please call the courses team on 020 8875 1805 or email us.
Interested?
You can apply online, or request a paper copy of the form 
Please apply as soon as possible as we will start allocating spaces at the beginning of November 2018. If we receive your application after all spaces have been filled, you may still be eligible for a space on the reserve list so please do get in touch. We can also signpost to other organisations who may be able to offer ski experiences.
UPDATE: Spaces are now only available for the reserve list. 
If you would like to discuss your suitability for the course please contact the office on 020 8875 1805.
Supported by