Christmas Appeal 2020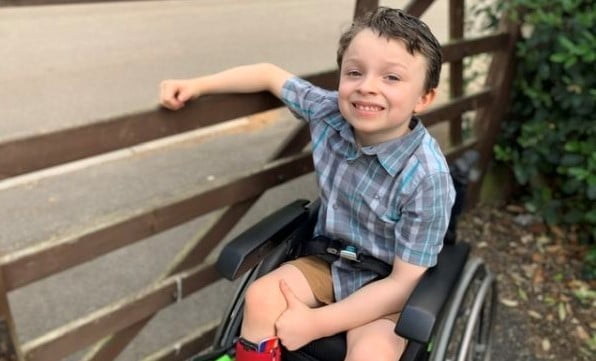 "We wouldn't be where we are or have the strength we have if it wasn't for Back Up" – Anna-Marina, Emerson's mum.
Can you make a gift and Transform a Life this Christmas?
Donate now and read Emerson's story below.
Life changed dramatically for Emerson's family when, aged just 19 months old, a cyst on his spinal nerve left their energetic toddler paralysed from the chest down.
After meeting Back Up at Stoke Mandeville, Emerson attended a Back Up multi activity course where his confidence soared. He also received support from Back Up's Education Inclusion Service who worked closely with the family and his school to put together an Education, Health and Care plan.
Like many families affected by spinal cord injury, the Covid-19 pandemic has meant additional strain and worry this year. Emerson did contract but thankfully made a full recovery from Covid-19. Back Up have responded to the increased demand, adapted how we deliver our services, and we've been supporting isolated people, worried about their respiratory and immune systems.
Please give generously and stay safe this Christmas.
Thank you and Merry Christmas from Back Up.
Click here to read Emerson's full story