Back Up on Track
Welcome to Back Up on Track! In partnership with the NHS, we've created Back Up on Track to help people affected by spinal cord injury improve independence, increase understanding and build confidence.
Want to register for your personalised support package? Fill in the relevant registration form below and one of our team will get back to you shortly.
Register for Back Up on Track Family Support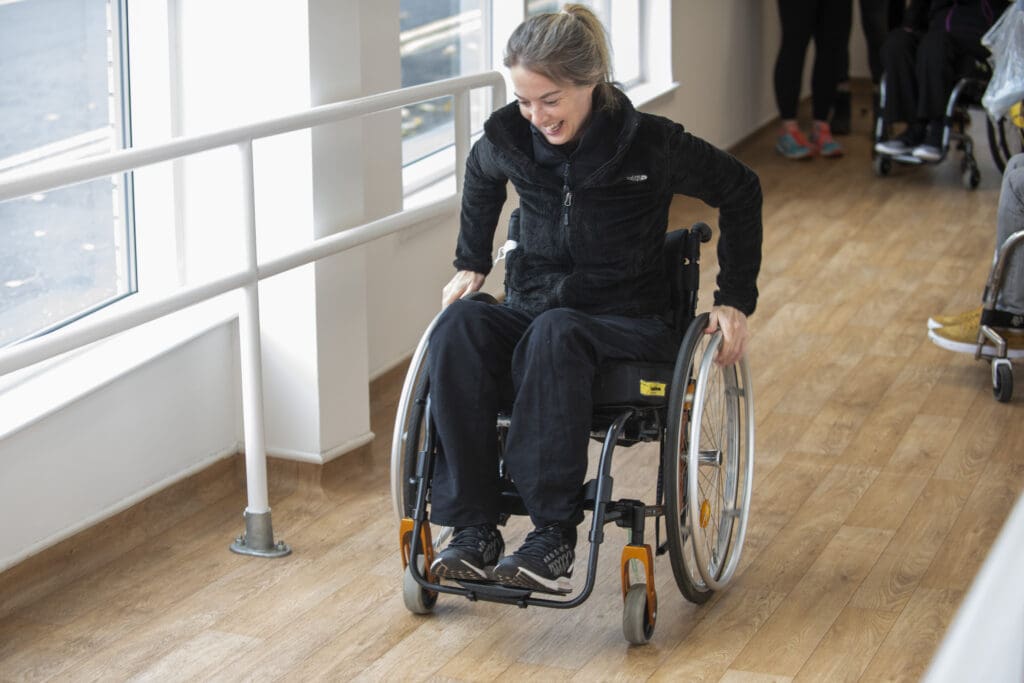 Who we are
Back Up is a national charity which helps individuals, and their families, rebuild confidence and independence after spinal cord injury.
Today, we're at the forefront of helping people adjust positively. Our award-winning services challenge perceptions of what's possible by building a person's confidence and developing their practical skills. Over 400 highly skilled volunteers and staff make up our team – many of whom are personally affected by spinal cord injury. Our support is provided by people who have been there and can understand what you are going through.
Ultimately, we're here to help people affected by spinal cord injury realise their full potential.
So, what is Back Up on Track?
We know the positive and lasting impact our services have on people affected by spinal cord injury. But, we also understand that everyone's journey is different. Different people need different services at different stages of their rehabilitation and adjustment.
Back Up on Track offers a personalised range of services. We help newly injured people and family members get the support they need, at a time, and in a way, that suits them best – be that digitally or in person.
The services are aimed at developing both the practical skills and confidence needed to effectively support people from injury to independence. Together with the NHS, our aim is to provide a holistic package of support, designed to meet an individual's needs, to help them thrive post-injury.
Unsure of what services would benefit you most? And when is the right time to access our services? That's exactly what Back Up on Track is here for. To help you navigate your own unique path post-injury.
What are the different services on offer?
Wheelchair skills training
This training includes in-person wheelchair skills training sessions, run by wheelchair users, and access to new online resources. Wheelchair skills training covers; basic pushing, back wheel balance, going up and down kerbs, one handed pushing, and power chair skills. These skills are essential when it comes to building independence.
Mentoring
Our mentoring service links people with a spinal cord injury, to volunteer mentors who've been in similar situations but are further down the line. We also offer a similar service for family members. Our mentors come from all walks of life and we meticulously match people up based on age, interests and level of injury. All our mentors have been trained by clinical psychologists to effectively provide support through listening skills, action planning and goal setting. As such, our mentors can help you build confidence and adjust to life post-injury.
What Next? course
Our What Next? course consists of a virtual course and an e-learning resource, which aims to empower you to create an effective self-care routine. The course and resource cover vital topics, such as; dealing with fatigue and pain, relationships, personal care, bladder/bowel, addressing gaps in rehab knowledge, isolation/loneliness, adaptations, physical and emotional wellbeing, and body image. You'll have access to all the resources long after the course, so can refer back to learnings at any stage of your recovery.
Family support
We understand that spinal cord injury doesn't just affect the individual, it can affect family members too. As such, we provide tailored services, including family days and mentoring, to help the whole family positively adjust to life post-injury.
Online support: The Back Up Lounge
The Back Up Lounge is an online forum open every other Wednesday from 6pm – 7pm for everyone aged over 18 affected by spinal cord injury. No conversation topic is off-limits. You're in the driving-seat. So whether you're looking for tips on adaptable exercise, bladder and bowel management or just fancy a chat, The Back Up Lounge provides a safe and comfortable environment for all.
Personal stories
Yasmin
While free climbing on a climbing wall, Yasmin damaged her spinal cord at the T12 – L3 level. Throughout her rehabilitation and recovery she felt like she had to fight to prove herself. After experiencing a lot of uncertainty in the early days, she reached out to Back Up and was matched with a mentor.
"I became more confident by sharing my feelings with my mentor. She had similar experiences to me, even though she was eight years down the line. This made me feel not alone."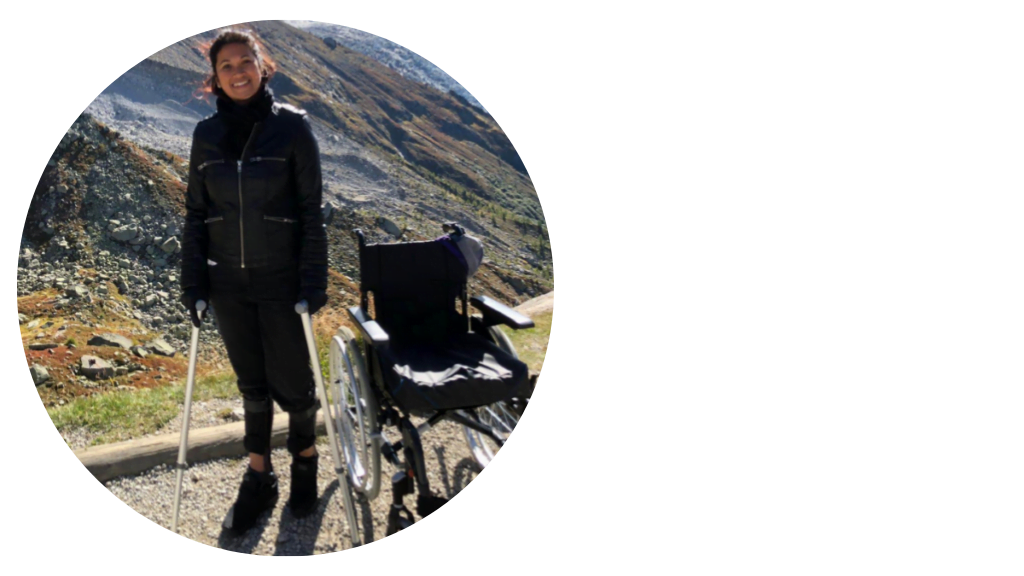 Check out Jasmin's journey.
Christopher
Christopher experienced a spinal stroke in 2019. After being discharged from hospital ten days before the coronavirus lockdown began, Christopher' support networks became unavailable. Everything from physio to orthotics, and podiatry help to accessing a GP, became really difficult to access. That's where Back Up's What Next? course came in.
"What Next? supported me adjusting with the transition from hospital to home. The two day course provided me with practical advice from spinal cord injury specialists and people in similar situations. It allowed me the opportunity to ask questions about my spinal cord injury in a safe and supportive environment."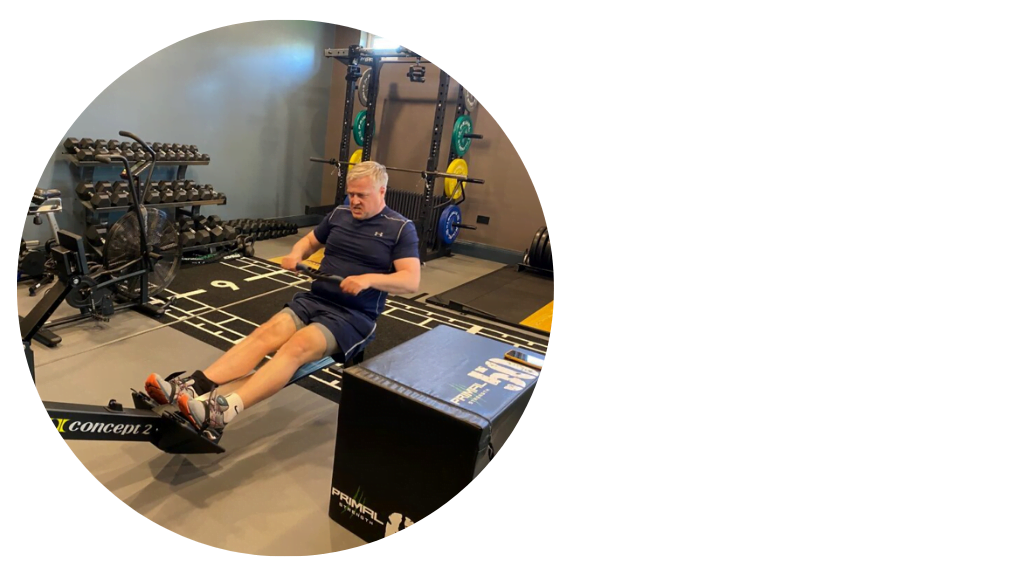 Check out Christopher's journey.
Terry
Terry struggled with adjusting to his injury in the first few months. He found it really hard to take in at first. But, after taking part in a wheelchair skills training session, Terry's outlook changed. He then decided to get involved with our mentoring service, which he cites as 'the best decision' he's ever made.
"I first met Back Up at a wheelchair skills session – there was bright orange everywhere! I remember thinking that the staff were so friendly and they were like a breath of fresh air."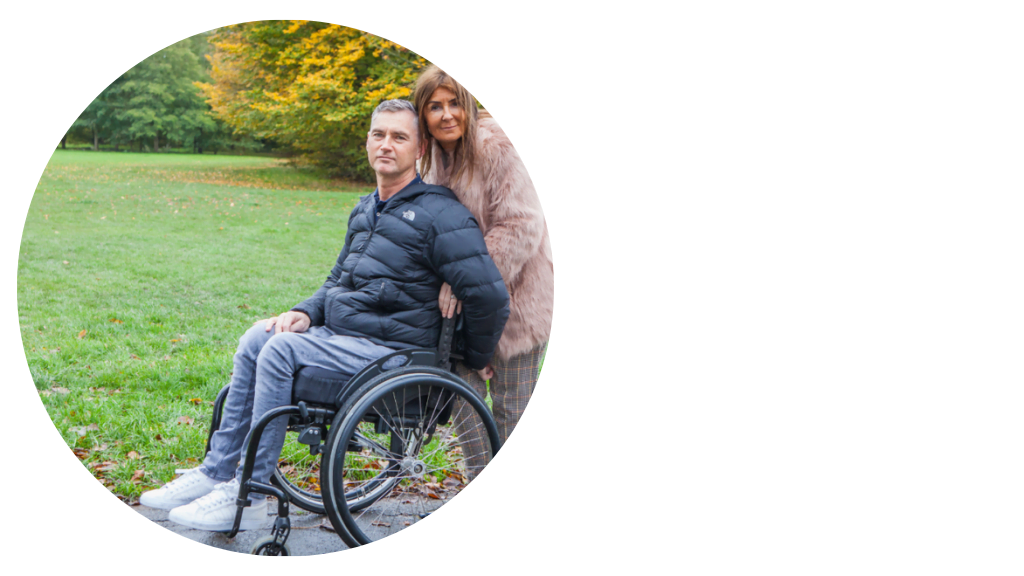 Check out Terry's journey.
Will
Will sustained a complete spinal cord injury at the C4 level in 2012, during a charity triathlon. He accessed our mentoring service and was matched with a mentor who had a similar level of injury, and similar interests. Mentoring had such a positive impact on Will, that he decided to try out our power chair skills training.
"Back Up's power chair skills training showed me what was possible. I learned how to manoeuvre my chair, get over thresholds, and navigate different terrain. It was good to learn these skills from people with shared experiences."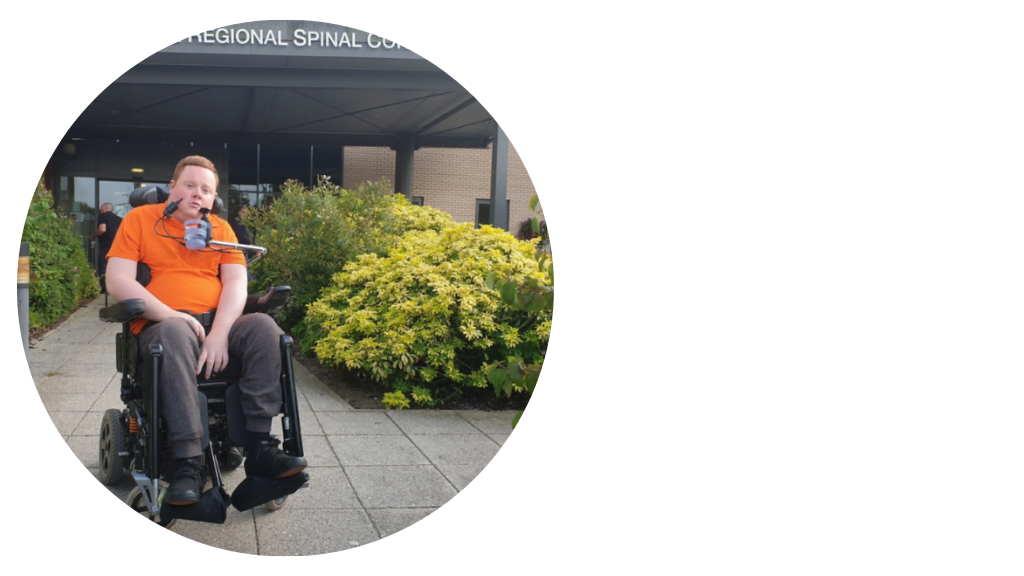 Check out Will's journey.
Lynne
After Lynne's husband, Sean, experienced a spinal cord injury she struggled with keeping positive for Sean while also holding everything else together. She juggled logistics – ensuring the family home was accessible – while looking after their three children. In order for everyone to adapt, the whole family needed support. That's where Back Up stepped in.
"Friends and family can listen to you talk about spinal cord injury but they don't know what it's really like. It's good to talk to a Back Up mentor, they understand what you're going through."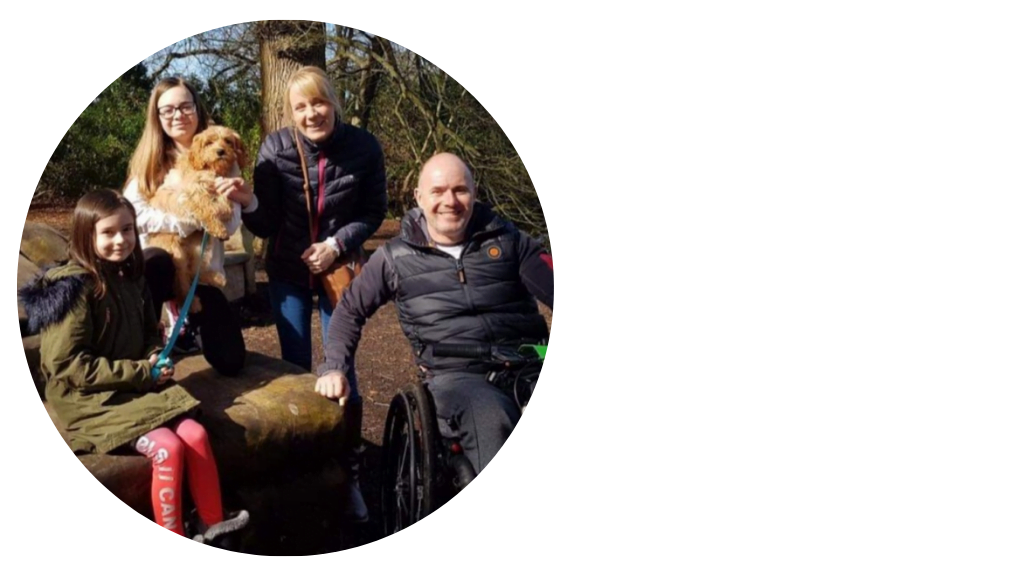 Check out Lynne's story.
Contact us
If you'd like learn more about Back Up on Track, register your interest and the team will get back to you shortly or give them a call on 020 8875 1805.