Working with Teaching Assistants, Personal Care and Academic Support
The use of additional staff to support students both academically and physically is common with children and young people with a spinal cord injury. Called Teaching Assistants, Personal Assistants or Learning Support Assistants (in the toolkit we will refer to them as TA's), these staff can offer invaluable support and assistance for students who are regaining their confidence.
"The school assigned me my own PA which was very helpful. There was a lot of pressure on me with the incident and with my GCSE's coming up, it was nice to have some of it taken off my shoulders. The assistant would come into my lesson and remind me what I have next so that I wouldn't be late."

Dean, 15
However, it is vital that TA's are trained and aware of the importance of maintaining professional boundaries and supporting students' need to be independent and social – sometimes without the presence of the TA. Full and proper training at the outset is crucial as the young person may not have the skills or confidence to direct and instruct the TA as an adult would. TA's must also recognise the importance of students' autonomy for learning and in the classroom.
"The TA of a spinally injured student needs to be very flexible and understand they will be learning alongside their student. The role is diverse and includes the pastoral and academic. This might include helping the student drink and eat, transporting the student from lesson-to-lesson; helping her plan study time and acting as a link between subject teachers, academic and pastoral mentors – and of course home. The TA sees the most of the student and takes her welfare and wellbeing seriously. The TA is often the first to notice things which ensure we offer the right level of support and care at the right times."

SENCo, Gloucestershire
In an Institute of Education report on the school lives of children and young people with spinal cord injuries (Knight et al, 2008), one student reported feeling smothered by overbearing TA's:
"Science has caused me a few problems. In terms of practical, I need TA's with me [for health and safety reasons] which I've not been comfortable with – you want your freedom. The TAs ask me 'is there anything you need? Are you OK? And I wanted to shout at them, 'I'm not mentally disabled you know, I'm physically disabled. If I want anything, I'll tell you!" 

Ali, 15
Others worked with TA's who were patronising, mollycoddled them or overstepped professional boundaries:
"Some try to become your friends with you which isn't what I want, especially when they're 60 or whatever!" 

Ian, 16
TA's should also be fully informed about the particular requirements of the student, and the child or young person should determine how that information is relayed. It can be particularly helpful to have the TA involved in the development of the student's Education Health Care Plan (EHCP) so they are clear about the aims and strategies of their work and the goals of the student if they are helping them in the classroom.
Here are some strategies to consider when working with TA's:
1.   A good working relationship between the TA and the student is crucial. Hold regular review meetings and ensure there is another trusted adult the child or young person can talk to if they are not happy with the support they are receiving from the TA.
2.   Academically, students need ownership over their own learning processes, so think about how to put choice, control and ownership back in the student's hand rather than in the TA's.
3.   Work with the student and teachers to best understand what support would be most useful and appropriate for the student and then decide how to use the support budget available to best meet those needs.
4.   It is sometimes better for TA's to work with their pupil as part of a small group as this helps the pupil to feel less isolated and to see that all pupils have individual strengths and weaknesses. It can also make working more fun, as it can be too intensive for pupils to be working 1:1 with an adult for much of the day.
5.   Consider ways the TA can fulfil their role without being intrusive. For example, if their main role is for health and safety in an emergency, they may be able to be on the same floor as the student but not hovering over them in the same room.
6.   All TA's should be appropriately trained (e.g. medical training in relation to spinal cord injuries, supporting use of equipment like a walking frame, manual handling where required) before starting work. However, the TA role is complex and involves more than just the practical tasks. Therefore, they should ideally also receive training on the TA role, in order to best understand how to provide appropriate, more holistic support.
7.   TA's should understand school policies and correct procedures for emergencies around pupils with SCI and have a laminated sheet of emergency procedures at all times. TA's (and students they work with) should also be involved in developing and reviewing any risk assessments.
8.   Recognise that students may require different support from different staff. A student may have an learning support assistant to help in the classroom and a PA to support personal care needs. Work sensitively with the student to identify what requirements they have on both physical and educational levels and what's the best menu of support to meet those requirements. This should also be well coordinated with support at home so the child or young person does not have to manage too many carers.
9.   Children and young people may not like to be 'singled out' for receiving extra help in the classroom. Work to create an understanding and sensitive culture with teachers and their peers.
10. The right balance of support may be difficult to achieve right from the start. TA's should work to support pupils so they are appropriately challenged, using their skills and supported appropriately during any assessment. This may involve close communication and regular meetings with the child or young person, their family, the TA, teachers and other school staff. Review meetings are a good place to bring up and resolve these issues.
11. Recognise that while individual, 1:1 support for children or young people from a TA may be seen as beneficial, it can also be isolating for the child or young person.
12. Break times and free time- does the student need a TA hovering around when they are socialising with their peers, consider their social development and give space and independence wherever possible. This goes for inside the classroom too.
13. Support from a TA should be regularly recorded.
"The partnership between a student and their teaching assistant is inevitably, a close one. It's important both parties have someone to mentor the relationship. As SENCo I have responsibility to ensure the needs of the student and TA are met and to ensure the relationship works smoothly. Out student and her TA make a great team – but both sides need someone available to 'offload' to when necessary."

SENCo, Gloucestershire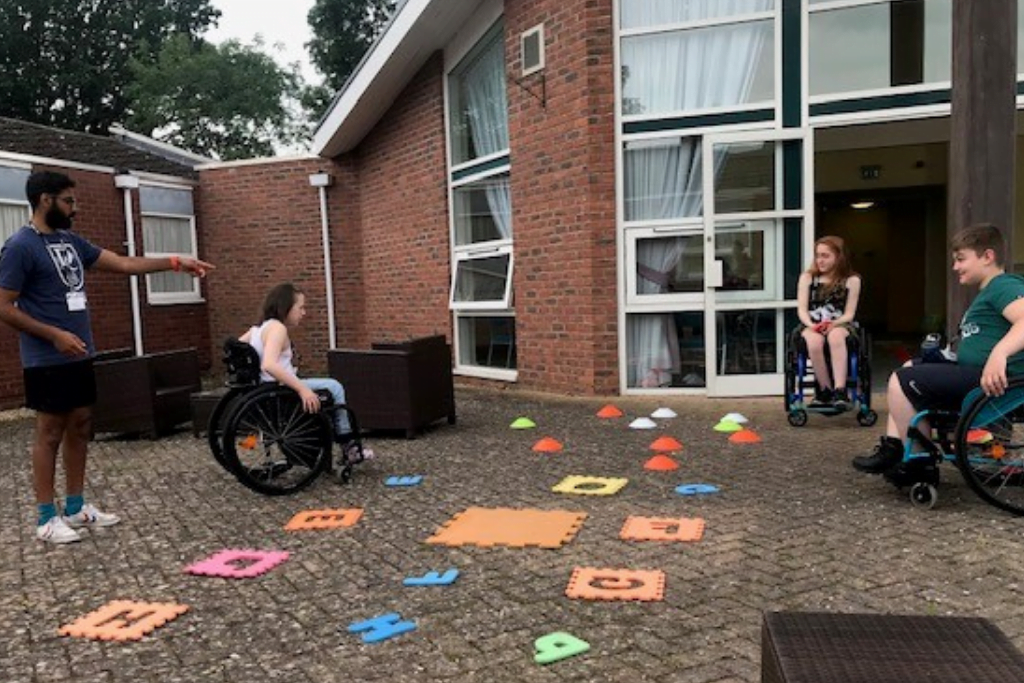 TA recruitment
Recruiting the right TA is very important. Back Up has helped some schools in the recruitment process and gathered these strategies along the way:
1.   Share job descriptions with other schools.
2.   Involve pupils and/or school councils in recruitment.
3.   Ensure job descriptions include supporting a child or young person's personal care needs. School staff are not obliged to support this if it is not in their job description (though they can volunteer to help), so schools should build up a pool of possible supporters in case it is required. (All staff performing personal care should be agreed with the child or young person and fully trained.)
4.   Decisions about recruitment should involve and be made with the pupil who will be working with the TA. Personality and empathy matter along with connectivity with pupils.
5.   The person should understand pupil requirements and appropriate boundaries, such as the need for the student to spend time with their fellow pupils.
Helpful guidance on the role of a Learning Support Assistant/Teaching Assistant from Returning to School: A Teachers Guide for Pupils with Brain Tumors by Cerebra (2006).
Teaching Assistants/LSAs do:
– Discuss problems and offer constructive criticism
– Praise ideas and work well done – build up a pupil's strengths and independence
– Show patience – it may not be realistic for the pupil to work to the same speed as the rest of the class
– Allow the pupil to try their best and gain a sense of achievement
– Although it is hard to sit back and watch a pupil flounder with a task, it is sometimes necessary and in the pupil's own interest
– LSA support need not necessarily be provided by one person. LSAs attached to a department can provide extra subject expertise, particularly in exam classes. Various input by several LSAs may provide welcome relief for the pupil and create less dependency on the support of the LSA. The flipside is that an LSA will not necessarily be able to track and observe a pupil coping brilliantly in some subjects while struggling in others.
Teaching Assistants/LSAs do not:
– Allow pupils to take credit for work which is not their own
– Complete assessed written work for the pupil
– Make decisions for the pupil, but help the pupil decide
– Carry out practical tasks being assessed
– Fail to inform the teacher of assistance given
– Write or draw anything the pupil has not told them to do
– Offer hints and suggestions, but instead elicit responses carefully
– Make contributions to the creative process
– Help inappropriately
Personal care support
This section covers considerations for schools relating to managing pupils' personal care.
Personal care support
Many children or young people with a spinal cord injury will need to other people to support them with personal care issues, including getting changed, using the toilet, completing standing regimes, or eating and drinking.  How a child or young person has care needs met can vary, in some cases it will be a trained teaching assistant or care staff from a care agency will support needs.  In other cases – and particularly for younger children – some parents may deliver care.
"When my son started nursery it was quite traumatic for me because it was entrusting all his medical and physical care to somebody. He was catheterised, so it was a lot of intimate care. It was important that I met with his learning support assistant, that I spoke with her and that she could contact me at any time. The big thing was that I didn't know who it was going to be until he started, and it was nerve-racking. But communication is the key, for them to feel that they could talk to you. I went into the school to look after him, to catheterise him because although he was statemented there wasn't someone in place who could to that, they hadn't employed someone who could do his catheter every two to three hours. So I had to go over for the first term. I had to get them to have them trained so that they could catheterise."

Janet, mum of son age 17
At schools, it will often be a TA who performs any required intimate care though sometimes it may be a personal assistant (PA). Schools hiring TA's should ensure this is included in their job description as school staff are not required to support personal care if it is not explicit in their job description (though they can volunteer to support).
"It can be variable how [using LSA's and carers] works in schools but I have known it to work really well. Quite often an LSA is in the classroom and can work one-to-one with the student for their learning needs; then the carer is there to meet their spinal injury needs. The carer might come in and help assist with catheter or bowel issues or a standing regime but it works well if they then back off and allow the child to mix, for example at lunch and social time. Schools that are open minded to the issues are going to do really well. There's no magic answer. They just need to negotiate what works best in each situation for each child."

Zoe Chevalier, Clinical Psychologist, National Spinal Injuries Centre, Stoke Mandeville Hospital
The following considerations relate to managing personal care in schools:
1.    The child or young person and their families should always be involved and consulted about how personal care is undertaken, what type of care plan is developed or if any change in care is planned. They should help decide who performs intimate care, how it happens and if it needs to be adjusted.  Consent should be gained for any changes or alterations in personal care.
2.    Bladder and Bowel template care plans can be found here and can be used to ensure correct procedures are carried out properly, safely and consistently
3.    Staff should be fully trained in how to undertake any required personal or intimate care (e.g. hoist training, manual handling, involving children or young people), alongside the young person.
4.    Any intimate care should be done as discreetly and with as much dignity as possible.
5.    Intimate care should be done in a sensitive way that also supports the child or young person to be as independent as possible and allows them to provide self-care where appropriate.
6.    Staff should not discuss the students personal care needs in front of other students or staff. Any discussions around the personal care should be done with the young person, parents and/or management and health professionals
"Privacy is so important – for anyone – but especially for children and young people with a spinal cord injury. They want ordinary relationships. They want personal private time and adult carers need to be sensitive and not hover or be overly involved. Some [carers] get it spot on and realise it just needs to be negotiated. This relationship needs regular review and regular conversations with the child, parents, carers, and schools. Schools can help facilitate this – ideally on a termly basis."

Zoe Chevalier, Clinical Psychologist, National Spinal Injuries Centre, Stoke Mandeville Hospital
Resources:
Health Conditions in School Alliance Bladder and Bowel templates
This section included information from:
ALLFIE – The Inclusion Assistant: A training course for supporters of young people with high level support needs within mainstream education.
Knight, A, Petrie, P, Potts, P and Zuurmond, M. (2008) The school lives of children and young people with a spinal cord injury. Thomas Coram Research Unit, Institute of Education, University of London. Report for Back Up.
Guidance on the special educational needs and disability (SEND) system for children and young people aged 0 to 25, from 1 September 2014
     GO BACK     
Contact
If you'd like learn more about how we can support children and young people with a spinal cord injury, register your interest here and the team will get back to you shortly or give them a call on 020 8875 1805.