Talk to a mentor
We have a diverse range of mentors, who come from all different walks of life. We match people based on their needs, life experiences, injury level, relationship to the person with a spinal cord injury, and interests.
"I now feel much more at ease. I've never had what you offered me, that genuine understanding and support. I felt so alone but now I know that you are with me."

Shelley, 54, SCI mentee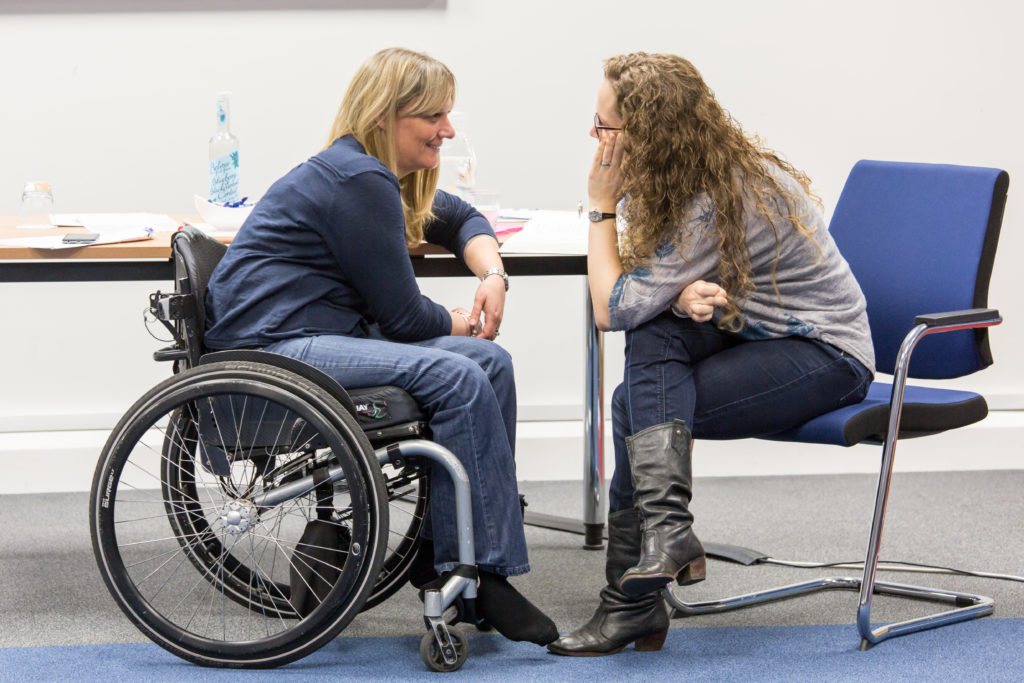 Register for spinal cord injury mentoring
I have a spinal cord injury
Mentoring is for anyone with a spinal cord injury, at any age or stage. We have a large pool of trained mentors, who all have a spinal cord injury themselves. Our mentors have different injury levels, mobility levels, are of all different ages and have a wealth of experience. We'll usually match you with someone with a similar level of injury and age. Through our system, you'll be able to arrange calls with them at a time that suits you both.
Speaking to a mentor is a great opportunity to talk to someone who 'gets it', get tips about navigating life with a spinal cord injury, and a lot of people feel less alone after speaking to someone in a similar situation.
Whatever your goal might be – whether its to connect with someone with a similar injury level or to get advice about going on holiday, Back Up mentoring is here to support you.
'She was absolutely brilliant, just great. There's a big difference in where I am now to where I was. My mental health is much better atm, have changed meds which has helped but speaking about my situation has helped so much. I've got a lot better at talking about my situation but also listening to others. I've got a new girlfriend and am starting to realise how much is out there.'

Mark, 35, SCI mentee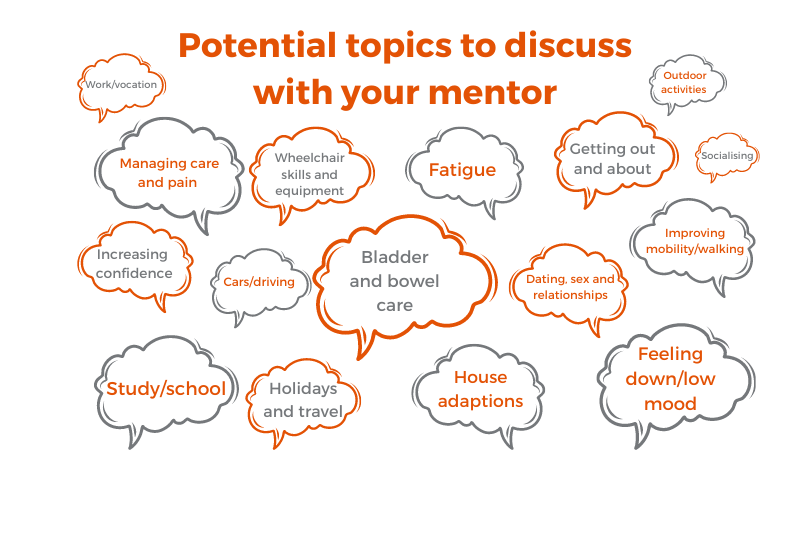 Register for spinal cord injury mentoring
I'm a young person with a spinal cord injury
Back Up is the only charity in the UK that has dedicated services for children and young people with a spinal cord injury. One of these services is to provide an opportunity to connect with someone who has been through something similar.
With the help of our Youth Advisory Group (YAG) we have developed a mentoring service specifically for children and young people. Its an opportunity to speak to another young person with a spinal cord injury, who can relate to what you might be going through, often more than your friends and family. We'll match you up with someone based on your injury, your age and on what you're looking to get out of it, whether it be going back to school or college or getting out and about. Sometimes people have one or two calls but it can be more, if you want.
"My son has gone from not wanting to have a life to seeing a more positive version of what his life can be. I don't think any other service can offer what Back Up have offered. Just when we needed it most you were there. Our mentor was intelligent and cool and knew exactly how to communicate and build trust. They have such a bond, my son came home crying one day and said he needed to speak to his mentor. He taught my son coping strategies for when he is angry and has given him hope for the future."

Alex, mother of a eight-year-old son with a spinal cord injury
Register for spinal cord injury mentoring
Apply for mentoring
Mentoring at Back Up uses a system called Mentorloop which enables mentors and mentees to talk to each other, to arrange calls and set goals together. In order to access the service, sign up here. Please fill in your full details, choosing areas you'd like support in, and adding others that are not included.
Once you have completed the sign-up process one of the mentoring team will give you a call within a couple of weeks to find out anything more, clarify your understanding of the service and find a suitable mentor for you. Please have a look at the mentoring handbook and FAQs after you've signed up. Once you've signed up you can access the recommended reading resources which explain how Mentorloop works in more detail, as well as providing some useful advice about how to get the most from the service.
Mentoring is and always will be accessible for anyone affected by spinal cord injury. If this system isn't a viable option for you or you would like to speak to the mentoring team at any point please get in touch by calling 0280 875 1805 or filling in this short form and ticking the mentoring box.
The impact of our mentoring service
Contact
If you have any questions, or want to find out more information, fill in the enquiry form or call the team on 020 8875 1805.
If you have a specific question for the mentoring team, you can email them on mentoring@backuptrust.org.uk.
You can also download the mentoring handbook below to find out more.