London Landmarks Half Marathon
Location: London
Date TBC: TBC

Registration:
£35
Sponsorship Target:
£350
Distance:
Half Marathon
Accessibility:
Unfortunately, this race is unsuitable for wheelchair users
Registrations for the 2020 race are now closed. This exciting London Landmarks Half Marathon is back for its third year. The race had a huge demand for places this year, and Back Up are very excited to be able to offer ten people a place in this special event celebrating London's extensive culture and heritage.
Far from your average half marathon, this central London run will take you through the heart of the city along closed roads and past fabulous landmarks such as Big Ben, St Paul's Cathedral, the London Eye, and more. The run starts on Pall Mall and finishes on Downing Street.
Why join the Back Up team in 2021?

You'll receive lots of support from our lovely fundraising team with regular updates, hints and tips to help with your preparation and targets
We'll provide you with a bunch of goodies to help you reach your fundraising goal
You'll receive one of our brightly coloured Back Up T-shirts/running vests to make sure you stand out.
If you have your own place and would like to support us, please let us know.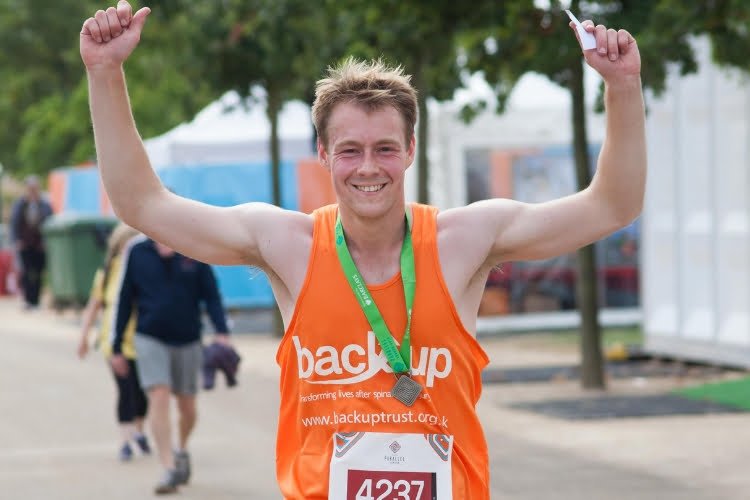 Photography
We will be taking photos and videos at the London Landmarks Half Marathon for use in Back Up's fundraising and marketing materials. If you want to find out more about how photos and videos will be used, or if you're attending this challenge and do not wish to be featured, please contact our fundraising team using the details at the bottom of this page.
You can find the link to our terms and conditions at the bottom of this page.
Contact
If you would like to take part in this amazing challenge or would like more information then please give Reece a call on 0208 8875 1805 or send him an email.