Become a Mentor Trainer
We are looking for someone to join our team of mentor trainers! They will facilitate mentor training, offer supervision to volunteer mentors and provide advice and guidance to grow the mentoring service.
Think this could be the volunteer role for you? Here's a few of the skills and qualifications we're looking for:
A professional qualification and experience in a related field such as a clinical / counselling psychologist, other psychological therapist, social worker, coach or similar (please discuss this with the mentoring team if you are unsure)
Experience and understanding of the psychological processes involved in adjustment to disability and / or trauma and the ways in which we might support people in this situation
Experience in teaching, training and evaluating trainees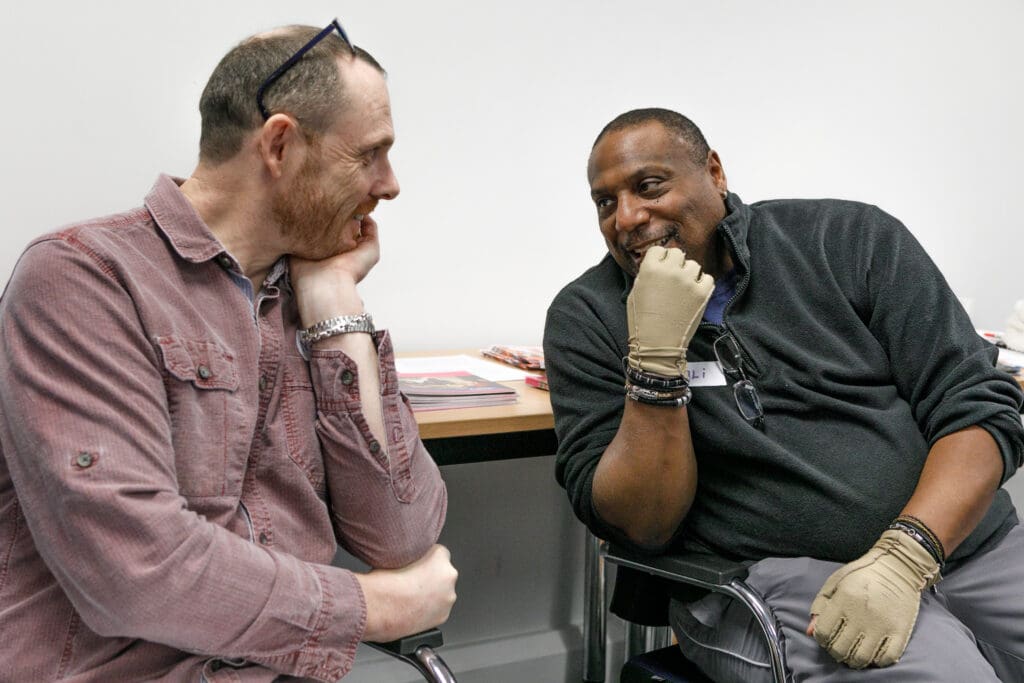 Volunteering as a mentor trainer and supervisor for Back Up is one of the most rewarding things I have done professionally. Being able to combine my professional skills, and training with my lived experience of spinal cord injury in order to support a service that delivers such life changing outcomes is an immense privilege and it's great fun!

Claire Pollard (Mentor Trainer)
What does being a volunteer mentor trainer involve?
Co-facilitating training for volunteer mentors
Facilitating development days with support from the mentoring staff team
Providing ad-hoc supervision to trained volunteer mentors who are actively mentoring and support and advice to the mentoring staff team
Offering advice and expertise to shape and develop the mentoring service to support more people
What support does a mentor trainer receive?
Opportunity to shadow team of mentor trainers at a training weekend
Regular support from fellow mentor trainers and mentoring staff team
Support, guidance and feedback from mentoring staff
Agreed expenses covered by Back Up
Membership of Back Up volunteer base which includes invitations to events and more
Want to find out more?
Take a look over the Volunteer Mentor Trainer role description below and apply today!
Application details
To apply, please fill out our online application form. If you have any questions, about the role or application process please direct them to Ally, Services Development Manager or call the team on 020 8875 1805.