Lauren's story: The London to Paris cycling challenge
21 December 2018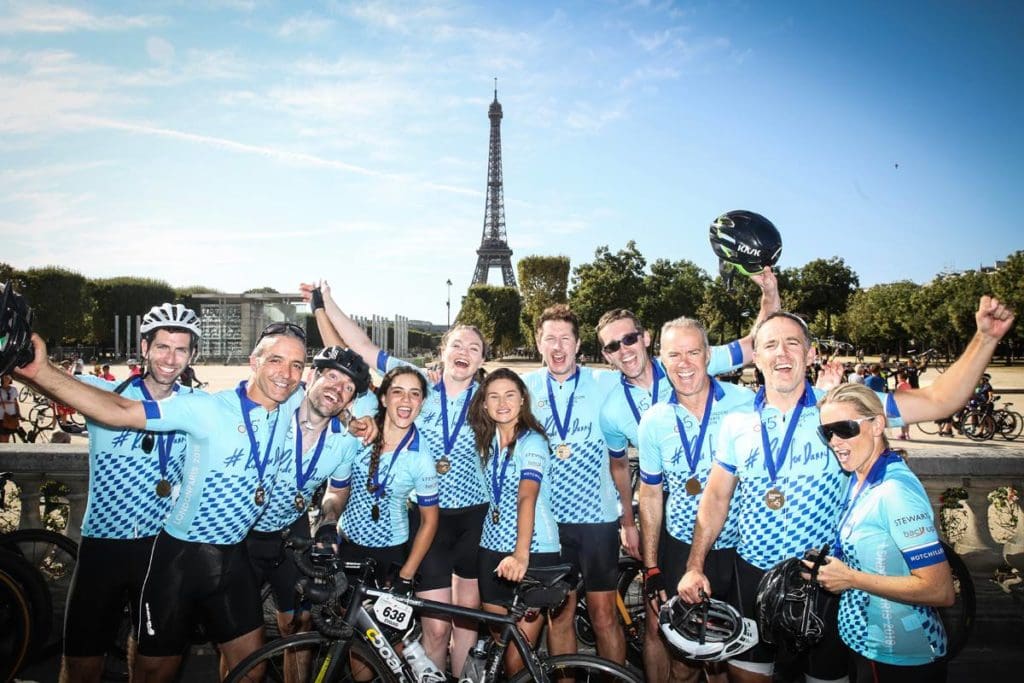 In the summer of 2018, 40 riders, including six hand cyclists, took part in an adventurous cycling challenge. They rode from London to Paris in memory of former Back Up trustee Danny Turnbull, who sadly passed away in April 2017.
Danny had been a partner at Stewarts and 20 people from the law firm signed up to complete the challenge, including Lauren. She had never met Danny, but Lauren had heard through her colleagues about Danny's outstanding impact at both Stewarts and Back Up. Lauren was very eager to get involved in the ride, but she had never cycled before the challenge!
"I thought I bit off more than I could chew, and I was terrified of letting others down. I wasn't a cyclist before, and I bought my first bike the day before the London to Paris 100k qualifying ride. On the morning of the ride I had to be taught how to use the gears, I had no clue about riding."
Although she lacked in cycling experience, she absolutely gave the challenge her all. Lauren was also very glad to have such a supportive network around her, which helped her a lot with her fundraising efforts before the ride.
"I was bowled over by the support of my friends and family. But it became truly overwhelming when people that didn't even know me got behind the cause. Stewarts had a joint fundraising page, and we were bowled over by the support of our colleagues and firm contacts."
Of course, participating in a challenge of this scale isn't easy at times. Lauren describes the first day of the ride as the hardest, but also the most rewarding.
"Making it through that day was the hardest part. I was so terrified. I remember getting to the starting point and thinking how on earth will I get to Paris on a bike? It's a metal frame with two wheels! But once we made it to the ferry, we realised the challenge was achievable. That's when I started to think I would smash it. That was my absolute highlight of the ride."
There were still plenty more challenges to overcome when Lauren and the team got off the ferry. But with everyone helping each other, they powered through and joined the main column of riders going into Paris.
"The team was so supportive! The ride captains got us through the hardest points of the ride and kept us laughing and focused on our goal. It was the most amazing feeling of excitement and achievement to finally arrive in Paris. To be able to ride together at the front of a kilometre-long peloton through the city centre was an unforgettable memory."
While taking part in this challenge, Lauren was able to go on an important personal journey too. She went from having absolutely no cycling experience to riding over 500km in just three days. Lauren says that the challenge was a fantastic way of getting her out of her comfort zone.
"Completing the ride was the most incredible feeling in the world. I would absolutely recommend taking on a new challenge. There's a lot of digging deep and pushing beyond what you think you're capable of. But once you smash your target you can bask in the sense of achievement and the happy memories."
After taking part in the London to Paris ride, Lauren was excited to get involved in more fundraising challenges. She is considering running the London Marathon for Back Up.
"You don't know what you can achieve or what you're truly capable until you push yourself. The London to Paris challenge is and will always be one of my life's biggest achievements. It was so rewarding."
It makes us so glad that Lauren and the rest of the London to Paris team had such a fulfilling experience completing this challenge. To get involved with our 2021 #NoLimits cycling challenge in July 2022, please email Reece or call him on 020 8875 1805.