London to Paris: Riding in memory of Danny
7 September 2018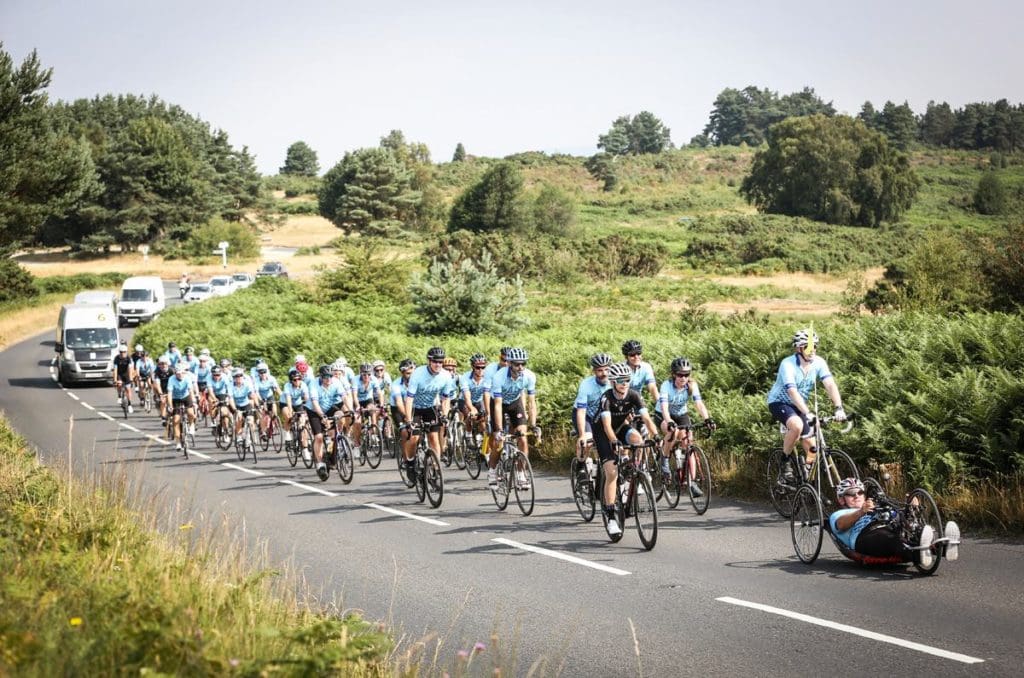 Sean, Back Up's Head of Fundraising, recently took on the London to Paris fundraising challenge in memory of his friend and former Back Up trustee, Danny Turnbull. Danny sadly passed away in 2017. 
A year ago, a handful of us sat around a table discussing how to honour the memory of Danny Turnbull, who lost his fight to cancer last April, aged 43. Danny – a former trustee of Back Up, a loving husband and father, and a partner at Stewarts – had a huge impact on those he met.
Danny was one of the people who inspired me to get involved with Back Up while I was in hospital and helped me realise just what was still possible after spinal cord injury.
In July this year, 40 cyclists, including myself and five others with a spinal cord injury on handbikes, lined up on the start line in south-west London proudly sporting our #RideforDanny jerseys. We were part of the much bigger HotChillee London to Paris event, aiming to cover 520km with over 5000m of climbing in just three days.
Danny had taken part in the same event six years earlier and paved the way for other hand cyclists to take part. It felt like a fitting tribute and with individual fundraising targets of £2,500 each, we were set to raise a game-changing amount of money for Back Up.
The ride itself was brutal. We set off at 5.30am with forecast temperatures of 35 degrees and some challenging climbs including the so-called 'Wall' in Kent. Potholes and punctures plagued us but we continued through the blistering heat determined to make it to Folkstone for our Eurostar that evening.
Day two was no easier. Temperatures reached 39 degrees, and again, we had over 100 miles to cover with a similar amount of climbing. On a handcycle, just a few inches from the tarmac, you can feel the heat radiating from the road surface as well as beating down from above. Without the HotChillee ride captains, who shuttled back and forth from the support van with extra water to pour over us to keep us cool, there is no way we could have done it. They were nothing short of heroic.
We rolled into Paris, leading the peloton of 350 cyclists stretching back by a kilometre. We were flanked by 100 motorbikes and blocked traffic – even the Arc de Triomphe was closed so that we could cycle round it. Physically it was the hardest challenge I have ever undertaken. But the heat, the blisters, the aching shoulders and arms, the hills, the 4am wake ups, the emotional ups and downs were forgotten for a few beautiful moments as we cycled down the Champs Elysee and finished in front of the Eiffel Tower.
As the enormity of what we had achieved started to sink in, the tears flowed and we remembered why we had signed up to this. What had started as an idea around a table with Susie Turnbull, Sven Thiele, and Stuart Dench to honour the legacy of our friend Danny Turnbull had become a reality. We challenged perceptions, showed people there are no limits to what's possible and raised a phenomenal £120,000 for Back Up to help people affected by spinal cord injury.
I want to say a huge thank you everyone who has supported us, especially the HotChillee team who got us there safely. I'd also like to thank Stewarts for signing up 20 members of staff to take part and helping us ensure that even more of the fundraising goes straight into the important work that we do at Back Up.
If you'd like to find out more about our challenge events, please email our Events and Challenge Manager, Emma, or call her on 020 8875 1805.