Tony's story: I'm looking forward to life
4 October 2017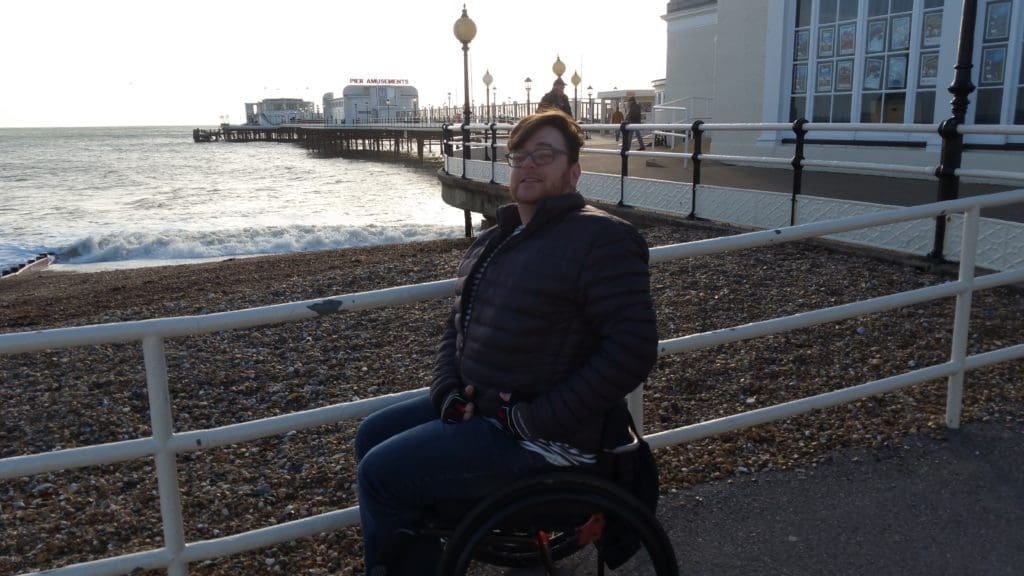 In 2013, Tony was enjoying life. He had his own flat, an active lifestyle and a great career in travel. But he was troubled by the pains in his lower back, and the mild numbness he was experiencing in his leg. He visited his GP regularly over a period of 3 months, but his condition was misdiagnosed as sciatica.
''After four months, I had an x-ray and it turns out I had a spinal cord infection that was going through two vertebrae. Shortly after, I collapsed at home and was rushed into surgery. They removed the infection, and I was placed in a back brace. Over the next four months, I had seven operations on my back while I was at the Neurosciences centre at Hurstwood Park.''
Tony, aged 40 at the time, worried that he kept losing feeling in his legs after each surgery. He says, ''eventually, the surgeon told me that the infection had left me with a spinal cord injury.''
Unfortunately, for various reasons, Tony didn't have any specialist rehabilitation at a spinal centre following his time at Hurstwood Park. This left Tony with many questions and struggling to envision what kind of a future he could have with a spinal cord injury. ''I spent all my time thinking about what I couldn't do like travelling abroad, or even going out on my balcony. I used to be so energetic, and I didn't know if I still could be,'' Tony says.
He started researching spinal cord injury online and came across Back Up. Tony was intrigued by our mentoring service, and quickly got in touch. ''I wanted to see what life could be like. I'd never met anyone with a spinal cord injury'', Tony says. We matched him with one of our trained volunteer mentors.
''Kim was amazing. When I was going through some deeply dark times, she picked me up when I was feeling down.''
Kim was just what Tony needed. He could finally open up to someone who knew exactly what he was going through.
''Those phone calls were a lifeline. Through Kim, I could make sense of how my injury had affected me. She empathised with the situation, and gave me invaluable practical advice. When I couldn't see how things were possible, she got me to look at things differently.''
Last year, Tony decided to go on our Skills for Independence course. He found the chance to meet other people with a spinal cord injury immensely helpful, and the whole experience was like ''plugging a fibre cable into a modem,'' Tony says.
''There was all this chat about different wheelchairs, and the wheels you could get and different brands. I think we all had wheelchair envy! It was so great to meet other people with a spinal cord injury and get all this useful information. I even pushed around the whole of Coventry in my bulky NHS wheelchair and mastered all the skills.''
Tony left the course feeling completely elated. He'd truly turned a corner. ''When I got home, I just had to call up the office and tell them I'm so thankful for Back Up,'' Tony says. He decided to look into getting a new wheelchair shortly after the course, and plan his first holiday abroad.
''For the first time, I didn't feel like a victim. I felt like I can do this. So much is still possible.''
Tony has now had his made-to-measure wheelchair for three weeks. In fact, he even went for an eight kilometre push yesterday. Tony feels like a new person, unrecognisable from the person who called Back Up two years ago.
''You know, I'm looking forward to life. I'm so much more confident now, and I just want to make every day count. I go out every day to the beach. I've flown for the first time, and I'm planning a trip to India next year.''
Tony is also looking to return to a job in the travel industry, and is considering going on our next Back Up to Work course in November. ''I'm good with people, and I'm looking forward to getting back into work,'' he says. Tony will soon be training to become a volunteer mentor with Back Up too.
''I'm really very excited to become a mentor. When I was applying, I just thought about how Kim made me feel when I was down. She pulled me up by my bootstraps just when I needed it. If I could do even 10% of what Kim did for me, for someone else, that would be great.''
If you'd like to receive mentoring or would like to become a mentor, please email our Mentoring Manager, Polly, or call her on 020 8875 1805.