Julie & Richard: Teaching on our Edinburgh City Skills course
30 October 2019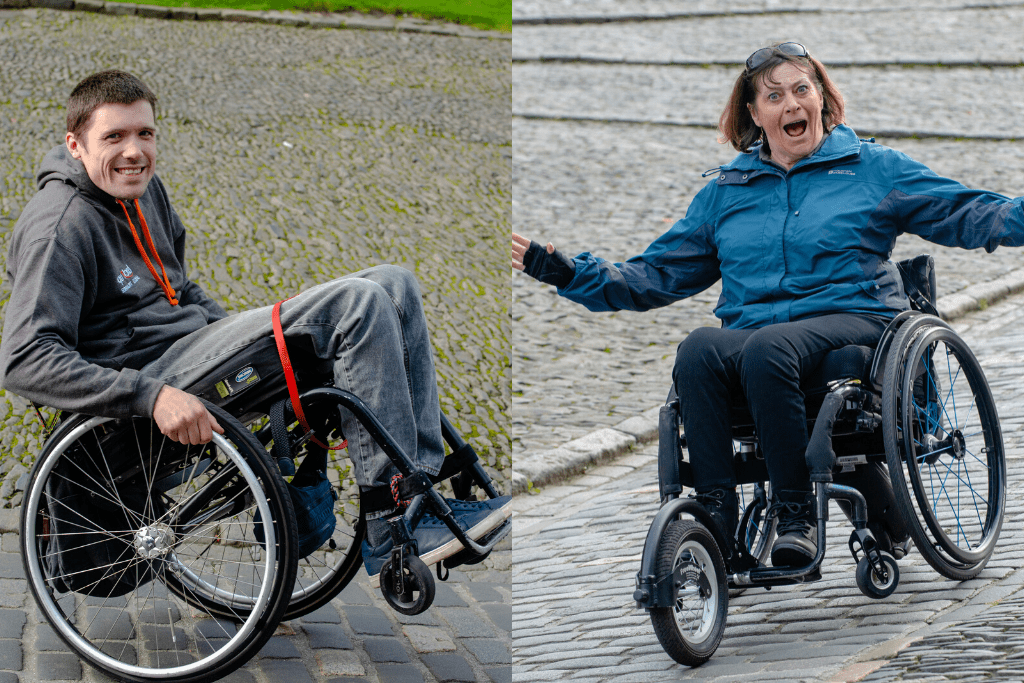 Recently we held our Edinburgh City Skills course. Two of our fantastic wheelchair skills trainers – Julie and Richard – volunteered on the course to teach techniques for getting around cities as a wheelchair user. Julie has been volunteering with us for over a decade, and this was Richard's first time helping out on a course. We caught up with them to hear how they got on in Edinburgh.
Tell us a bit about yourself
Julie: I've been married for a very long time, coming up for 40 years in fact. I have 2 boys and 2 beautiful granddaughters. I've travelled extensively all my life, especially in the last 30 years since my spinal cord injury. I lived in Queensland, Australia for a while and part-owned a fully accessible whale watching business with my husband.
I sustained my spinal cord injury in a road traffic accident. My front tire blew while I was overtaking a car.
Richard: I'm a volunteer wheelchair skills trainer for Back Up, delivering wheelchair skills and wheelchair skills extra sessions around the UK. In my spare time I enjoy doing half marathons in my racing chair and playing wheelchair basketball. I've spent the last 4 years getting a degree in Sports and Exercise Nutrition – I'm the only wheelchair user to have completed this degree!
I had a motorcycle accident in 2010. I hit a pothole while overtaking, and went into a fence.
How did you encounter Back Up?
Julie: About a year after my injury, I was persuaded to go on a water-skiing course with Back Up.  It was the first time I had ever water-skied. That course completely changed my attitude towards my disability overnight.  My friends and family saw a marked difference in my attitude.  I realised that if I can ski round a lake, I can do the school run again.
Richard: Following my discharge from the spinal centre, I got a call from a member of the Outreach and Support team. They told me about the Edinburgh City Skills course. In 2011 I went on that course, about a year after my injury. Then I did the Snowdon Push the following year. Back Up has always been in the back of my mind, and my involvement snowballed as time went on.
How did you get involved as a volunteer?
Julie: I wanted to give something back. I became a group leader on courses, and I was the Chair of Trustees for five years. I became a wheelchair skills trainer and mentor around 10 years ago. I still teach skills at spinal centres across the UK and on courses. I'm also an education advocate, visiting schools to talk about spinal cord injury.
Richard: In 2018 I went on the Train the Trainer course, and I've now been teaching wheelchair skills for a few months. So far I've taught 10 sessions across three spinal centres. I love Back Up's work. It's good to teach people practical skills to help them live independently.
What was it like to work with each other?
Julie: It was brilliant working with Richard.  We had never met but you wouldn't know that. It was lovely, we gelled together really well. I think because the training is so good, we were both singing off the same song sheet. He is a superstar -  I couldn't tell that it was his first time volunteering on a course! We worked together, neither of us took the lead.
Richard: We got on really well, it was easy to work together and delegate who was going to do what. People didn't believe it was our first time working together which is really testament to the training. It felt to us like we had been working together for ages. It was fantastic.
What's your favourite thing about volunteering with Back Up?
Julie: It sounds cliché, but it's so great to see the difference that the courses make.  Seeing the change in people as they grow on a course across a few days is so rewarding.  It feels great to know you've made a difference.
Richard: It gives me the opportunity to teach something I am passionate about. I took developing my wheelchair skills very seriously when I left hospital. By a year post-injury I was able to go down 9-10 steps independently. I wanted to be able to help others learn and make progress. It's really rewarding to see people develop in such a short space of time.
Do you have any advice for anyone considering volunteering as a wheelchair skills trainer?
Julie: If you feel that volunteering is for you, then you are almost certainly ready for it and right for it.  Take the bull by the horns and give your best.  You'll get back what you give.
Richard: Just do it. I could have started 5 years ago but put it off for a little bit and was waiting for the right time. It's a huge regret that I didn't do it sooner – You should go for it!
We're glad to hear Julie & Richard had a rewarding time volunteering on our Edinburgh City Skills course. If you're interested in volunteering on a course be sure to let us know. 
If you want to hear more fantastic stories from Back Up – including our monthly newsletter – be sure to keep in touch with us!