The Snowdon Push
Location: Snowdonia
Date: Saturday 4 Jul 2020

Registration:
£65 (camping) or £45 (non-camping)
Sponsorship Target:
Participants are required to raise £2,000 per team
The Snowdon Push is Back Up's toughest, yet most exhilarating fundraising event and tests each and every member to the max.
It's an amazing experience that brings together people from all walks of life to work as a team and reach one of the highest points in the British Isles, all whilst raising funds for people with a spinal cord injury and their families.
The Push involves teams of between 10 and 16 people aiming to conquer the highest mountain in England and Wales, Mount Snowdon, which is over 3,500 ft high. One member of each team must be a wheelchair user, which means pushing, pulling, climbing and wheeling as a team to reach the summit and back down again, covering approximately eight miles of steep, mixed surfaced terrain.
"Oh my goodness, how do I effectively express my gratitude for the opportunity to share this experience with such wonderful, selfless people. It proved such a huge challenge but each member of the team stepped up and gave it their all. Each time I close my eyes I see that sea of happy, exhausted, supportive and jubilant faces. I'll always hold onto and treasure that memory".

Susan Mould, Push 2019 participant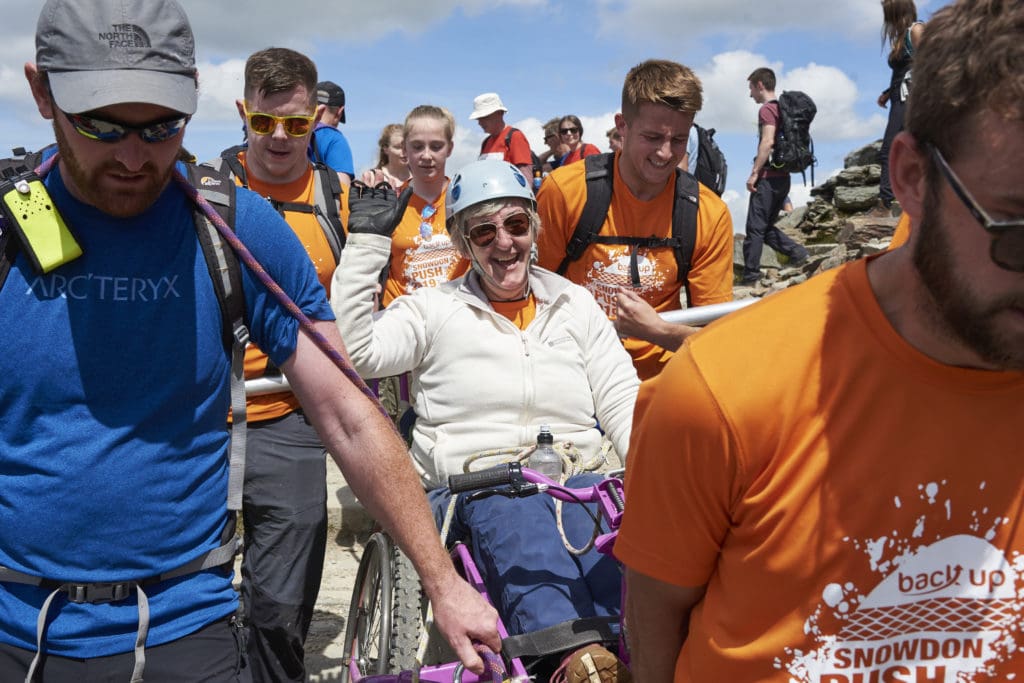 Support our amazing 2019 teams
You can sponsor any of our 2019 teams who conquered The Snowdon Push by clicking on their team name below.
Register to take part
If you'd like to take part in the 2020 Snowdon Push, register your interest by emailing Reece. Even if you don't have your own team, please do sign up as we can help match you with other participants.
You can find the link to our terms and conditions at the bottom of this page.
Contact
For more information,  please email Reece or give him a call on 020 8875 1805.