Andrew's story: Defining my independence
2 May 2018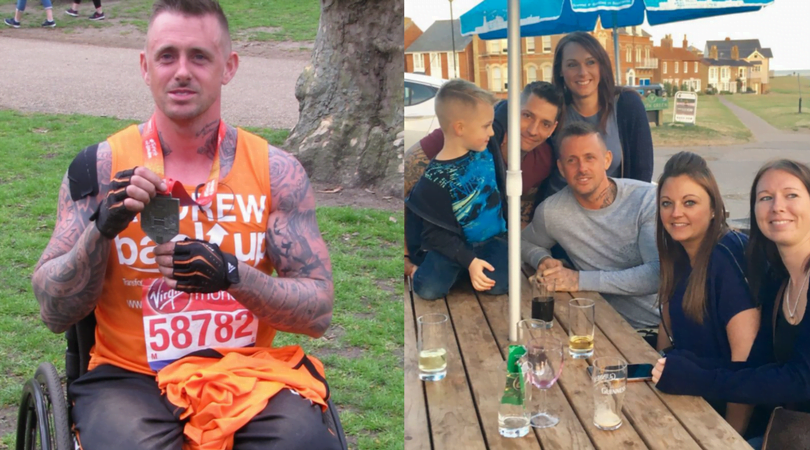 In 2011, Andrew was involved in a motorcycle crash and sustained a T10 level spinal cord injury. He was taken to the National Spinal Injuries Centre at Stoke Mandeville, where he spent four months completing his rehabilitation.
Andrew, 34, was devastated during the early months after his accident: "I was heartbroken. It was a different kind of sad where I felt disappointed in myself. I was faced with having to go down a different route with my life and I couldn't comprehend what had happened to me."
One of the biggest challenges he faced was the impact his injury had on his confidence and independence.
"I was a self-assured character who was active and liked the gym – I was very much an extrovert so my injury knocked me for six. It took me a while to leave the house, let alone do any other activities. It really interferes with every part of your life."
As a result, Andrew was determined to be as independent as possible early on after the accident.
"I didn't want anyone to do anything for me because taking pride in my independence was my main goal. Unfortunately, it got to a point where it became aggressive. I didn't want anyone to pass the chair to me. I didn't want help with anything," he says.
"Once I went out with my nan and she wanted to put my wheelchair together for me when I was getting out of the car. I knew she just wanted to help but I found myself telling her to just leave me to do it. I was still adapting to my situation and my mind was in so many different places. During that time, whenever someone tried to help, it felt like interference and I wanted to be left alone."
It was during this transition period that Andrew found Back Up.
"It was about a year after the crash when my mum reached out to Back Up and asked for advice. She had a lot of involvement with them at the beginning while I was trying to concentrate on myself and my wellbeing.
"At this time, I was still very self-conscious. I'd go for a drive but then not want to get out of the car. I thought that everyone would see me as a burden or hard work."
However, over time, Andrew found that, when he was sad or nervous, people reflected those emotions back at him. He decided that confidence was the key. The more self-assured he appeared, the more people's attitudes towards him changed for the better. Andrew began to push himself to be more independent by driving to new places and doing food shopping for himself. It was due to his growing self-assurance that he decided to go on our Back Up to Work course.
"I went on the course about five years after sustaining my injury. I didn't know anyone on the course but I pushed myself to do it and really enjoyed it. My confidence around returning to work eventually improved. I put myself in the deep end and Back Up guided me through it. They helped me work on my interview techniques, on my CV, and also showed me how to use public transport to get to the course. I felt safe. I felt like I had a family behind me."
Because he felt so supported by Back Up, Andrew set his sights on a new challenge – this year's London Marathon.
Andrew says:
"It felt like a privilege to take part for Back Up. I feel like I owe them for all the support and help they've given me.
"They've pointed me in the right direction and provided me with people to speak to as well as things to do. Back Up have made me feel good about myself on so many occasions and have improved my confidence. The best way I could think of repaying them was by proudly putting on a Back Up shirt and raising money for them."
He knew a few wheelchair users who had already completed the marathon and felt like he was ready to get involved in such a big event – especially as he relishes the feeling of accomplishment he gains from big physical challenges.
"I enjoy achieving things that people don't think you can because, for me, it removes that stigma against wheelchair users. I like surprising people and proving them wrong. I'm doing things that non-disabled people do – it's about putting us on the same level," Andrew explains.
"The crash woke me up and made realise that I wanted to live my life. When I take on a new challenge, I thrive on it because I know what feeling I'll get at the end and that's probably something I never got before my crash. It's made me more confident."
Having a greater understanding of what he can and can't do has helped Andrew determine what independence means to him.
"I've got better at letting people know what I'm capable of doing for myself. I personally don't ask for anything help-wise that an able-bodied person wouldn't ask. I might ask someone to help out if I haven't got time to do something, just as I would have before my injury. When I finished the marathon, people were helping me out in the same way that they were helping people who could walk. I do everything for myself in my life. It's been a journey but I've found a level of normality."
You can donate to Andrew Darby's London Marathon fundraising page in aid of Back Up. If you'd like to find out more about any of our challenge events, please get in touch with Alex at alexandra@backuptrust.org.uk or call her on 0208 875 1805.