Mark and Fiona's story: Regaining mobility
5 April 2018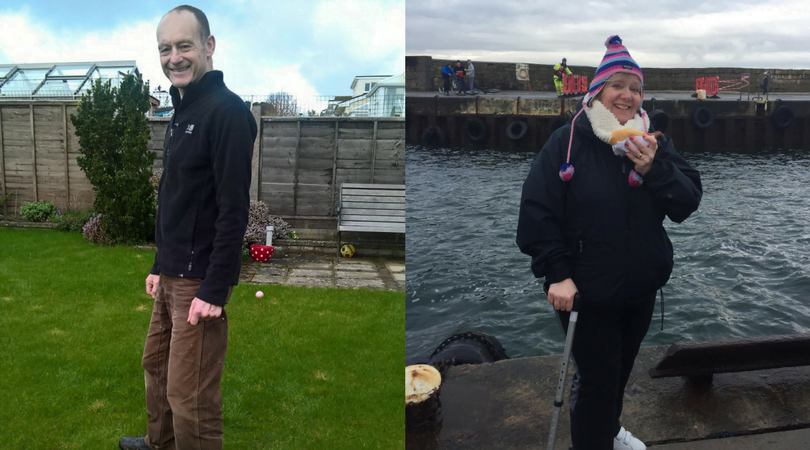 Mark
In 2013, Mark was doing some gardening when he fell out of a tree and sustained a C5 level spinal cord injury. He was unable to move from the neck down and was taken to Derriford Hospital in Plymouth.
Mark, 57, says: "My first two weeks were all a strange blur. It wasn't until I was transferred to Salisbury Spinal Treatment Centre that things started to make sense."
At first, Mark wasn't aware of how life-changing his injury would be and what kind of implications it would have for him:
"I thought I'd be up and out in six weeks. Slowly, over time, it dawned on me what had happened. After speaking to the consultants, they suggested what my long-term prognosis would be. It really freaked me out when it finally hit home.''
Mark's injury is incomplete and, during his time at the spinal centre, he slowly regained some mobility.
"I can walk, although I'm a bit slow; my left side is weak and I still have some bladder and bowel issues. The main effect has been on my hands. I've just got pincer-like movement between my forefinger and thumb on my left hand so I don't use it as much as my right hand," explains Mark.
After a few months, Mark was discharged from the centre and began adjusting to life with a spinal cord injury. His reduced mobility had a massive impact on his previously active lifestyle
"I used to do garden and house maintenance, which meant that I did a lot of climbing, lifting, and shifting. In my social life, I enjoyed dancing, walking through the countryside, and riding a motorbike, so this was a huge shift."
A year later, Mark found Back Up when he received one of our leaflets. He was immediately drawn to becoming one of our trained volunteer mentors.
When Mark finally became a mentor, his first match was with Fiona. She has a similar injury and was experiencing challenges around staying active with an incomplete spinal cord injury.
"She was very motivated. I told her about various aids and machines that might help her with her dexterity. I also shared some basic exercises for her fingers, hands, and wrists," says Mark. "More than anything, I gave her the space to talk. It's great when you can chat to other people with a spinal cord injury because you know that you've got that in common and that the other person will understand."
Mark found that mentoring was a great way for him to pass on lessons he'd learned over the years of managing his own health and mobility.
"I learned early on that I need to listen to what my body's telling me, particularly when I'm in pain or tired. I still do some of the things I did before my accident but at a slower pace and with more rest."
Alongside paying more attention to his body's needs, Mark has developed routines that help him keep fit and manage his pain and fatigue.
"There's a regular route that I walk and I try to do it every day along with physiotherapy and stretching exercises. I also do lawn mowing for my family. I walk behind the lawn mower and pace myself. I make sure I take several rest breaks and it helps me build stamina. Going to the gym isn't necessarily for everyone and I think having an activity or purpose, like cutting the lawn, is a great alternative. Doing something active that has a positive practical outcome can be a really satisfying process and take your mind off the fact that you're also exercising."
Mark's confidence has increased since meeting Back Up, particularly around socialising with new people.
"I used to be quite reluctant when it came to speaking to new people. Volunteering for Back Up has encouraged me to meet and chat with people. I now find it a lot easier and more enjoyable. I've also realised that my experiences can help others and that's a really wonderful thing."
Fiona
In 2016, Fiona sustained her incomplete spinal cord injury after she dived into a shallow outdoor pool. The accident resulted in a dislocation and fracture at C4/5 and T2 levels respectively. Fiona was taken to Glasgow Spinal Centre where she spent five months completing her rehabilitation. She underwent a series of operations, including spinal fusion surgery to prevent back pain.
Fiona, 45, says: "When I was at the centre, I was paralysed from the waist down and could only move my arms slightly. I couldn't move my hands. I couldn't feed myself or brush my teeth."
After her final operation, Fiona began physiotherapy and, after two months, she began to regain some mobility.
"I had to learn how to sit, stand up, and walk again. I remember thinking that you actually need a technique to be able to stand up. You don't think about that when you don't have an injury because it's something most people learned to do as a child.
"When you're an adult learning how to move again, it's really difficult thinking about all these things you need to do."
As she gained more movement, Fiona often found herself wondering how this injury would shape her life – particularly as she had led quite an active life before her accident.
"I've got two teenagers so we enjoyed being out and about. There are lovely beaches where I live so I would often walk along those with the dogs. As well as that, I used to love swimming. When I came out of the hospital, I couldn't swim at all."
She was discharged from the centre and went home. As she began settling back into her life, she remembered meeting Back Up at Glasgow Spinal Centre at a wheelchair skills session: "I looked on the website and saw that Back Up has a mentoring service and wondered if it could help me."
After getting in touch, Fiona was matched with Mark, one of our volunteer mentors.
"I found it really useful. He spoke to me about his injury and listened to all my frustrations. Mark let me know what he had felt at certain points. This was helpful because his injury was a few years down the line from mine and very similar. He gave me a lot of support."
Mark's advice reassured Fiona that she wasn't alone and that someone had been through this before her.
"He told me to try not to overdo things and that if I feel tired and sore, it's okay to rest. I've got quite a lot of nerve pain so Mark shared some exercises which I do now and again. I got a lot out of it, including confidence. I felt better about myself and like I can just get on with things."
She took this attitude back to work with her – something that she had been worried about because her job involves spending a lot of time on her feet.
"I teach hairdressing students. My main worry about returning to work was that my students would look at me a bit funny because I'm a bit unbalanced and my coordination isn't great. In the end, I'm glad I pushed myself. I've been back at work for a year now and it's great, because I love my job. I didn't think I'd ever be able to cut hair or even teach again. I'm doing all the things I wasn't sure I'd be able to do."
She also never thought she'd be able to swim or do aerobic exercises again.
"When I left the hospital, I started hydrotherapy where the water is about 36 degrees and the heat is just amazing for the pain. I feel like I can do a lot in the water. I've since moved to the bigger pool and now I'm swimming 30 lengths in a 25-metre pool four times a week. I'm also doing Pilates classes which really help ease my pain and the stiffness in my neck, back, and limbs."
A lot of the support Fiona received came from her husband, Stewart, and her two children. She believes that she wouldn't be where she is today without them. She feels much more self-assured and she attributes this confidence to the help she received from Back Up and Mark.
"Through looking at other people's stories on Back Up's website, you can see the similarities and differences you have with other people who have a spinal cord injury. If I ever need anything, I know I can just get in touch and there will be someone there to support me. I know I'll always have a few issues with my mobility but they won't slow me down. I'm just going to live my life."
If you'd like to receive mentoring or would like to become a mentor, please email our Mentoring Manager, Polly, or call her on 020 8875 1805.