Gill's Story: My son's independence
6 March 2019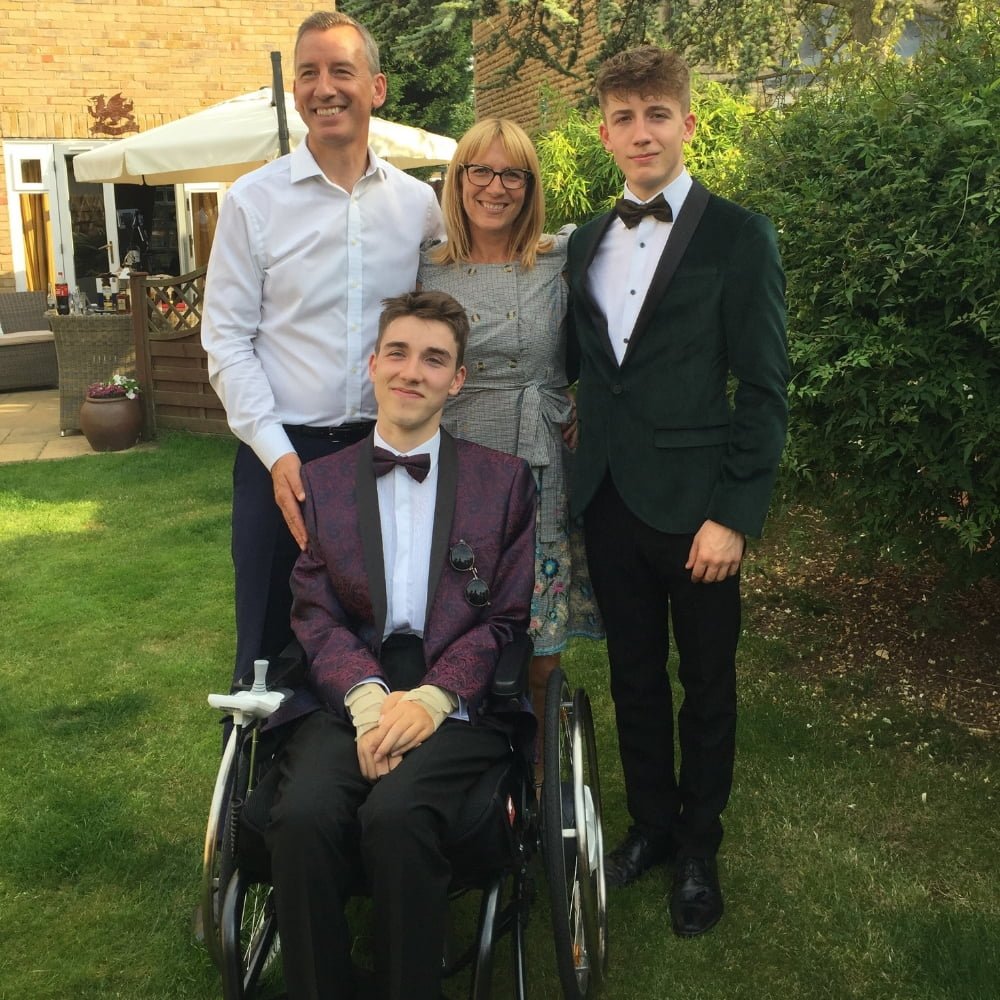 When George was 17, he went into a tackle during a school rugby trip in South Africa and the impact displaced his vertebrae. Even though there was an ambulance at the rugby ground which rushed him to hospital, he was paralysed from the neck down instantly. 
For his mother, Gill, the emotional impact of his spinal cord injury was sudden. She flew out to meet him the next day and was with him in South Africa for six weeks. While this was a very difficult time for the whole family, Gill knew that she needed to remain positive. 
"There was a natural element of grief throughout the whole process, and I dealt with it by looking at the positives. It was important for George that we were in the moment and embracing the situation as it unfolded. Deep down we knew that, because he was alive, there would be a good outcome."
From the beginning, Gill was determined to do what was best for George. The family met Back Up during a visit from our outreach team when they got back to the UK, and Gill made sure to keep in touch.
"When your child is injured, you want to take steps to ensure they get the best possible care. I wanted to know as much as possible about spinal cord injury, so I called the Back Up office and spoke to this really helpful person, Charlie. It was so fabulous to have her as a point of contact – I remember calling her and just talking and talking and talking.
"At the start you can feel very isolated, almost like you're in a bubble. Charlie helped by being there to listen to our concerns and helping us navigate the new world we were in."  
Back Up helped Gill understand all about spinal cord injury. When it became time for George to return to college, she knew enough about his needs to work closely with the school to ensure it was ready for him.  
"We set up an Education, Health and Care Plan (EHCP) in time for George's return. The school worked hard to get his timetable set up, make sure a medical room was available, and install ramps. 
"This was all made possible because we clearly communicated exactly what George needed to get back into education. We made sure to identify solutions, ask plenty of questions, and not be afraid to say exactly what needed to be done." 
Gill understood that she needed to help George to get back into the swing of his day to day life. But she also knew that he needed to have his independence. This was especially true since George sustained his injury close to his 18th birthday.  
 
"We talked about university, but that felt like a huge leap in the early days. Then Back Up invited George to a Moving Forwards course at Leeds University right after he left hospital. It was hard to put my trust in other people and let him go, but it was worth it. The course gave George an insight into living away from home, being sociable and independent.
"Seeing how confident he was after the course made me determined that he could go to university."  
George went on to get an unconditional offer. Gill admits it was "tricky" when he moved out, but she learned that it was part of giving him the independence to flourish.  
 
"George felt out of his comfort zone at first, but a lot of freshers feel like that in the beginning! You want to say 'come home, let me look after you,' but if I did that he'd probably never have wanted to leave home.  
 
"As a mother, you need to realise that it's not about you. No matter how much you'd like to have him home, wrapping him in cotton wool is good for nobody. Being more independent has let George learn how to direct his own care and grow into his own person."  
 
George is currently studying a philosophy degree at Birmingham University. He's supported by a team of personal assistants made up of university graduates, so he has people like him assisting his independence. Having the support of PAs has also helped Gill, as it means she can focus on being a mum.  
 
"For George to live his life independently, I needed to be his mum, not a PA. Just because you're not taking on all of your child's care roles doesn't make you any less of a parent. It can actually be better to have that external support, especially as they get older. He didn't want us to provide absolute care, so together we did what was right for him."
If you are a family member and you would like to find out how we can help you, please get in touch with our family support team.