Taking on a challenge in memory of Tim
5 February 2020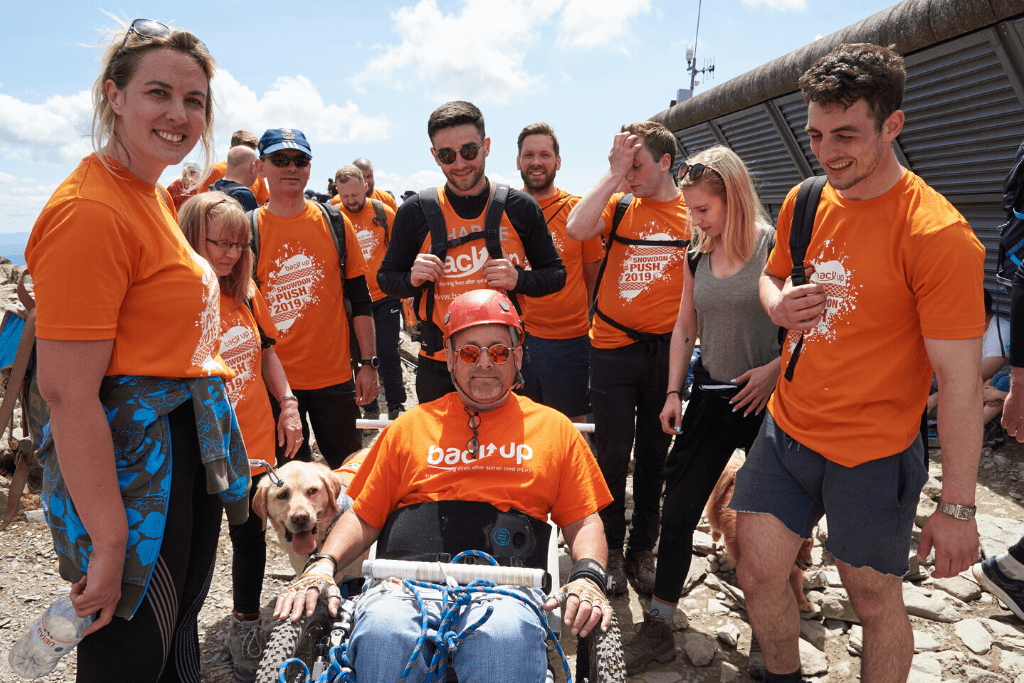 Last year, we wrote a tribute to Tim Scott – one of our most prolific volunteers who sadly passed away. Tim was keen to help us with teaching wheelchair skills and passionately led several of our courses. Back Up meant a lot to Tim, as we supported him and his family after he sustained a life-changing spinal cord injury.
Tim's nephew Charlie recently told us how we were able to help him get the most out of life after his injury. We were there for him from the very early days.
"Tim's injury affected our whole family. He felt very low when he was in the spinal centre immediately after his motorbike crash.
"When he was in the hospital Tim met someone from Back Up's outreach team. They encouraged him to attend a Multi Activity Course. Tim always talks about that course as the moment that changed his perspective of his injury. It boosted his confidence and showed him that his life wasn't in tatters."
After this course, Tim and his family became regular supporters of Back Up. Alongside Tim's volunteering efforts, the whole family got stuck in with fundraising for our vital services. They all took on the Snowdon Push as a team, and Charlie ran the London Marathon for us in 2016.
"The whole family was involved with Back Up in different ways. The charity means a lot to us – it genuinely inspires people to get the most out of life. It takes people who have been through quite destructive experiences and gives them a positive community.
"Back Up has a really glass half full attitude. That can really save people in vulnerable moments."
Before he passed, Tim had an exciting fundraising challenge planned. He was going to push the Camino de Santiago. This is an ancient pilgrimage route through the mountains of France to Northern Spain, crossing over 500 miles. This trek was Tim's dream for a long time, and he had been training hard for over a year in preparation. Sadly, he died before he was able to tackle this challenge.
"Tim wanted to raise funds to send people on the courses that changed his life. When he passed away, one of the first things we decided was that we should finish the challenge in his memory.
"It's become quite a cathartic experience for us as a family. We're raising money while fulfilling Tim's dream."
Charlie says that he is quite nervous about the pilgrimage, but also very excited. Although the whole family have taken on fundraising challenges for Back Up in the past, they haven't done anything on this scale. They will be walking 20-30km a day for an entire month.
"We're getting a lot of training under our belts in preparation. It's going to take it out of us, but at the end of the day it will be worth it.
"I'm really looking forward to crossing the finish line with our family. This is the best way to celebrate Tim's life."
As well as training, the family has been busy raising funds. Tim was one of our education advocates, he would share his story in schools to teach young people about spinal cord injury. In testament of his character, some of these schools are holding talent shows to raise money towards the challenge. The family has also been holding sponsored walks, quiz nights, and tea mornings. They are hoping to raise enough to help us provide a lifeline to people affected by spinal cord injury – just like we did with Tim.
"Back Up can show people they can do things that they thought would be impossible after spinal cord injury. It gives people purpose, and helps everyone around the injured individual – including their family."
We're delighted that Tim's family are continuing his challenge in his memory. You can learn more and donate on their website.
You can also find out more about the life-changing courses that helped Tim after he sustained his spinal cord injury.