Mentoring and positive mental health
4 October 2017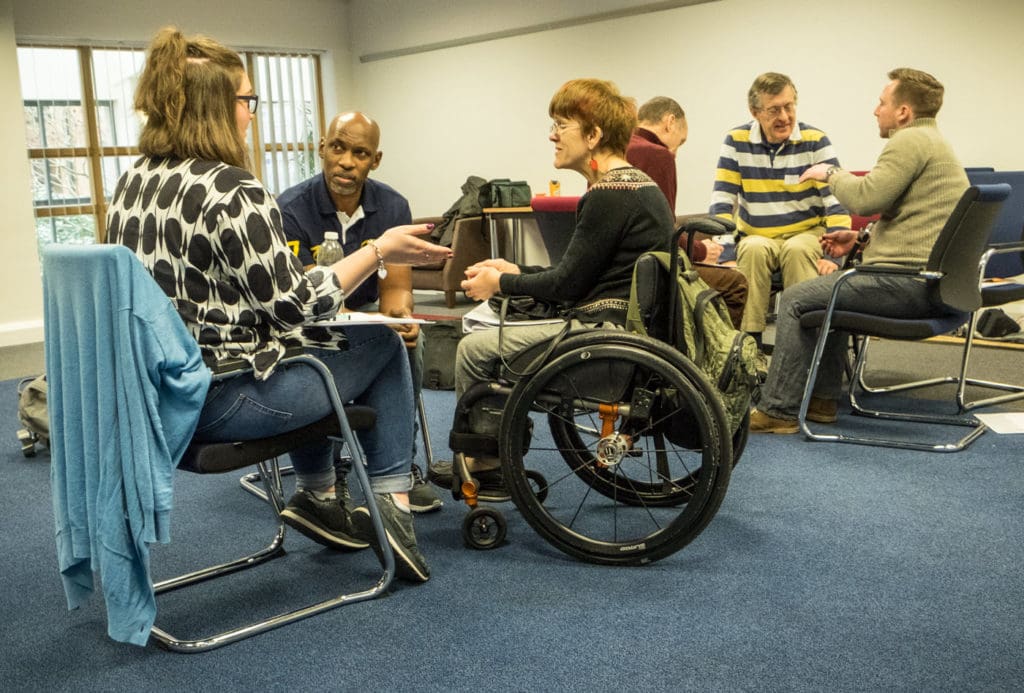 World Mental Health Day takes place on October 10, 2017, and we'd like to share the story of how we developed our mentoring service which helps people with a spinal cord injury and their family members to maintain a positive outlook on life.
"Talking to someone who is genuinely hearing what you say, can understand, and has felt this way before; there's a freedom in that beyond words." (Drew, 22, sibling mentee)
At Back Up, we understand that a spinal cord injury has a huge physical impact on your life and the lives of others around you, but it also affects you psychologically, impacting on your confidence, self-image and outlook on life. Back Up's mentoring service can help you and your family members overcome challenges, and help you have a more positive view of the future.
Mentoring is available to people of all ages, all over the UK. It's not just for people affected by spinal cord injury recently, it could have happened some time ago. We also offer mentoring to family members too. Most mentoring relationships consist of 10 sessions by phone, and you can choose any topic related to spinal cord injury to discuss. To ensure you get the best support possible, our mentoring team match you with a mentor who is in a similar situation to you.
Our Mentoring Manager, Polly, explains: ''We always aim to make matches between people with shared experiences. In this way, the people who come to mentoring get the best support possible because their mentor can really understand their needs.''
Mentoring was first established at Back Up in 2006. One of the two pioneers behind the services was Dr.Clair Pollard, a Back Up trustee. She recognised the benefits of talking to someone in a similar situation.
Clair says: ''When going through the enormous adjustment required to live a happy life with a spinal cord injury, there is nothing more valuable then talking to someone who has successfully navigated that journey themselves. Hearing the stories of these "experts by experience" and being able to ask them questions about how they coped with the obstacles, fears and worries you are now facing yourself is incredibly helpful.''
"Mentoring helped me see how to be kinder to myself, how important pacing myself is and also how to recognise my own achievements – even if they are now different to before my illness. Mentoring addressed so many aspects of really living with a spinal cord injury which were never discussed during medical appointments. I think the help has benefitted me enormously but has also moved like ripples in a pond benefitting my husband, children, parents and friends." (Helen, 42, spinal cord injured mentee)
The topics discussed vary from practical matters like housing adaptations, to more emotional issues like building your self-esteem. But the end goal remains the same. We want you to finish mentoring with a more positive outlook on life and the tools needed to tackle challenges in daily life. These tools are called positive coping strategies, and they are a vital cornerstone of the mentoring process.
Polly explains: ''By engaging people and helping them reach out and use support around them, mentoring encourages people to use strategies which foster positive wellbeing. With your mentor, you take time for yourself, and together, you set goals and create action plans. Mentoring helps you see your situation as manageable and see your future as brighter and better.''
If you'd like to find out more about our mentoring service or becoming a mentor, please get in touch with our Mentoring Manager, Polly, by email or call her on 020 8875 1805.