Back Up welcomes a new chair of trustees
5 June 2019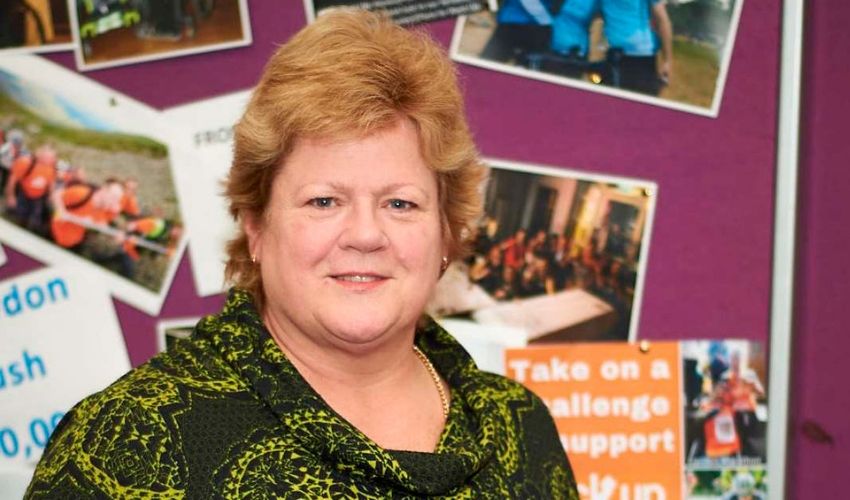 We're delighted to announce that Jo Wright will be taking over as our Chair of Trustees from 1 August. As Back Up's chair, Jo will be responsible for providing leadership for the board of trustees, and working in partnership with our CEO, Sarah Bryan, and the rest of the staff team to ensure the delivery of Back Up's long-term strategy.
Jo joined our board of trustees back in 2016, and she brought a wealth of professional experience to her work as a trustee.
''I started my career at IBM as a trainee salesman, and I ended up running the public sector business in northern Europe. Shortly after my 40th birthday, I took up a fascinating two-year appointment as a civil servant in Whitehall overseeing IT across the criminal justice system. I then joined BT for whom I was still working when I sustained my spinal cord injury,'' says Jo.
In September 2011, Jo started to experience some pain in her back. Jo had what was eventually diagnosed as a spinal epidural abscess, which left her with a permanent spinal cord injury. She first met Back Up at Salisbury spinal centre during her rehabilitation, an encounter that had a profound impact on her.
Jo explains: ''Back Up volunteers came in to deliver wheelchair skills training and it was a total revelation to me.
"All their trainers had a spinal cord injury, like me, yet they had driven themselves there, had enjoyed some fabulous holidays and seemed genuinely happy! At that stage, I couldn't imagine doing any of those things.''
When Jo returned home, she applied for one of our multi-activity courses and soon found herself heading off to Exmoor.
''What a week! Fellow participants and volunteers were all fabulously supportive, and it was a truly wonderful and life-affirming experience.
I went kayaking, swimming, strolling over the hills, visiting pubs – it was all such an eye opener about what was still possible for me.''
Jo wasn't able to return to her job at BT, and she decided to take some time out to settle back into normal life with her family. A few years later, Jo was ready to take on a new challenge.
''I saw Back Up were recruiting trustees and I knew that I was finally ready to get stuck into something. I applied and was thrilled to be asked to join a fabulous board of committed and talented people.''
Jo has found her three-year tenure to be hugely rewarding. She adds: ''I have learned so much about myself, Back Up and spinal cord injury since I became a trustee. Furthermore, I have met so many amazing people: our passionate staff team, terrific volunteers and the people we support – whose lives have been transformed (as mine was) by Back Up's services.''
Jo is now excited to take on the new challenge of leading our board. In her new role, she aims to maintain Back Up's world-leading services and high-quality governance, while staying abreast of – and responding to – future changes.
''In my role as chair, I want to ensure that the board looks a little further ahead so that Sarah and her senior management team can focus on delivering the business in the here and now.''
The latest data from the NHS now suggests that around 2,500 people sustain a spinal cord injury each year – as opposed to 1,000 people each year as previously thought. Jo believes that a collaborative approach is necessary to meet the needs of the larger spinal cord injured population.
''The main priority for 2020 is to nail a robust and evidence-based strategy to take us through to 2025. My gut feel is that we will need to embrace partner organisations so that, collectively, we can have the greatest impact on the lives of the people we all support.
"Strengthening our bonds with our great colleagues in spinal centres and our fantastic charity partners, such as Aspire, SIA and SIS, will place us in a good position to meet the growing need.''
Would you like to speak to Jo about her future plans as the new chair of trustees? She'd love to hear from you and can be contacted by email.