Ambassadors
Do you or a family member have a spinal cord injury? Are you passionate about the services Back Up provide? Then maybe you'd like to become a Back Up Ambassador and raise funds and awareness of our vital work.
Our Ambassadors are people whose lives have been affected by spinal cord injury, either directly or through someone they know. They come from all across the UK, can be of any age group and come from all walks of life. The one thing that really unites them is their pride and commitment in representing Back Up, raising awareness of spinal cord injury and raising much needed funds for the charity.
What do Back Up Ambassadors do?
Our team of Ambassadors use their experience to raise awareness of spinal cord injury and challenge perceptions of disability. There are lots of activities you could get involved in as a Back Up Ambassador including:
Speaking at a Back Up fundraising event
Speaking at your workplace
Talking to schools about your experience
Hosting a fundraising event
Talking to groups in your community (Rotary Clubs, churches, schools, gardening clubs and women's groups) about our work and telling them how they can help
Looking for local opportunities to raise awareness and funds for Back Up
"Northcote's involvement with Back Up has really changed the boys' preconceptions of what people with spinal cord injuries can do."

Sarah Robertson, Northcote Lodge School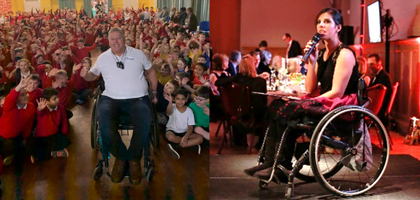 Contact
If you would like more information about becoming a Back Up Ambassador then please register your interest on the form below, contact Emily on 020 8875 1805 or send her an email.