Peter's story: Teaching power chair skills
3 September 2019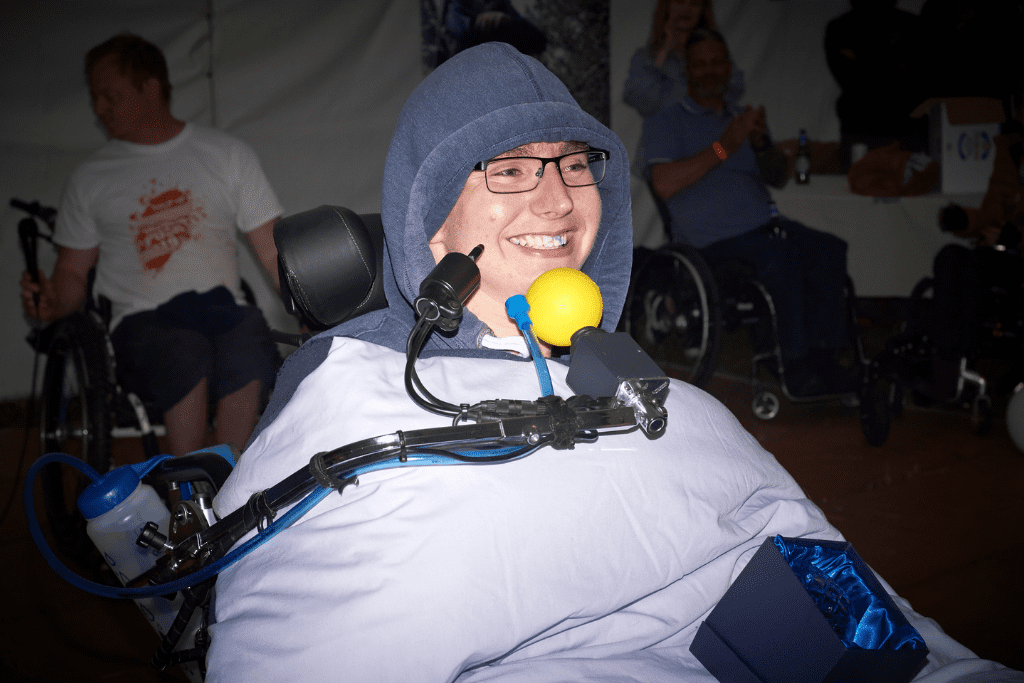 Peter's life changed in a split second. He was riding a mountain bike trail with a friend – something he had done plenty of times before – and ended up crashing on the last hundred meters of the route. The impact shattered his C3 vertebrae, leaving him completely paralysed from the neck down.
"I must have hit a root or something else I didn't notice. I went over the handlebars and landed on my head. 99% of the time I would tuck and roll out of a crash like that, but that time I wasn't so lucky."
Peter's injury changed everything. The week before his crash he had moved in with his partner, but their flat was now inaccessible. He could no longer mountain bike, climb or go to the gym like he used to.
"I went from being completely independent to suddenly having to rely on people all the time. That was difficult to get used to."
It was during his time at the Queen Elizabeth National Spinal Injuries Unit, Glasgow, that Peter's outlook began to change. He met Rich, one of our outreach and support coordinators. Rich showed Peter that living an independent life was still possible after spinal cord injury.  
"Talking to Rich really helped me. It was great to speak to someone who was in my position years ago who was now enjoying life again."  
Meeting Rich prompted Peter to get more involved with Back Up. He decided to volunteer as a power chair skills trainer.
"Rich thought I'd be good at it, so I applied and went along to the train–the-trainer weekend. It was really rewarding. I was able to meet other wheelchair skills trainers and learn how to run a session."  
Peter has gone on to teach power chair skills at spinal centres around the UK. He teaches newly injured power chair users essential skills – showing them the importance of spatial awareness and how to manoeuvre their power chair around obstacles. Peter says the skills are only one half of what people take away from the session.  
"I tell the people I help how I live my life – tips for managing personal assistants, how I go on holiday, things like that. 
"I know that the experience of talking to someone who's two, five or ten years down the line is extremely valuable." 
For Peter, Back Up is all about helping people live as independently as possible. Nearly two years after his injury, Peter now lives a very active life. He has returned to university part-time to study combined sciences, and he works remotely as a writer for mountain biking websites.  
Peter also has a bespoke chin-powered wheelchair, which is designed to tackle rough terrain. It allows him to go out and about in the great outdoors, regaining the same sense of adventure he had on the back of a mountain bike.
"I make sure to get out in my off-road wheelchair as often as I can. I did the Snowdon Push using it this year, which I think makes me the first chin-powered chair user to make it to the summit! We're aiming to tackle Ben Nevis next year."
We're thrilled to have Peter on our volunteer team, helping others to become more independent after spinal cord injury. Are you interested in teaching wheelchair skills? Visit our website or email our Outreach and Support team.