Sue summits Snowdon
3 September 2019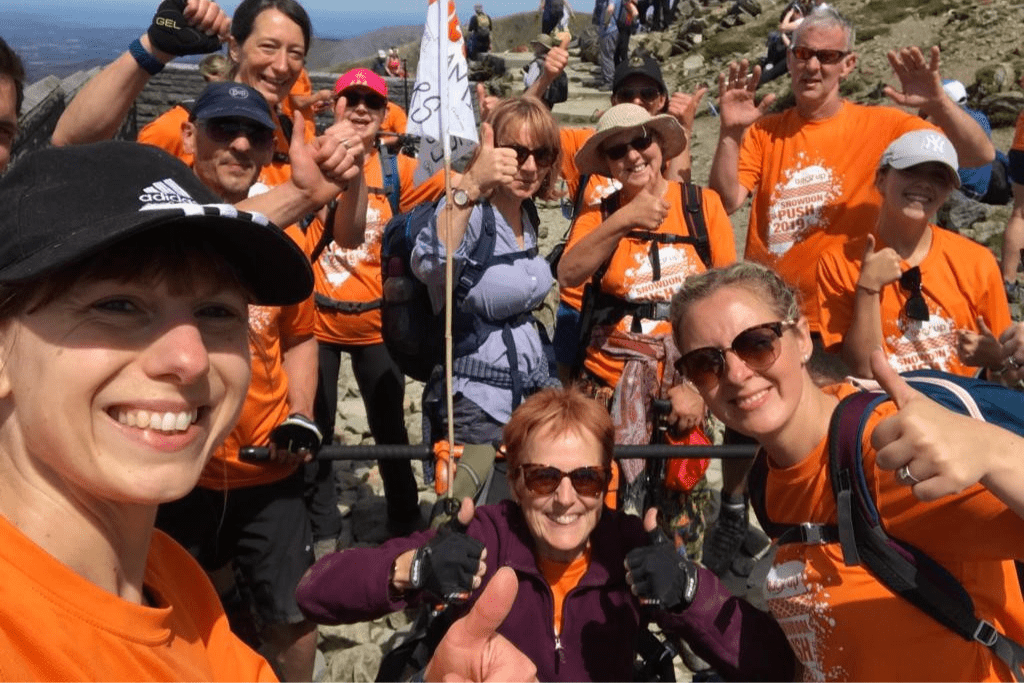 Before her injury, Sue was a keen fitness enthusiast and particularly passionate about jogging. One day, she was out for a run when a tree fell and hit her on the head. Sue's spinal cord was compressed by the impact and it left her with a complete T11/12 spinal cord injury – paralysing her from the waist down. 
"The injury changed every aspect of my life and I've found it very difficult to find something to replace jogging. I do use a motorized bike attachment that helps me get out and about, but I'm still working on finding something which will give me the same sense of freedom afforded by going out for a run.  
''I also have chronic neuropathic pain and, more recently, I've been told that my back is now arthritic. I'm working on ways to manage these issues, like training my little dog Monty to work as a service dog, so she can help me pick up things I drop. It's an ongoing process." 
As well as taking rides on her motorized bike and training Monty, Sue is also involved with Back Up. She first met us in the spinal centre, where she noticed a poster advertising our wheelchair skills training sessions.  
"Unfortunately, I missed my first wheelchair skills session because I was ill. But when other patients came back to the ward later, they all told me how good it was. This encouraged me to get in touch with Back Up, and I was matched with one of their volunteer mentors.
"My mentor was absolutely amazing. I could tell them any of my anxieties or concerns and they would give me reassurance and useful information."  
Sue definitely caught the "Back Up Bug" after she was mentored, and she attended both our Skills for Independence and multi-activity courses. On the latter, she was able to take part in activities like abseiling and canoeing, while meeting other people with a spinal cord injury.  
"Whether you're sitting around chatting in the evening or tackling an activity, you're always learning something new. It's amazing to spend a week with people who know what you're going through. The conversations you have with the group leaders and participants are invaluable."  
Sue left the multi-activity course feeling a lot more confident and ready to face any challenge.  
"I wanted to do a fun run, but sadly not many in my area were accessible. Then I came across Parallel London, which is specifically aimed at disabled people. I pushed it with my sister and had a great time while raising money for Back Up.  
"Completing Parallel gave me a taste for big challenges. That's why I decided to take on the Snowdon Push a year later."  
The Snowdon Push is one of our most intense challenges. Teams push, pull, and wheel their way to get to the top of Mount Snowdon – the tallest mountain in England and Wales.  
"I was a bit nervous at first, but it was just wonderful. It was a difficult challenge, especially for my team, no doubt about that, but there were so many benefits. Seeing the stunning views and working with an amazing group of people made it so worthwhile." 
When they reached the summit, Sue's team picked her up from her chair and carried her to the trig point. It was very emotional for Sue – she had climbed to the top of Snowdon before her injury, and never thought she'd see the top of a mountain again.  
"It was exhilarating and empowering, and it's something I'll always remember. Every time I closed my eyes afterwards, all I could see was a sea of orange t-shirts and smiling faces. 
"Overall, we managed to raise £4,000 for Back Up – double our target!"  
Following the push, Sue is keen to get stuck in to another fundraising challenge. She's considered taking part in the Kayak the Great Glen challenge – a five–day trek along the Caledonian Canal.  
"I love being able to give something back. Doing these challenges helps Back Up continue their amazing work."
Sue is a champion fundraiser – we're so grateful for her contribution! Do you want to take on a challenge to raise funds for our vital services? Get in touch with Reece.