Lisa's story: I'm still me
6 September 2017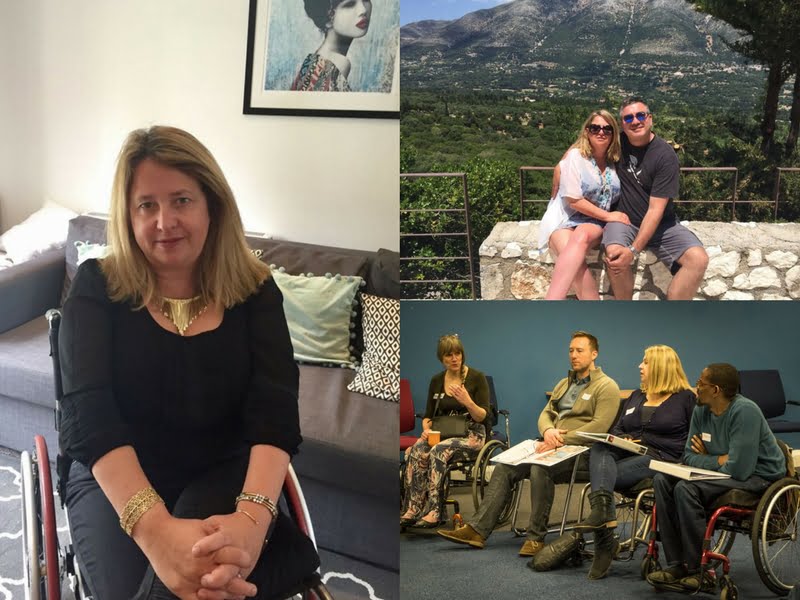 Lisa, aged 45, is one of our team of exceptional mentors who uses her personal experience of spinal cord injury to help others in a similar situation. She often finds that many people come to mentoring wanting to talk about self-image. Spinal cord injury clearly has a huge physical impact, but it can also affect how you view yourself and your abilities.
''When I left Sheffield spinal unit, I suddenly became aware of my body a lot more. It had changed. I put on weight because I spent more time in a wheelchair and was less active. I can walk a bit, but I have to wear specialist orthotics in my shoes to give me greater control over my feet. This meant I couldn't wear anything with a heel anymore, and I needed shoes that were much wider. The orthotics went up my legs too, so I couldn't wear skirts or dresses either – only trousers. This is particularly hard at occasions where you dress up, and I couldn't do that anymore – at least, not in the same way. It made me feel a lot older.''
Lisa can empathise with her mentees who feel this way because she's been there herself, and she's found that empathy really is the key. Her mentees just want to know that they're not alone in this, and that there are other people out there who share the same worries and fears.
''For them to know that they're not alone in this, that does a lot for them. They just want to talk to someone who gets it.''
Lisa believes in taking a creative approach to these problems. Things won't be the same, but there are techniques that can help.
''Some people tend to think of their lives in two stages, before and after their injury. But you're still the same person, and you can still do things that you did before. One of my mentees had a wedding coming up, and we brainstormed all the things she could do to help her feel good about it: Can we find a dress online that's easy to wear? Could she have her hair and makeup done? These little things all make you feel like you're still the same person.
It'll take time, but you'll find ways to help you get what you need. I use online shopping a lot because I find it less stressful than on the high street, and I can do it from home at my leisure. I research lots of different clothes and find items that work for me. There's a bit of trial and error at first, but this has really helped me to find clothing that suits me and makes me feel good about myself.''
With the best will in the world, Lisa recognises that things won't be easy all the time and everyone will have ups and downs.
''I also think it's okay to have days where you do feel a bit rubbish. Even without a spinal cord injury, you might not be 100% pleased with your appearance day in, day out. Being mindful of this, and giving yourself a break is essential.''
As well as worries about appearance, many people with a spinal cord injury lack confidence in their ability to participate in all areas of life. Things like getting a job, taking your child on a trip or just going to the shops can all feel like huge challenges.
''People can shut off from experiences because they think it's just not possible for them anymore. But they just need to find a way that works for them. I recently went to Madame Tussauds for a trip with my daughter. I had several emails back and forth with the venue to make sure I was prepared and knew where I had to go when I arrived. I also find out where I could park and researched a few back up options too. There was a lot of planning, but I had a brilliant time and it was so worth it. I always plan. I didn't use to, but that's something I just have to do now and I've made my peace with it.''
That philosophy of creative thinking comes through in all the lessons Lisa imparts on her mentees. By viewing the situation differently, as a manageable situation that can be solved, Lisa believes you can still lead the life you want.
''A spinal cord injury changes your lifestyle, you can't get away from that. But start small, set yourself goals and reward all achievements – even the small ones. They're often the most important ones.''
If you'd like to receive mentoring or would like to become a mentor, please email our Mentoring Manager, Polly, or call her on 020 8875 1805.