Sam's story: Volunteering as a family mentor during the covid-19 pandemic
3 June 2020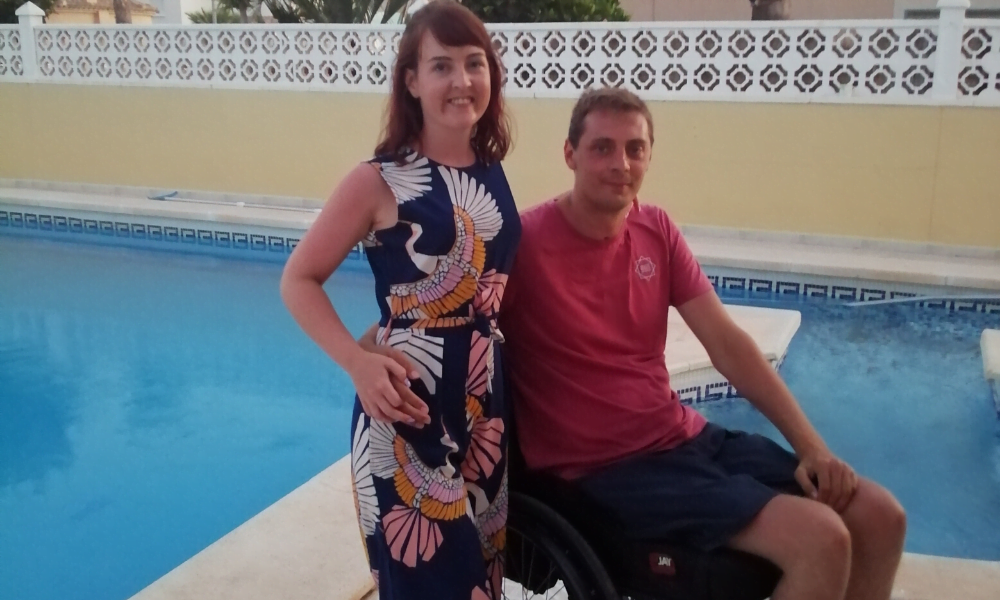 We spoke to Sam, one of our fantastic volunteer family mentors, to find out how this service is helping people in these tricky times.
Spinal cord injury affects everyone around the person who sustained the injury. In Sam's case, her life was changed forever when her partner Andy sustained a C7 level spinal cord injury in a motorcycle accident.
"Andy's injury was a shock. None of us had heard of spinal cord injury before. Andy was a really active person, and all of a sudden he was in hospital."
Andy's family were all shocked and upset by his sudden injury. They found it difficult to realise that he couldn't do the activities he loved before in the same way, like riding his motorbike with his brother and going fishing. But although they were distressed, the family found that his injury brought them all closer together around Andy.
"We rallied around Andy, and we still remain close three years later!"
After she came across our website and read some of the stories about how we have transformed lives affected by spinal cord injury, Sam decided she wanted to get involved as a volunteer. She wanted to pass on the advice and tips she learned when Andy sustained his injury, so she trained as one of our family mentors.
"I feel like I'm at the point where it would be useful for me to share what I know with people who are currently in the situation I was three years ago. For me, family mentoring is all about showing loved ones that there is light at the end of the tunnel – it isn't all so bad, you can still lead a 'new normal' life."
Since the start of the Covid-19 pandemic, Sam has found that her role as a mentor has changed. Previously, she would focus on helping the people she mentors to set goals and milestones to achieve. With the lockdown in place, Sam now uses her mentoring calls as a way to check in with the people she supports.
"I was helping a lady break down some goals surrounding getting her house made accessible for her partner. This has all changed now, due to the pandemic we no longer know when her partner will be discharged from hospital. Now I focus my mentoring calls around the day-to-day stuff. I use them as a chance to see how she is feeling, make sure she is keeping active, and check that she has ways to contact her partner in hospital."
For Sam, these wellbeing chats are just as vital as setting goals and milestones. Since people affected by spinal cord injury now have more worries due to the pandemic, sharing tips on how to cope and keep busy are invaluable. For example, Sam says that she has been spending a lot of time tending to the garden with Andy. It keeps them both active, and allows them to bond together over a shared interest.
In these difficult times, Sam has her own worries as a loved one. Talking with the people she supports helps her just as much as it helps them.
"I tend to overthink things, so I've been getting overwhelmed by hand washing, wearing a mask, and social distancing. Staying in touch with others has been essential, as it helps you stop overthinking.
"This pandemic feels quite similar to when Andy was recently injured. Crisis can bring people closer together."
Are you a family member who needs support in these tricky times? Get in touch with us.