Tom & Ellen's story: Working life out together
8 February 2018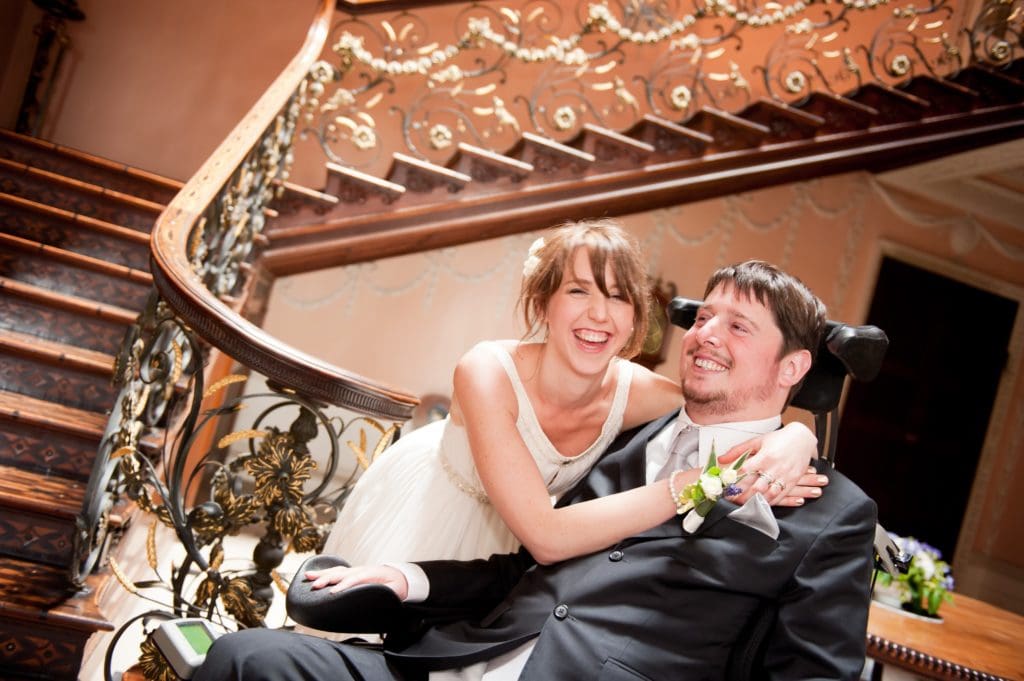 Tom and Ellen met at a music festival in Switzerland in 2004 and began dating soon after. Three years later, Ellen was studying abroad in Bulgaria and Tom flew out to visit her. As she was at university during the day, he chose to go snowboarding. On his first day in the mountains, Tom was doing jumps when he landed badly and broke his neck. – sustaining a C3/4 level spinal cord injury.
"The first few months were very difficult," says Tom. "I was very severely injured neurologically during the initial months which included a lot of hallucinations. My health was touch-and-go and my injuries could've left me with brain damage.''
Tom spent a week in intensive care in Bulgaria before he was flown to Stoke Mandeville and spent almost two weeks in intensive care and 15 months there as an inpatient.
Ellen says: "There were a lot of complications. I spent the first seven months with him pretty much every day in the hospital. When I went away for my third year of university, I'd come back and see him every weekend. Thankfully, we had a lot of support."
Tom's accident meant that he had to make a lot of mental adjustments to bring himself round to the reality of his new situation. It also had an impact on his relationships with those closest to him.
He says:
"At the beginning, I was very much dependent on the support of those around me, especially Ellen. We drew a lot of strength from each other, particularly during the grief. It was obviously very hard on the relationship and I was concerned about Ellen.
"I can't imagine what she went through during the first few months. No one was sure if I was going to survive and if I did, whether I was going to have any cognitive function. Once I was clear, that was a huge relief. I'm very lucky that she stayed with me because I know a lot of relationships have broken down during that initial period."
Though it was a hard time, Ellen knew that she wanted to support him as best she could. "The thing is, I just wanted to be with him because he was the same person. One of the great things about Tom was that he never pushed me away, which must've been so hard. I kept thinking that at some point he's going to be so angry at the world and tell me that he thinks I shouldn't be with him. But he could tell that I wanted to be there and that I wanted to help him so that's what we focused on. He wasn't there trying to decide my future for me. I know Tom felt guilty but he could also see that it was what I wanted."
The couple first heard about Back Up while he was still at Stoke Mandeville. "One of the things Tom was excited about was Back Up's skiing course. Obviously having had a snowboarding accident, I was more than a little sceptical," says Ellen.
When Tom was discharged in August 2008, he went on the course the following year and found that it hugely boosted his confidence.
"It encouraged me to get used to being outside of my comfort zone and how I could manage things in a situation external to a hospital. It was one of the most memorable moments of my life and I met lots of friendly people. The hands-on practical approach from the course leaders blew all my expectations out of the water."
Tom now helps out as a volunteer mentor and tries to give as much time as he can.
"I've found it very rewarding. You get a bit of a buzz when you get off the phone and feel like you've been able to support someone in some way."
While Ellen received a great deal of support from friends and family, she believes that she could've been helped by something like Back Up's family mentoring service.
"I think that's one of the great things about Back Up. They help the partners and family as well as the person who's been injured. There are times when I think I might've benefitted from talking to someone in a similar situation and I didn't have that at the time."
For the couple, life has had its ups and downs as well as some surprises –  including a new member joining the family in less than a month.
Tom says: "There's lots to think about with having your first baby as a father with the complications of a spinal cord injury. I'm learning about the different ways children interact with others and how they listen to voices more, as their eye contact isn't very good to begin with. I've also been learning about breast-feeding – there's so much I didn't know!"
He's also found it interesting speaking to other fathers with a spinal cord injury who have had kids.
"Most of the fathers with a spinal cord injury that I have met are more mobile than me and are able to hold children. This has made us think about how we'll adjust and what kind of support we'll need."
Ellen also notes that there will be changes as a result of their growing family.
"It's quite hard because there were a lot of things I used to do that I'm not allowed to do anymore, like rolling Tom at night or moving him in his chair. But on the whole, we're giving each other so much support and that makes everything easier. I'm not saying it's easy now, but it's our life and I don't really think about it. It's still a process of working life out."
If you'd like to receive mentoring or would like to become a mentor, please email our Mentoring Manager, Polly, or call her on 020 8875 1805.