Rachael's Q & A: Working as a personal assistant
7 November 2019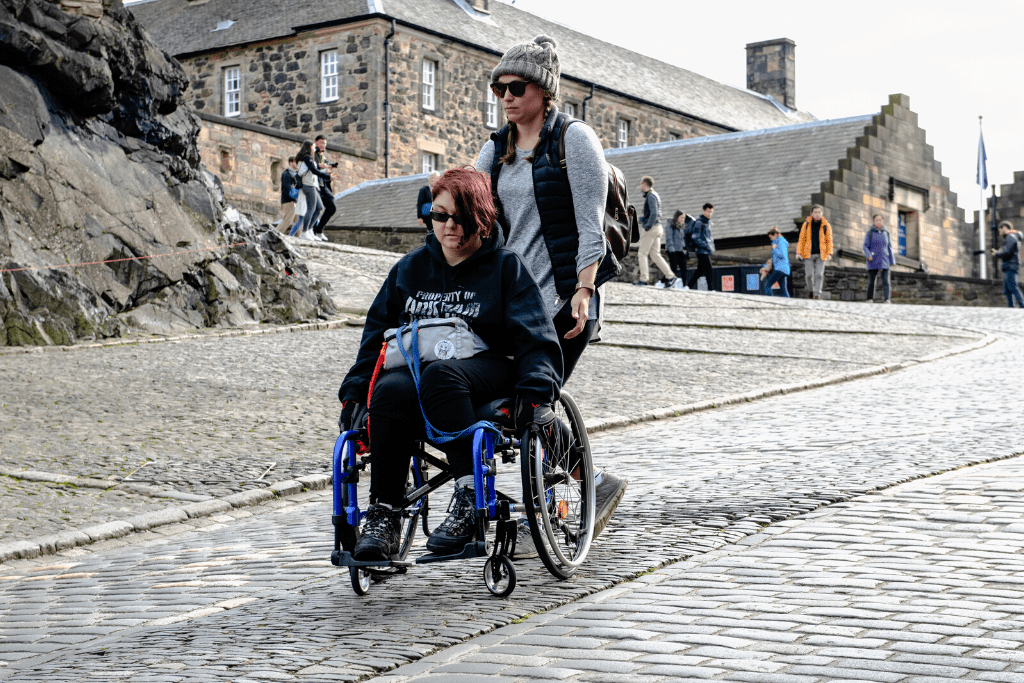 The work of a personal assistant can be varied, challenging, and very rewarding. We spoke with Rachael, who has six years' experience working as a personal assistant (PA). She gave us some of her top tips and best working practices to have a successful career as a PA.
Tell us a bit about yourself
I'm Rachael, a 28 year old Aussie. I've lived in the UK since 2013. When I first came to London, I was originally working in hospitality. A few of my housemates then suggested I try working for a spinal cord injury care agency they worked at. Six years later I'm still working as a PA.
I currently work in Yorkshire as a live-in PA, doing two weeks on, six weeks off. When I'm not working live-in I pick up agency work in Glasgow or spend my time volunteering with Back Up or Horatio's Garden or go on holiday.
How did you meet Back Up?
In 2014, my care agency put me forwards to help out on the Edinburgh City Skills course. After the course I got in touch with Merryn and offered to volunteer on courses in the future. Since then I've volunteered on 11 courses, and I'm also going to train as a group leader.
A lot of the people I meet on Back Up courses are newly injured. Being able to give them tips and advice while watching them improve their confidence is amazing. I also love meeting new people and making friends. I think a lot of my friends here in the UK I've met through volunteering with Back Up. Soon I'm going to Latvia with someone I met on the 2017 Back Up Colorado sit skiing course – that will be our third holiday together.
What is the process like to become a PA?
When I signed up with the agency, I had zero qualifications or knowledge about spinal cord injury. The agency gave me full training at their head office. This covered everything from food hygiene and medication management to manual handling and bowel and bladder care. There's also safeguarding training, and a practical exercise where you spend half a day using a wheelchair being assisted by another trainee PA.
All of this training goes towards your Care Certificate – that's the 15 minimum standards that define the skills, knowledge, and behaviour for certain roles in the health and social sectors.
What do you do as a PA?
My current job is with someone who has a C5 level spinal cord injury, so I assist them with their daily routine. This involves catheter and bowel care, and showering – as well as their teeth brushing and shaving. I also cook and prepare meals, do some housework, and drive.
Of course, your average day will be different depending on who you work with. I have done wood chopping and snow-shovelling in the winter, and I'm about to add window washing to my CV!
What kind of skills does a good PA need?
Different clients will need different things from their PA, but there are a few universal skills. You need to make sure you are reliable. If you've committed to a shift, make sure you turn up to it. If you don't turn up the client is left in the lurch and the outgoing PA may need to stay longer.
As well as reliability, it's good to be flexible. I've helped fill in shifts or work longer if my client hasn't been able to secure a PA at a certain time. This flexibility does work both ways. For example, my client was once able to find cover for me when I had to fly home for a family emergency.
Adaptability is just as important as flexibility. Sometimes things don't go to plan, so you need to find ways to work around problems. Accessible rooms aren't always accessible for everyone. A hotel a client and I stayed in had the shower seat against the shower pipes, so there was no possibility of leaning back – he didn't have the core strength to sit forward. Together we adapted a solution by having him sit on the toilet while I washed him with the shower hose.
Finally, communication is always key. You need to clearly understand what tasks you need to do. You also need to be able to confidently communicate with your client. If you feel something puts your health and safety is at risk, you need to be able to say no.
Are there any difficult parts to working as a PA?
When you're doing live-in care, it can be a lonely job. You need to be quite comfortable with your own company. I suggest getting a subscription to a streaming service so you can watch shows on your downtime. You should also try arranging an hour or two off each day with your client so you can get out of the house.
You may also work irregular hours. If you're concerned that you aren't getting enough sleep, speak with your agency line manager. I'm sometimes out late with my client and will need to get them up early the day after – for example we may get back at 2am for a 7am wake up. In this case they will often let me go back to sleep for a few hours after I've helped get them up and ready in the morning.
How do you maintain a good working relationship?
Everyone is unique, and they will all want something different from their PA. Some people may not want you to be in their space all the time, and some may treat you like family. Remember that it may take anywhere from a week to six months for everyone to feel comfortable working closely together.
I recommend bringing a positive attitude – nobody wants to work with a sad sack! Maintaining verbal independence is important for the people you support, and they will expect you to follow their instructions. So don't do tasks your way, do them how you're asked.
What would you say to someone considering becoming a PA?
I'd say go for it! Once you are qualified there are websites like PAPool and Care4U that can help you find work. There are also Facebook pages like Live In Care UK that share jobs and advice about life as a PA.
Are you a personal assistant who is interested in volunteering on one of our courses? Get in touch with Merryn.
If you want to hear more fantastic stories from Back Up – including our monthly newsletter – be sure to keep in touch with us!