Nicky's story: Family volunteering
30 November 2020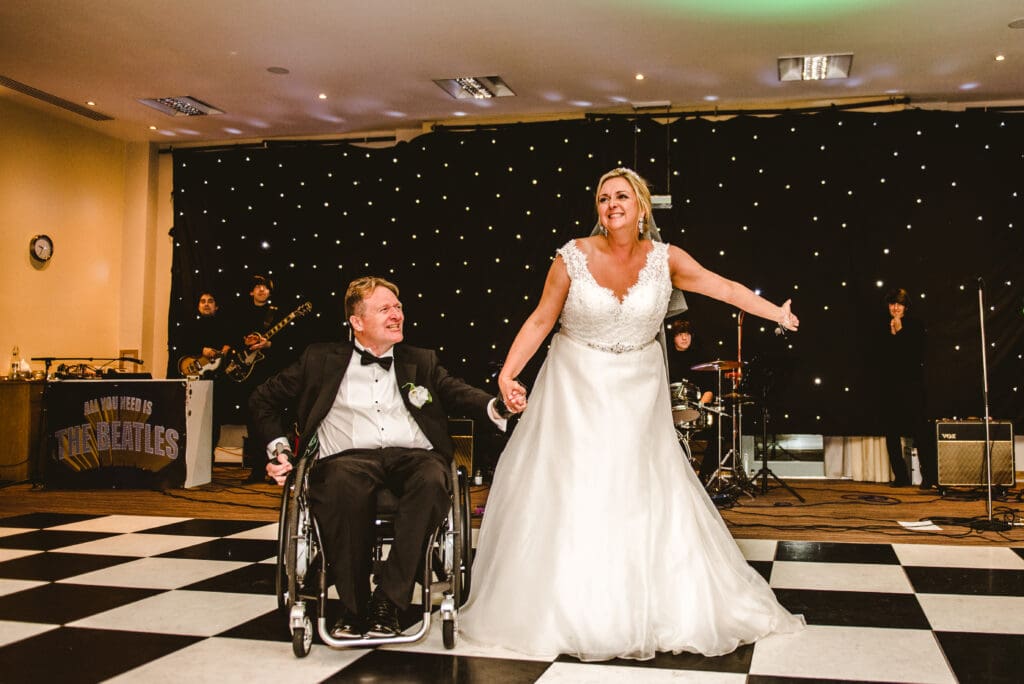 At Back Up, we understand that the best people to give support and share advice are people with lived experience of spinal cord injury. Nicky's partner has a spinal cord injury, so she knows the difficulties family members and loved ones can face. By giving up her time as a family mentor, Nicky helps us transform lives.
Nicky has been married to her husband David for four years. They have a yellow Labrador, and enjoy an active life – David is a keen adaptive sailor, and Nicky is a fan of cooking. After meeting each other on a dating site, Nicky says that she fell head over heels in love with him. However, in the early days, there were some difficulties. David sustained a spinal cord injury 14 years before he started his relationship with Nicky. He broke his neck diving into a swimming pool on a family holiday, sustaining a C5/C6 spinal cord injury. Since he has a high level injury, David has a live-in personal assistant (PA) who helps with his daily care routine so he can live life to the full. At first, Nicky found it difficult to adapt to living with a PA.
"It was difficult to have a PA in the house all the time. I never had to live with that before, and it was quite daunting for a new relationship.
"In the early days I knew nothing about spinal cord injury and disability. If I wanted to truly know David, I needed to understand his injury."
This is where Back Up came in. David had given his time as a volunteer for Back Up in the past, so he put Nicky in touch with our team. We paired Nicky up with a mentor, who helped her understand more about spinal cord injury. Our family mentors help family members and loved ones of people with a spinal cord injury adapt to this new chapter in their life. They help family members set goals, plan for the future, and provide an empathetic listening ear.
"My mentor was amazing. He helped me understand so much more about spinal cord injury. I learned what David couldn't do, but more importantly what he could still do. It was very balanced, I learned more about the complicated things within spinal cord injury like Autonomic Dysreflexia as well as tacking my worries about living with a PA."
After she finished mentoring, Nicky remained part of the Back Up community. She trained as a volunteer mentor herself, so she could support others in a similar situation. For the past three years, Nicky has continuously volunteered as a mentor. Her unique perspective as someone who started a relationship with someone after their spinal cord injury has helped plenty of others.
"It feels good to help people in similar situations. My perspective is quite unique, so it means I can really understand others who are going through what I went through. I can be open and honest with the people I support, answer their questions about spinal cord injury, and provide a sympathetic ear."
This year, Nicky took her volunteering even further than before. She began volunteering at our Back Up Lounge, an online space for people affected by spinal cord injury. This is a Zoom call where our community can discuss topics that matter to them – such as bladder and bowel care, pain, and issues specific to family members. Since we launched this service at the start of the coronavirus pandemic, Nicky has not missed a single Lounge. She hosts our Lounge for family members, sharing her experiences to help people as they adapt to their loved one's spinal cord injury.
"The biggest thing for me is that the Family Lounge is a space just for us.
"The early days of your loved one's spinal cord injury can be hard, and you may feel guilty for struggling. It's really important to chat about these feelings and share tips for living well."
This year, we awarded Nicky our Sheila Ball Plate for family volunteer of the year at our annual awards ceremony. Nicky was thrilled to be awarded this recognition for her volunteering efforts over the past three years.
"I feel honoured. I'm really touched that I was considered worthy to get this award. I love what I do for Back Up, and I'm proud to be part of this community."
Every two weeks we host our Back Up Lounge on Zoom. Come join our community and register to join on our website.