David's story: Lockdown with a spinal cord injury
1 July 2020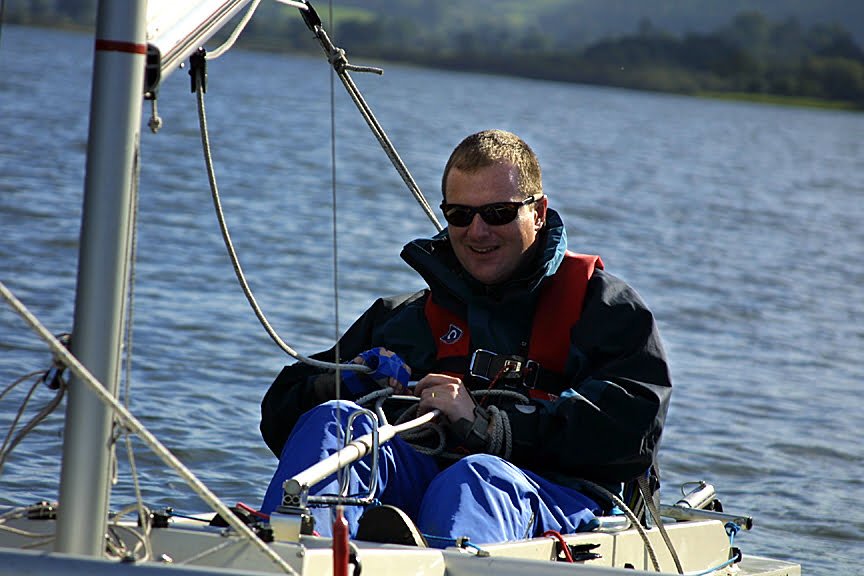 Over the past few months, we have all been facing a new normal. The coronavirus pandemic has interrupted lives and created new worries. That's why we spoke to David, one of our fantastic volunteers who has been helping us transform the lives of people affected by spinal cord injury during the coronavirus pandemic. David told us about how he's feeling with lockdown measures easing, what volunteering he has done for Back Up, and his top tips for looking after his wellbeing.
David first met Back Up 21 years ago, when he broke his neck diving into a swimming pool. He sustained a complete spinal cord injury at the c5/c6 level, and was paralysed from the chest down. David's injury suddenly made him feel very uncertain at what the rest of his life would look like, but he was determined to move forwards.
"I made a conscious decision to be positive. There was nothing I could do about my injury, so I decided to work with what I had. I wanted to keep moving onwards."
Wanting to get the most out of life after spinal cord injury, David decided to get involved with our life-changing services. Being a keen skier before his injury he took part in our ski-karting course twice, and went on to join our Multi Activity Course. David wasn't just able to take part in activities he didn't know were possible after spinal cord injury, he was also able to find himself a community of people in a similar situation.
"At first after my injury, I didn't want to interact with what I thought was the 'disabled world'. But on my first Multi Activity Course, I met some Team GB wheelchair rugby players. They showed me it was still possible to have a fun time as a group of wheelchair users.
"Back Up helped me become more confident, and helped me meet people who understand my disability."
Having this community has helped David during the ongoing coronavirus pandemic. Being a keen sailor, David would usually be out on the water at this time of year. Since he has been shielding due to his lung function, David has been hosting virtual regattas with his local Sailability group.
"Having ongoing contact with people with a spinal cord injury has been very positive!"
David has also been busy volunteering for Back Up as a mentor. The pandemic hasn't made this service any less vital. Our peer mentors are working as hard as ever to support people in a similar situation to them.
"The people I mentor really appreciate the contact. Lockdown can be isolating, and it's good to be able to talk to someone who understands."
Although some lockdown measures are set to ease, the current government advice is for shielding individuals to continue to do so. David says he does have some worries about lockdown easing, he is adopting a cautious approach as things change.
"Personally, I'm worried that there will be more risk due to more people going out. There's also the issue of shops reopening and having large queues on the pavement to navigate. There will be a lot more difficulty going out as a wheelchair user."
In the meantime, David is keeping himself busy and active. He is using his time at home to learn French, as well as doing free online courses – he is currently studying Art History and Forensic Psychology!
"At the moment it's important to realise that things will ease up in the future. Be patient, and find a fulfilling way to keep busy that suits you."
If you need to talk to someone about covid-19 and spinal cord injury, Back Up is here for you. Call our team on 020 8875 1805