Matt's story: Parenting with a spinal cord injury
1 August 2018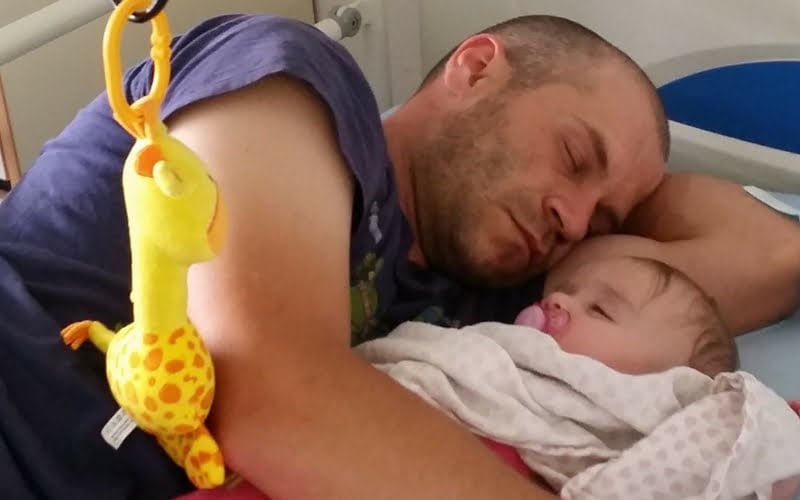 Being a parent is often challenging but being a parent with a spinal cord injury can present new and unexpected challenges. Matt, 34, is a young dad who sustained a spinal cord injury last year when his daughter was only three months old.
On 2 June, Matt was climbing a tree when he lost his balance and fell to the ground. Matt was rushed to Brighton hospital where he immediately underwent surgery on his back. He sustained an injury between T-12 and L-2 and was transferred to Stoke Mandeville to undergo his rehabilitation.
During those early days, Matt found it incredibly motivating to have his daughter around him. ''My partner used to come to the hospital and leave my daughter with me for a few hours. She wanted to play with me and I wanted to be able to play with her too, of course. It was a good reason to get on with my physiotherapy and build up my strength,'' Matt says.
Matt has an incomplete injury and, after four or five weeks, he regained some sensation below the waist and started to walk again. When he returned home, he wanted to be the same parent he'd been before his injury, but he had to contend with fatigue, neuropathic pain and a boisterous baby girl whose favourite habit was trying to pull her dad's catheter out.
''It's harder post injury than it was before. I never minded mucking around with her, but now I'm trying to take care of my little girl while balancing my pain and other issues which isn't easy.
"A prime example is a messy nappy. When I try to stop her from moving around so I can change it, she can jar my back and make it quite painful. She's so little though that it's hard to explain what's going on.''
From his own experience, Matt recommends partitioning your living space so that you don't get exhausted looking after your children.
''We've divided the house up into sections to make it easier for me to look after my daughter. Each area is divided by one of those baby gates, so I don't have to get around the whole house. That makes a terrific difference actually.''
Being mindful of how much you can do on your own is important too, and asking for help if you need it. ''When I first came home, I couldn't look after my daughter on my own, and so we had some child care at first which helped a lot,'' Matt adds.
Sometimes, Matt can find looking after his daughter a struggle, but he remains optimistic and recognises that everyone has good and bad days. Matt explains:
''There are times when I don't feel great, but if she's up, then I've got to be up to look after her. I'm so grateful to have this time with her though, and I think you've just got to find that balance between pushing yourself and taking care of yourself.''
As well as figuring out life as a young parent, Matt has been speaking to one of our volunteer mentors to gain new perspectives on life with an incomplete spinal cord injury.
''My friends see me walking and, to them, it looks like I've completely recovered. But they don't know about the side effects that go with having a spinal cord injury. When I walk, I get pins and needles, cramps, and my feet can feel like they're on fire. I've had troubles with bladder stones too. It's so much easier to talk to other people with a spinal cord injury about things like that. Talking to my mentor helps me see how I could get back to doing my job, and just having a normal routine again.''
Matt's recently started to research equipment which he hopes will help him to get back to the outdoor work he loves. He's also in the process of applying for an adapted car to give him some more independence. Matt regrets that he can't visit some of the places he used to go pre-injury, but the wheelchair skills he gained from Back Up have allowed him to take some trips out in a chair with his family.
''I've tried using a wheelchair in Petworth park which went really well because I put into practise all the skills I'd learned from Back Up. Being able to back wheel balance and go up and down kerbs just gives you back some independence. When I was at the spinal centre, Back Up's trainers took us on a session outside the hospital. That was amazing. We went into town on the bus, and I'd never done that before. It's all really useful stuff that I can now use to get out and about with my daughter.''
Do you have any questions about parenting with a spinal cord injury? Please get in touch with our outreach and support team by email or call them on 020 8875 1805. You can also find out more about Back Up's work in our support for you section including our Next Steps course for people with an incomplete injury who can walk some or all the time.