Melissa & Dom: Living an active life with personal assistants
7 November 2019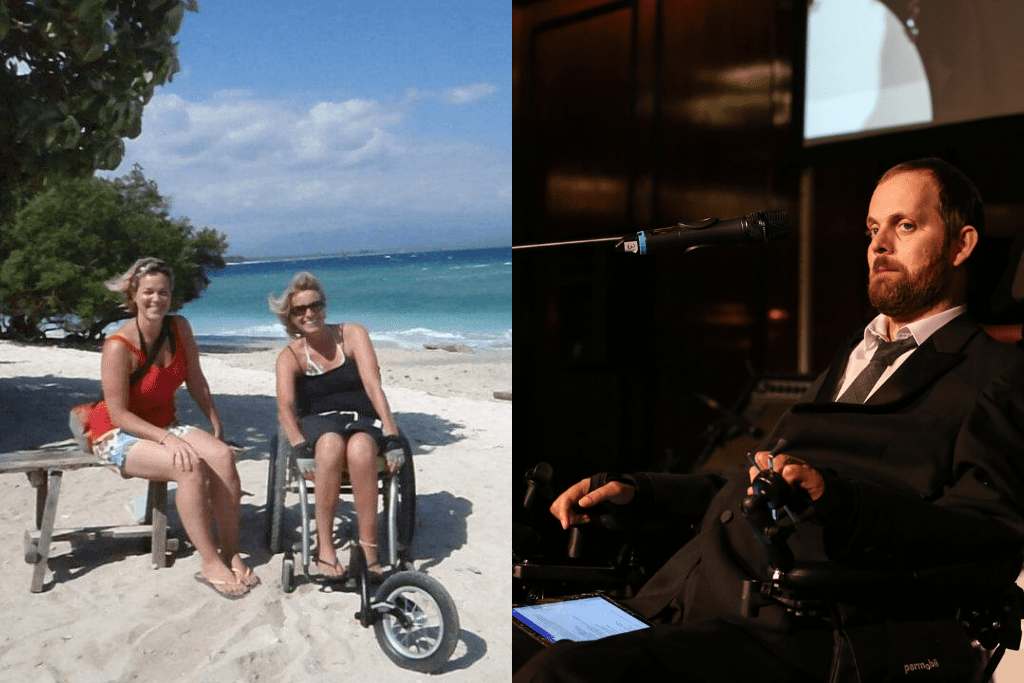 Melissa and Dom both have a high level spinal cord injury. Although they have had different experiences, they both have personal assistants (PAs) who help them with their daily activities. We spoke to them to find out how their PAs support them to live independently.
Melissa's story
Back in 2000, Melissa was living a busy life. She was working as an account manager for a network company, travelling frequently and working in different locations. But her life was turned upside down when she was involved in a road traffic accident.
"I sustained a C7 complete spinal cord injury. I was suddenly a full time wheelchair user with no hand function.
"When I left the spinal centre, I couldn't go back to my house share as it was inaccessible. I also couldn't return to my job, as I wasn't ready to travel like I did before."
Getting support from a personal assistant (PA) became a necessity to help Melissa return to living the full life she enjoyed before her injury. However, she found adapting to life with a PA hard – she needed to find the right person for her.
"I struggled more with having a PA initially than with the injury itself! It felt intrusive having a new person in the house. I didn't feel like my first few PAs were on the same wavelength as me. I needed someone who could help me have an active lifestyle again."
After switching between a few agencies, she eventually found PAs that suited her. Melissa likes to keep active with hand cycling and weekly swimming, so she needed PAs that enjoyed those activities too.
"Finding the right PA is a bit like speed dating. You may not have the right match at first, but once you find someone you have things in common with it will go a lot better!"
One of Melissa's main goals after her injury was to get back to work. Having a PA was essential in supporting her return to employment.
"When I was working, my days were long. I would leave the house at seven in the morning and not return until seven in the evening. I wouldn't have been able to work without my PAs. They didn't help me with my actual work, but they supported me with making dinner and getting me ready in the morning – things I would have been too tired to do on my own after work.
"If you're considering going back to work after spinal cord injury, you should go for it. It can give you a feeling of purpose and a reason to get up in the morning."
As well as returning to work, Melissa was also keen to travel again. She came along on one of our skiing courses, which helped show her that long-haul travel was still possible as a wheelchair user. Since then, she has become a seasoned expert at travelling with a PA. A few years ago, she spent three months travelling across Malaysia, Indonesia, and Sri Lanka – and she went skiing for six weeks just last year. Melissa says the key to travelling successfully with a PA is clear communication.
"You need to set out your expectations for the trip from the start. Things can be intense while travelling, so you don't want anyone to feel like they're treading on eggshells.
"Be clear on what you want, and how you want it to work. Make sure they know not to be offended if you want to spend some time alone."
Melissa now lives in Devon, where she has retired with her partner. She now hires her own PAs, rather than going through an agency. Although she found it a bit daunting at first, she says it was a necessary decision to make. Since she is no longer working she doesn't need a live-in PA, and the major spinal cord injury care agencies only offer live-in care packages.
Her new PAs help her for four hours a day, from 8am-12pm. They support her with daily routine, a bit of housekeeping, and to get to appointments.
Melissa made sure to maintain a good relationship with her former agency, so she always has a reserve option in place.
"I keep in touch with my old agency just in case. If there is an emergency and one of my regular PAs cannot make it, the agency can send me a replacement. It's also useful for when I travel too. If none of my regular PAs are available, the agency can find someone to cover the trip."
Dom's story
Dom was 19 when he sustained his spinal cord injury. As a Royal Marine, he was on a cold weather training exercise in Norway. During a day off from training, he dived head first into what he thought was a pile of snow – but it was solid ice. The impact crushed his spinal cord, and he sustained a C3/C5 level spinal cord injury.
His injury massively changed his life. One of the biggest changes was that Dom now had support from a live-in personal assistant (PA).
"Originally, I made use of a 24-hour care package. This was all sorted out while I was in the spinal centre, and we were all quite nervous about it. My family had never been in that situation before."
Dom did find having a PA difficult at first. Prior to his injury, he was very active and outgoing, so he found asking for help quite tough.
"I knew I needed support, but it was hard to get used to it. I think that's something that gets better with maturity – realising that my PAs help me live my life."
As time went on, Dom saw the positive side of having a live-in PA.
"When I was injured, I was a happy-go-lucky 19 year old. I just wanted to see my mates and go clubbing. A live-in PA meant that I could go out like I used to. That meant a lot to me back then.
"Having an active lifestyle gave me a bit more normality."
With Dom's level of injury, he needs support with a lot of his daily routine – including eating, dressing and washing. He says that in the early days of his injury, having a live-in PA gave him a lot more freedom.
"My PA didn't need to go home every night, and I didn't need to sort out a handover every day. I would have felt restricted if I didn't have a 24/7 care package back then.
"At a young age, I really valued my freedom. It was exactly what I needed at the time."
One of the most valuable things Dom regained through having a live-in PA was spontaneity. Being able to "just pick up and go whenever" was a massive benefit. One Friday, Dom asked his PA if he wanted to go on holiday – so they went to France for the weekend!
"I can't stress enough how much independence you get from being able to be spontaneous. It means you've been able to bypass another restriction from spinal cord injury."
Dom's care package has now changed. Since moving in with his wife, he now has a PA who helps him for 12 hours during the day. Although he no longer has live-in support, he has gained plenty of experience when it comes to working with a team of PAs.
"You need to make sure you have the right person, and you should never be afraid to ask questions.
"If you're uneasy at any point – I can't stress this enough – be sure to voice your concerns. Nothing will change if you don't speak up."
Do you need to talk about topics surrounding care and personal assistants? Get in touch with our outreach and support team.
If you want to hear more fantastic stories from Back Up – including our monthly newsletter – be sure to keep in touch with us!