Holly's story: Going back to university
7 August 2019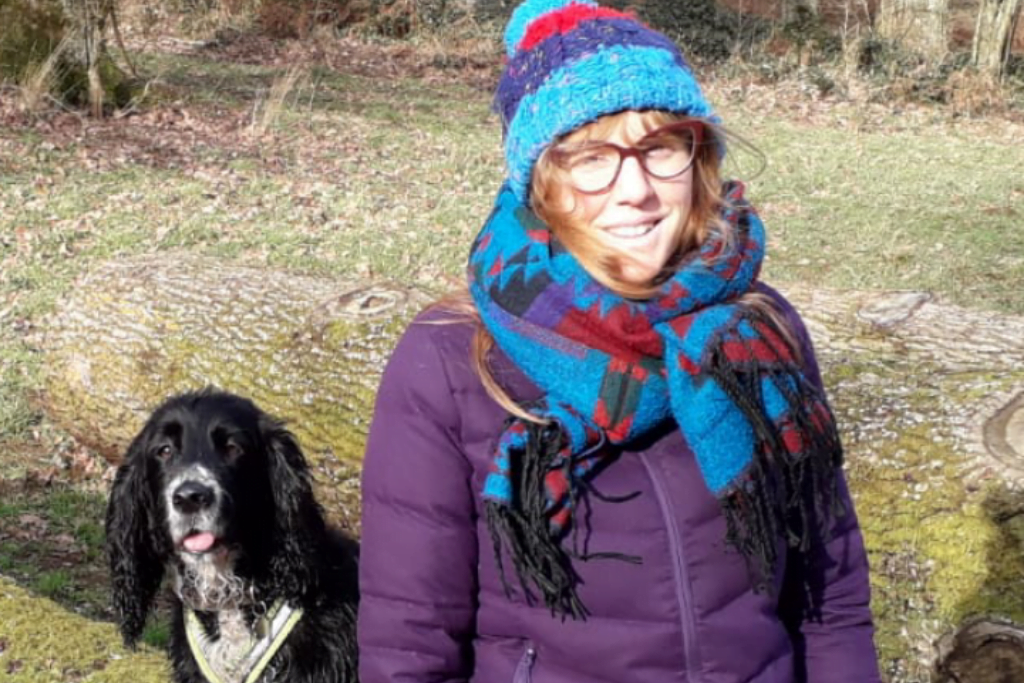 When Holly was 28, she was struggling with her mental health which led to her taking big risks. While mountain biking, she rode off a big jump and sustained a high level spinal cord injury.
"Initially I was paralysed from the neck down, but I regained movement and could walk without any aids by the time I left hospital. The immediate impact of my injury meant I lost my favourite hobbies. I couldn't ride my bike anymore or play music like I used to.
"However, my mental health ended up improving! Breaking my neck put everything in perspective."
With this fresh view on life, Holly decided to work towards a new career as an occupational therapist. This meant that she would have to go back to university as a mature student to get the right qualifications.
"I was a bit annoyed at first, as I already had a degree in history. But at the same time it suited me, because university almost gave me a 'halfway house' between the spinal centre and living by myself."
Having support from Back Up allowed Holly to flourish during her studies. Before she went to university, Holly used our mentoring service after learning about it through a brochure in the spinal centre. She also attended our Moving Forwards course for 18-25 year olds.
"The Moving Forwards course helped me start this new chapter in my life. I met loads of other spinal cord injured people that showed me how to deal with the problems I was facing, like pain and mental fatigue."
By talking to people she met through Back Up, Holly found out what support options were available as a disabled student. Holly claimed a disabled student allowance at university. This allowed her to be assessed for adaptive kit to help her study, like an ergonomic desk chair, a laptop, and dictation software.
"My university was very supportive. I had a dedicated disability adviser, a scribe and extensions on some of my deadlines. I was also able to have a larger room to suit my needs. This gave me plenty of space for my physio equipment, like my exercise bike and hula hoops!"
After she graduated, Holly saw another new beginning on the horizon – getting her first job. While she was studying, Holly was a regular volunteer with Back Up. She helped out as a mentor and also volunteered as a group leader on our Back Up to Work course. Volunteering wasn't just great for socialising with other people affected by spinal cord injury, it also helped her enter the world of work.
"Volunteering on the Back Up to Work course helped me get started with my career. It helped me realise what I was entitled to through the access to work scheme. I now have a support worker who helps me with manual handling, and a power chair for when I'm too fatigued to walk."
Holly currently works for a special educational needs school. She provides occupational therapy for young people with brain injuries, spinal cord injuries and autism. She has also got back into playing music and is currently in the early stages of producing a storytelling podcast.
Holly's given us some of her best tips for studying after spinal cord injury – check them out below! 
Holly's tips for having a great time at university after spinal cord injury
Know what support you can get
"My university was able to provide me with scribes for class and support workers when I went on placements. Be sure to make use of any free resources you can get."
Volunteer and take part in as much as you can
"Getting involved is great fun, and it widens your social circle. It also sets you up with valuable experience for work and interviews. It can be harder to get student jobs with a disability, so boost your CV in other ways. The volunteering I did with Back Up got me to quite a few interviews."
Be open with your tutors and university about your needs
"I can guarantee you that some things will be harder for you than for many of your peers – having been to uni both before and after my injury, there was a discernible difference! Don't be shy about accessing support such as extended essay deadlines and getting lecture slides in advance.
"It also doesn't hurt to do your research into grants, trusts and hardship funds. I found out when I finished that I had been eligible for a £2000 fund each year because I wasn't able to work part time during the course."
Research institutes for their disability track record
"Universities and colleges vary greatly in their disability support. Some have inconvenient ancient rules, like Cambridge, where you have to have slept within three miles of the city centre for a certain number of months in the year to graduate – even if you were in hospital! So it pays to do your research before you apply.
"Ask admissions and course tutors questions that may be relevant to you e.g. Could I go part time at any point in this course if I need to? What happens if I need to miss a significant chunk of uni for medical reasons?"
Have fun!
"University is a unique experience. Make sure to get stuck into the clubs and societies, go out, and come away with some fun stories."