Chloe's story: Changing careers
2 October 2019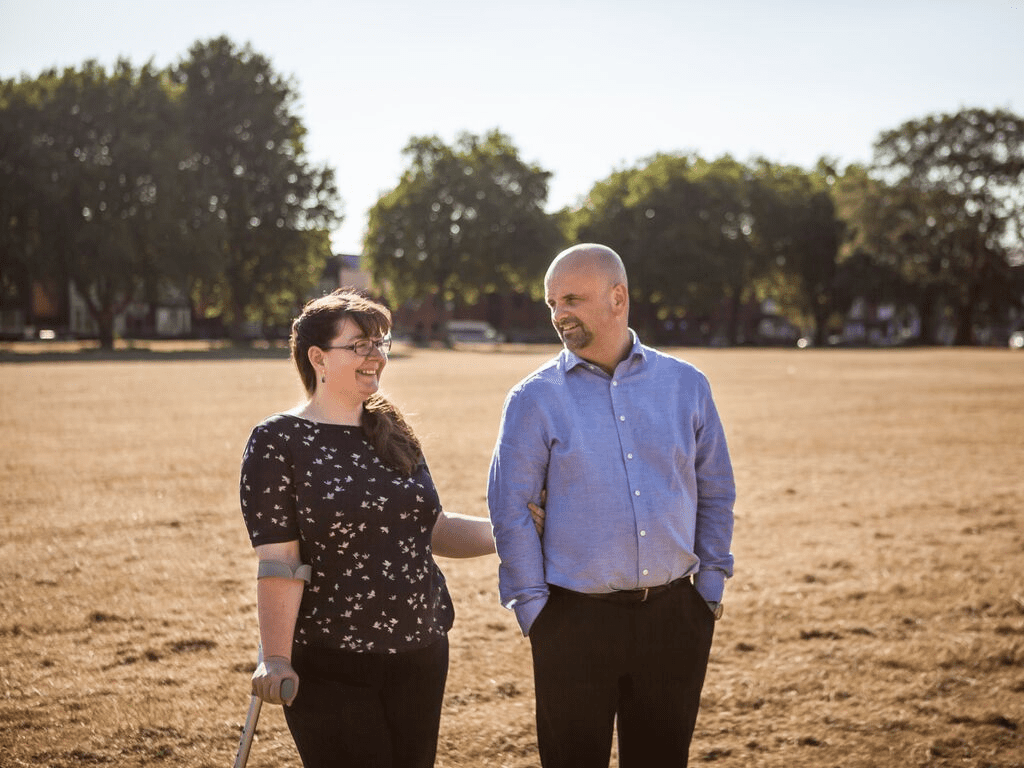 In 2014, Chloe's life suddenly changed forever. She was affected by a rare condition – cauda equina syndrome.
"One day, I heard a pop and, all of a sudden, I couldn't walk. A disc had come out of my back and compressed my spinal cord at the L4/5 level.
"I was operated on the next day. I lost a lot of sensation below my injury level as well as control of my bladder and bowels. My motor nerves did eventually come back, except for in my ankles and feet."
Every spinal cord injury is as unique as the person who sustains it. Chloe can walk for short distances, but she uses a wheelchair sometimes to avoid pain and fatigue. This sudden change in Chloe's mobility had an instant impact on her career. For the past 20 years, Chloe had worked as a music technician, repairing woodwind instruments for military bands. Her spinal cord injury affected what she could do when she eventually returned to work.
"I couldn't lift heavier instruments like saxophones any more, which changed how I worked on them. I also couldn't use certain tools that I had previously worked with. Using a lathe was impossible because I'd need to operate a foot pedal. It wasn't safe for me to use standing drills any longer because of balance issues."
Chloe says that her employer was amazing, despite the setbacks from her injury.  They supported her with workplace visits from her occupational health therapist and everyone helped her to stay productive, which was immensely encouraging.
Following a family move to another part of the country, Chloe continued working remotely as an instrument technician. She was travelling once a week in her car adapted with hand controls to collect instruments to repair at home. At this point Chloe started considering her next career move so she could work more locally.
Chloe spotted in our monthly newsletter that our Back Up to Work course was approaching. At first, she was hesitant to apply, thinking that the course was only for people who were out of work. She then learned from our mentoring team that this course is for anyone with a spinal cord injury – including employed people who are considering a career move.
"This course was extremely helpful. Hearing other people's experiences was really useful. It's great to hear people saying what you've been thinking."
This course provided Chloe with practical tips to help her excel in job-hunting after spinal cord injury.  She had never written a CV before, so she was shown how to properly write and format one. Our course leaders were also able to give Chloe feedback on what she had written.
"The expertise in the room was so high!"
For Chloe, the most valuable part of the course was how it helped her realise her potential.
"I have volunteered for over 20 years helping vulnerable people in my church. I never thought this could lead to a career, but Back Up to Work showed me how valuable my volunteering experience was to an employer."
With her confidence boosted, Chloe applied for a paid pastoral care position at her church. Her application was successful, and she now works to help support people in her community.
"In November I went on the course, in January I had my interview, and by March I was working in my new job! I was so surprised by how quickly I found success."
We're glad our Back Up to Work course helped Chloe to start a new career. Visit our website to learn more about this course.
If you want to hear more fantastic stories from Back Up – including our monthly newsletter – be sure to keep in touch with us!