Nikki's story: Beyond my comfort zone
7 March 2018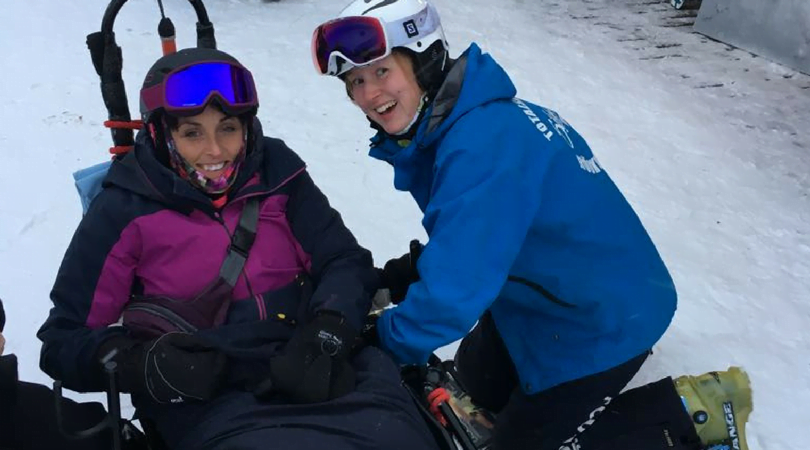 Before my accident, I was active. I liked to do a lot of canoeing and abseiling as well as go on hiking holidays with my family. From a very early age, I was causing my parents trouble as I seemed to have no sense of danger! In 1987, I was doing my GCSEs and was hoping to go to university to study theatrical make up for sci-fi films. I was a very independent fifteen-year-old and was looking forward to leaving home and living in London.
I had been invited to a wedding reception one day and, in the evening, some of us decided we wanted to go to a nearby beach. We were travelling on the North Yorkshire Moors when the car skidded off the road and rolled down the hill. Thankfully, there were mountain rescue staff members practising close-by – they witnessed the crash and rushed to help. I broke my neck and sustained a complete C4/5 level spinal cord injury. I was rushed to Pinderfields Hospital in Wakefield and spent nine months there in rehabilitation.
I first heard of Back Up while I was at Salisbury Spinal Injury Centre in 1991 for an operation and they talked to me about the different courses available. I was interested in having a go at outdoor pursuits as I hadn't had a chance to since my accident. Back Up called me a few weeks later and I went along to the 7 Day Multi Activity course in Exmoor. I liked it but I did feel a bit deflated at times.
Before my accident, I did a lot of horse-riding and when I tried riding again, my balance was so bad that I just couldn't sit up properly. It was suggested to me that I try water skiing and I really enjoyed it – I only lost my balance once and fell in but it was a great experience.
After that, I lost touch with Back Up for a bit. I finished my A Levels, lived abroad for five years, and became a mother. 20 years later, my son was all grown up and I was really feeling the 'empty nest syndrome'. I was scrolling through Facebook when I saw a post from Back Up about one of their courses. It was like a light switched on. I visited the website to see what courses were available – I was honestly looking for somewhere abroad and warm! I saw the ski karting in Sweden course but resisted because I hate the cold. However, over the next few days, the course kept popping into my mind and on one sleepless night, I applied.
As the trip got closer, the more nervous I got, but then I said to myself, "It's only a week out of my life. If I don't like it then at least I've tried it. And if I do, then great!" When the day arrived, it was an early start and a long journey.
My stomach was doing somersaults because I was that nervous but I needn't have been. After meeting a few other participants, I just knew that we were going to have a great time and we quickly gelled. There was constant chatter, laughter, and excitement.
Going on the skiing course has had a significant impact on my life. I loved the skiing, even at minus 25 degrees! I learned a lot about myself. I learned about different skiing aids that I didn't know existed which could all make my life easier. The course gave me a freedom and independence that I had not experienced since my accident. Skiing down a mountain with beautiful magical scenery and the swishing sound of my skis was both exhilarating and breath-taking. It brought tears to my eyes.
I want to raise money and awareness for Back Up too and I'm planning to do something daring like velocity zip wire or abseiling soon, hopefully with some of the people from the ski course. I'd also like to become a Back Up mentor. The future is certainly looking brighter.
If you'd like to apply to join a course, please visit our courses webpage or call the courses team on 020 8875 1805.