Dan's story: The Snowdon Push
4 January 2018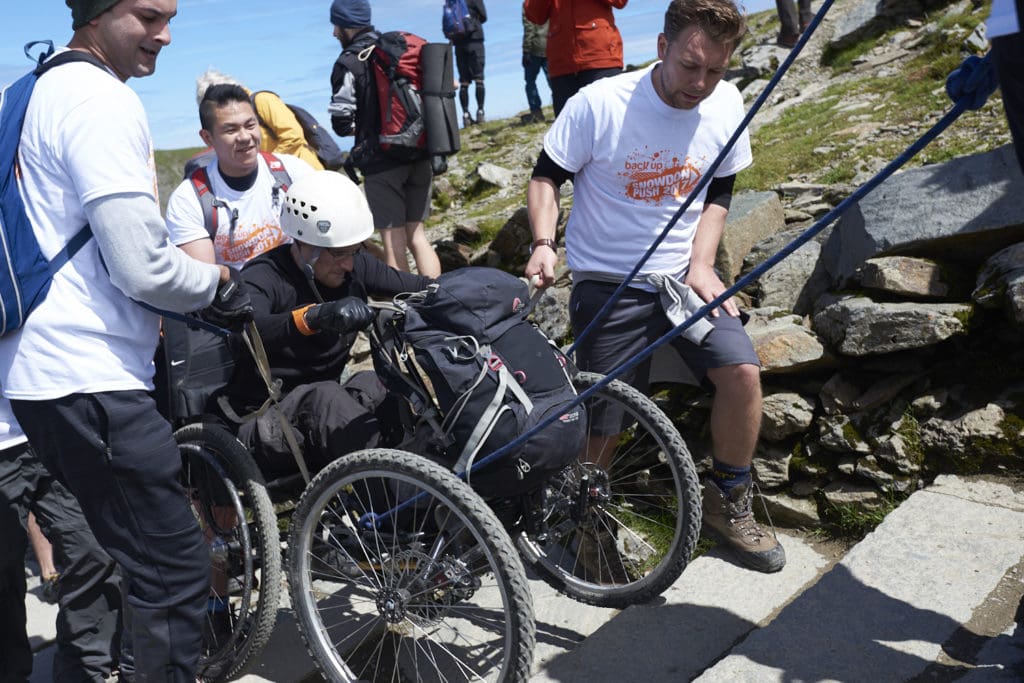 The Snowdon Push is Back Up's most iconic fundraising challenge involving teams of up to 16 people taking on Mount Snowdon, which stands at over 3,500 feet high. One member of the team must be a wheelchair user, and together they push, pull and climb towards the summit and back again – all to raise vital funds for people affected by spinal cord injury.
In 2017, we raised over £90,000 – the most in the event's history. We spoke to Daniel, who took part with the NatWest Marketeers this year about how he found the challenge.
Daniel, 32, says:
''I was apprehensive at first about signing up. I was worried about being the one in the wheelchair and relying so much on people I didn't know. But after speaking it through with the community team, I had a better idea of what to expect and felt more comfortable.''
Daniel signed up to the challenge, and was happy to discover that he would be joining an experienced team who had previously attempted the Push. ''They were all lovely and told me all about when they had done it before,'' he adds.
Daniel started to feel excited for the challenge to come and put in a lot of training to make sure he was fully prepared. When the day arrived, he felt fully included from the beginning.
''I never once felt like they were just getting me to the top of the mountain – we were all getting there as a team. That was one of my favourite things about it,'' says Daniel.
Halfway up the mountain, it dawned on Daniel just how far he had come in the 15 months since a spinal bleed during surgery left him permanently paralysed from the waist down.
''We all stopped for a minute for a break and I looked up. There was a lake just to the right of me and it was a perfect view," Daniel recalls.
"My arms were aching like crazy, but I remember just thinking I'm in a wheelchair and I'm climbing the biggest mountain in England and Wales. I'd never felt this strong or this powerful.''
Daniel and his team were thrilled to win the fastest team award. But for Daniel, his proudest moment was realising that a life with a spinal cord injury could still be full of excitement and opportunities.
''I have such a huge sense of pride and achievement and will hold on to that experience forever.''
Would you like to take part in the Snowdon Push this year? Please contact our Community Fundraising Manager, Kat, at Katherine@backuptrust.org.uk or call her on 020 8875 1805.