Callum's story: Getting back to work after spinal cord injury
6 October 2021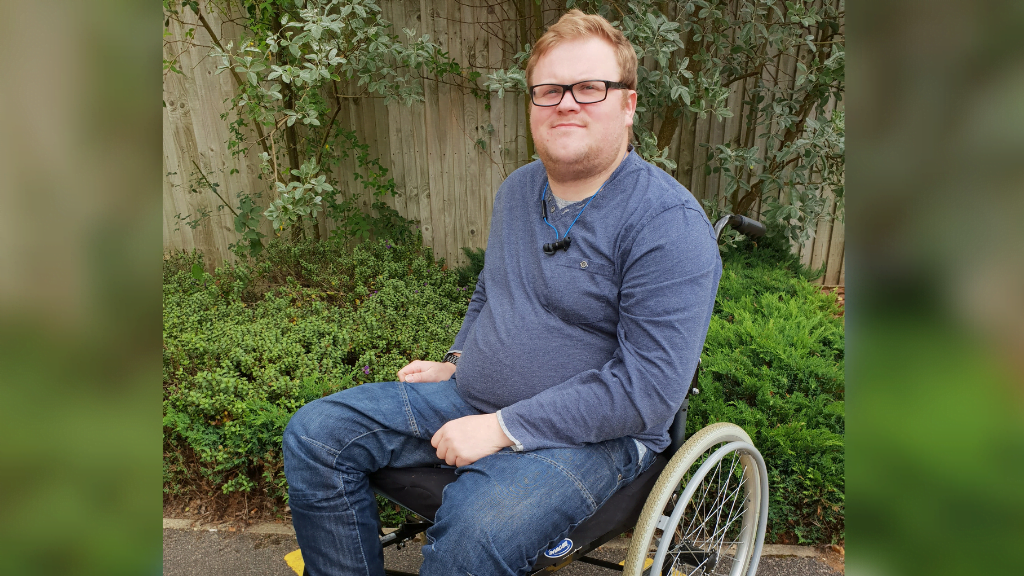 Getting back to work after spinal cord injury has been the end of a long journey for Callum.
Seven years ago he sustained a life-changing injury following a motorbike accident, damaging his spinal cord at the T3/4 level.
"Following my accident, I have leg spasms which make sitting still for a long time awkward and transferring hard. Getting a job has been the last step of putting my life back together – it's been a long time but it's been worth it."
Prior to his injury, Callum was working as a chef. Unfortunately, he was unable to return to this line of work after sustaining his injury. Between the long hours, food hygiene, and narrow kitchens, returning to his old job would not have been a possibility for him.
"Work was a worry after sustaining my spinal cord injury. In the early days I didn't know if returning to work would even be something I could do."
Callum needed the skills and knowledge to get back to work after spinal cord injury. That's where Back Up came in.
"I first met Back Up when they taught us wheelchair skills on the ward at Pinderfields. This made me feel much more confident in using a wheelchair. Following that, I went on a Multi Activity Course in the Lake District. This showed me that I could do much more than the basics. I went kayaking, rock climbing, and we even did a push up a mountain! I learned what was possible and that I wasn't limited as a wheelchair user.
"Each time I've used Back Up's services, I've felt much more confident."
With his confidence restored, Callum started making plans for the future. This is what inspired him to start looking for work after his spinal cord injury. He wanted to know his options, which led him to our virtual skills for work course.
"I wanted to know more about applying for jobs with a spinal cord injury. I needed to see if I was looking in the right areas, make improvements to my CV, and brush up on my interview skills.
"I used to be a chef which meant I did not have experience with formal interviews. As a chef the interviews are more practical, so I needed to learn how the interviewing process worked."
Our employment service helped Callum learn what was possible in the world of work after spinal cord injury. He was able to spend a whole day learning how to structure his CV, learning what to include and what employers are looking for. He was also able to put his interview skills into practice through having mock interviews with volunteers from established companies.
"This course gave me practical skills, helping me feel more confident in what I was doing. It made me feel much more comfortable as I had no formal interviewing background.
"The fact the course was virtual made it more accessible too. All I needed to do was get up and join the course from my computer!"
Following this course, Callum has been successful in his hunt for employment. He now works as a customer service call centre representative.
"After being on Universal Credit, one of my personal goals was to re-join the workforce. Having now achieved that makes me proud of myself. I have to say that each one of Back Up's services has helped me move forwards in life. Work has been the final piece of the puzzle in rebuilding my life
"For the first time since my accident, I feel like an 'everyday working stiff' again!"
We're delighted that our life-changing services helped Callum reach his goals after spinal cord injury. Find out more about what we offer here.