Busting myths about sex and dating after spinal cord injury
6 February 2019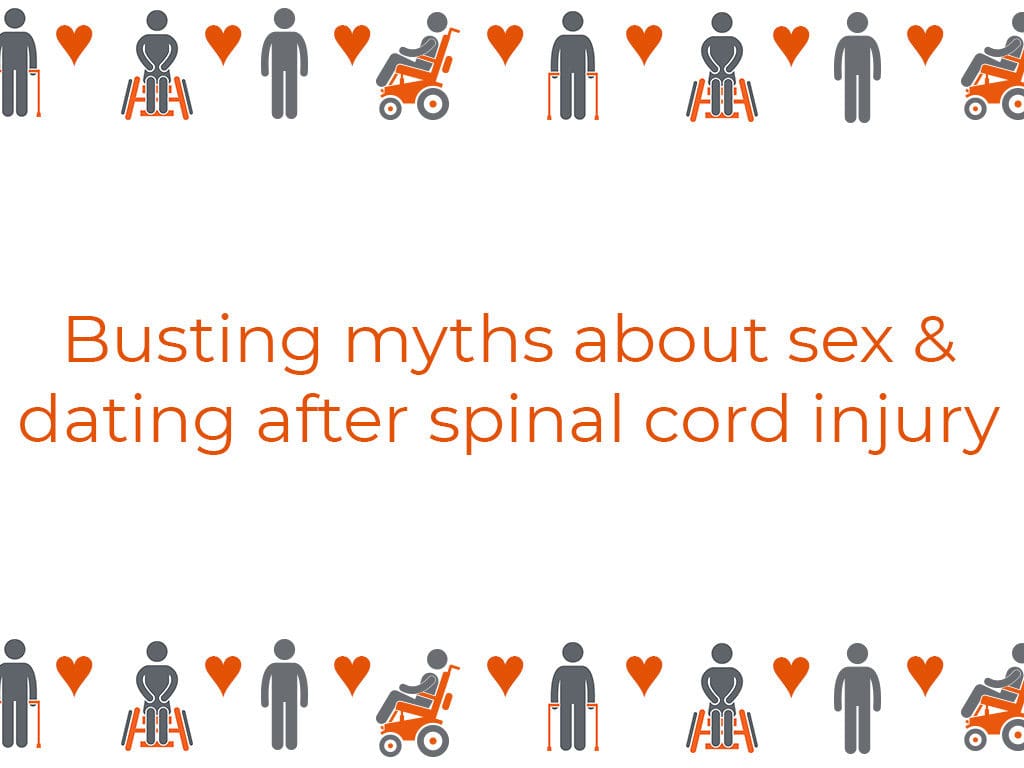 We asked some of the staff here at Back Up to address some common myths about sex, dating and spinal cord injury – from worries about sexual function and body image to concerns about bowel management and dependency. Our team are always here to help you tackle the burning questions and any worries or concerns you may have.
Myth #1: Your injury will get in the way of your dating life
This is a very common worry, but a spinal cord injury does not mean the end of your dating life.
"In a world of online dating, 'how do I bring up my injury' can be the eternal question. My advice is to never shy away from it or treat it like the elephant in the room – my injury is a part of who I am now. If someone is unwilling to date you because of your injury, then they are not worth your time."
"Someone who is attracted to you will be attracted to all of you – it's important to be open and honest about your injury. Strong relationships are built on honesty and communication, and that doesn't change after a spinal cord injury."
"When it comes to planning dates, it can be a good idea to do a bit of research beforehand. It's essential to make sure that you can access where you want to go!"
Myth #2:  Spinal cord injury makes sex impossible
Depending on the level of your injury, you may have to make some adjustments in order to have a thriving sex life.
"Sex doesn't necessarily mean penetration – the intimacy of sex is massively important. It's fantastic to feel close to your partner, and that closeness can feel wonderful even if you have little or no sensation below the waist. Intimacy itself can be highly undervalued."
"You can absolutely still have sex after spinal cord injury. It was a fairly big concern of mine in the early days of my injury, but the staff at my spinal unit were fantastic at easing my worries. For guys, there are plenty of ways of achieving an erection with a spinal cord injury. There are assistive products on the market like clamps that maintain blood flow, and medication such as Viagra."
"Don't be afraid to touch yourself. […] how can you tell your husband where to touch you if don't know yourself?" (Sourced from research project: Women's Experiences of Sexuality after Spinal Cord Injury, Thrussell et al, 2018)
Myth #3: Having a spinal cord injury means that you will be dependent on care from a partner
How much care you require is relevant to your own personal circumstances and level of injury. It's key to have an open discussion with your loved one about whether you'd like them or a personal assistant (PA) to help with your care. You can do whatever works best for your relationship.
"Verbal independence is key. Having the ability to communicate effectively and openly with your partner means that you can set the parameters of what care they are happy to provide and what you can still do for them. This is especially important to lay out in the earliest days of your injury!"
"Early on in our relationship, my wife and I decided that she would keep her carer and I would be her partner. That doesn't mean I won't do little things to help her like making a cup of tea or preparing food, but it means there is a distinction between her carer's role and my role. This works for us as a couple, as it means that there are clear boundaries in place."
"Another thing that helps us is arranging some time without carers around so that we can have some time alone together. It's good to know we have the place to ourselves sometimes."
Myth #4: Bladder and bowel issues will get in the way of intimacy
Bladders and bowel management can be a tricky, time-consuming process. Some preparation can be the key to avoiding accidents.
"In terms of bladder and bowel, it depends on what method of management you use. I use intermittent self catheterisation and, if I'm going to be intimate with someone, I make sure I've emptied my bladder as well as my bowels before sex. It may take away some of the spontaneity, but it's a useful adjustment to make to prevent accidents. I personally live my life by the five Ps: 'Proper Preparation Prevents Poor Performance'!"
Myth #5: It's impossible to feel sexy after a spinal cord injury
Your body will change after spinal cord injury, and it's normal to experience some low body image. But it's very important to work towards building up your confidence.
"It's understandable to think you'll never feel sexy again after a spinal cord injury – A lot of people feel that way at first. But as time goes on and you overcome different obstacles, you become more confident.
"When you're newly injured, you probably haven't figured out how to present yourself. It helps to find out what looks good on you, and more importantly, what makes you feel good about yourself. The times where I've felt the most attractive are the times where I've felt the most confident. Just remember, confidence is sexy!"
Additional resources and information:
LGBT+ information from Aspire Law
Battling stigma around sex and disability
Free relationship and sex resources
Disability, Sex, and Relationships – YouTube roundtable discussion
If you were affected by any of the issues raised in this article and need to talk to someone, please get in touch. Send us an email or call us on 020 8875 1805.