Bethany's story: Being a young mentor
5 June 2019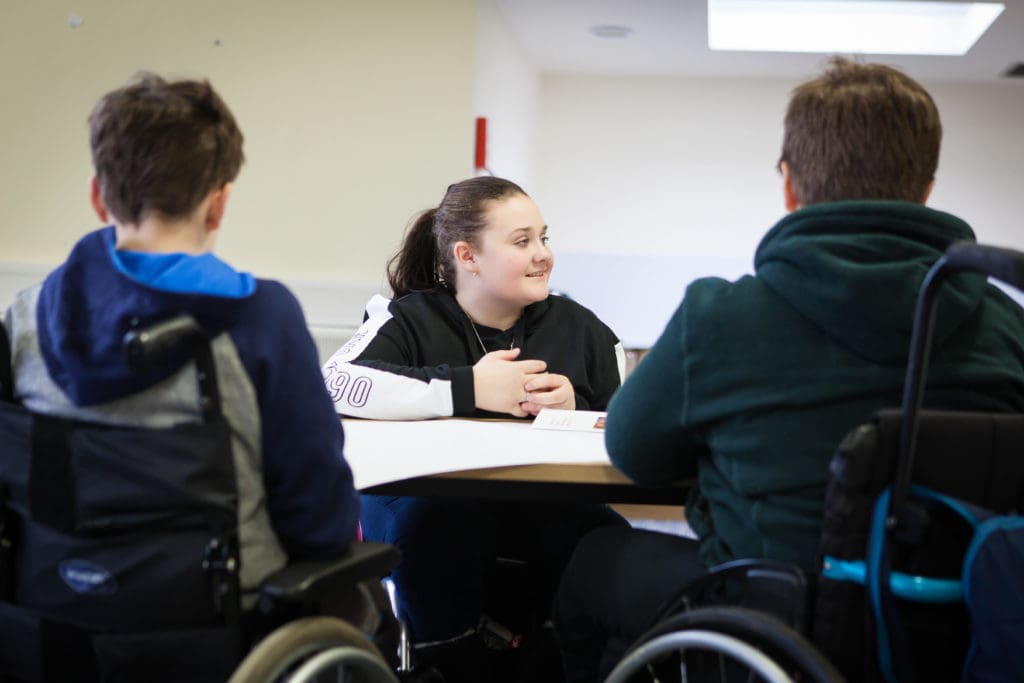 Back Up is the only charity in the UK with dedicated services for young people with a spinal cord injury. To deliver them, we need fantastic young volunteers to get involved and help out. Bethany is one of these volunteers. As an under 18s mentor, she talks to other young people with a spinal cord injury – sharing her experiences as someone who was also injured at a young age, and answering any questions they may have.
Bethany sustained her spinal cord injury when she was involved in a car crash at just three months old, but she did not receive her diagnosis until 15 months later.
"Having grown up with it, I think I haven't known any different. It's been kind of normal."
As she was growing up, Bethany didn't know any other kids with a spinal cord injury. Everything changed when she met Back Up and went on one of our under 13s multi-activity courses.
"I really enjoyed my first Back Up course. We did canoeing, climbing and all sorts of outdoor adventures. It gave me a lot more confidence, and I was able to meet more young people with a spinal cord injury."
After becoming more familiar with Back Up and our services, Bethany started training to be a mentor.  Bethany says that her favourite part of mentoring is "helping other people. I've always wanted to share my experiences."
Although she enjoys supporting other young people, Bethany does admit that there are some challenges – especially when it comes to talking to someone new.
"At first, you're not too sure how comfortable people are when talking about their injury. But once you get to know them, they start to trust you and open up. That means talking becomes a lot easier, and you can find out how you can help."
Having lived with her injury all her life, Bethany has lots of information to pass on. She has given advice to other young people on plenty of topics – ranging from emotional wellbeing to helping her mentees understand what wheelchair will suit them best. Bethany has found that, through mentoring, she's been able to help herself as well.
"Mentoring is a two-way street. I'm learning new things while sharing tips I already know. It's also helped my confidence. Talking to people helps, and seeing my mentees slowly get filled with confidence gives me a big boost."
Bethany's fantastic volunteering work hasn't stopped at mentoring. She also did her work experience in the Back Up office. She says it was great to see how the office works, and she was able to get some useful hands-on experience.
"It was much more fun than I thought it would be – I thought it might be like school! I helped out with admin work, but my favourite part was seeing what went on behind-the-scenes with the charity.
"Volunteering with Back Up has really helped me prepare for the future."
All of Bethany's hard work hasn't gone unnoticed. We recently nominated Bethany for a Diana Award for her tireless volunteering efforts, and we were delighted to hear she will receive the award later this year. Bethany's mum, Dawn, summed up why Bethany deserves this coveted prize.
"I had a phone call to say she won, and I was absolutely delighted. Bethany did all this without expecting any kind of rewards, which is a testimony to the kind of person she is. She does all of this because she wants to help people.
"Bethany really comes alive as a mentor. She's a great listener who thrives on talking to others and giving them guidance, but it also gives her perspective and shows her that there are others in similar situations to her. She has that 'can do' attitude, and a real charisma too."
Here at Back Up, we are so glad that we've been able to properly reward Bethany for her enthusiastic efforts. Are you a young person who also wants to get involved with volunteering? Get in touch with Ella. You can also learn more about being a young volunteer on our website.