Andrew's story: Conquering Ben Nevis
3 December 2019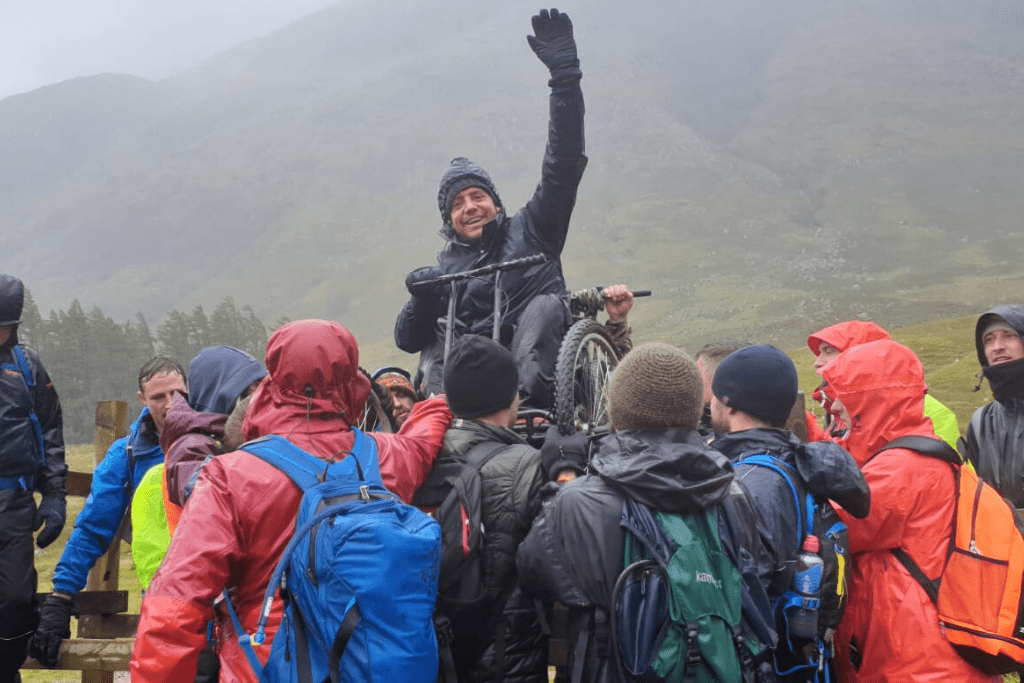 Here at Back Up, we're always looking for exciting new ways to raise funds for our life-changing services. That's why this year we held our first ever Ben Nevis push, a wheelchair race up the highest mountain in the United Kingdom.
Building on the success of our annual Snowdon Push challenge, we had four teams travel up to Scotland with us to conquer the mountain. Here they encountered inclement weather, huge rocks, and tricky terrain – but our teams managed to push through and raise a fantastic grand total of £66,000!
One of our participants this year was Andrew. He sustained his spinal cord injury ten years ago after falling from a 30 foot wall, and is a full-time wheelchair user. Back Up was there for him in the early days of his injury.
After our outreach & support team met him in the spinal centre, he went on to take part in our wheelchair skills training. He also came on our Colorado Sit Skiing course, which helped him boost his confidence and independence. Just as importantly, it helped him make new friends with a spinal cord injury.
"Interacting with people in a similar situation is a massive benefit of these courses. It's good to be able to share tips and information about life after spinal cord injury.
"Back Up courses show you what you're really capable of, and help you push yourself."
With his confidence boosted, he decided to give something back. A couple of years after his injury, Andrew took on the Snowdon Push. This gave him a taste for tackling fundraising challenges. He jumped at the opportunity to sign up for our first Ben Nevis Push this year.
"I was keen to do something like Snowdon again, but I'd been waiting for something more local to Scotland. I was eager to take on that challenge and raise money for Back Up's services.
"My friends got involved as my team, they were more than willing to fundraise as best they could. We managed to raise around £13,000."
While the Snowdon Push is one of our most intense challenges, Ben Nevis is even more tricky. It stands nearly 300 meters higher than Mount Snowdon – and on the day of the challenge our teams were subjected to torrential rain and high winds.
"There was a lot more mental strain with this challenge. It was so wet and windy. You felt drained not just physically but mentally too."
Although the challenge was hard, the feeling that came with completing the climb made it worthwhile. Andrew claims the buzz he got from finishing the challenge was like coming to the end of a marathon.
"The adrenaline at the end was great – some of my team even ran the last part. There was a great feeling of camaraderie with my team, the organisers from Back Up, and the other teams.
"It was like completing a marathon, there's this addictive feeling. You just want to go back and do it again."
Andrew says that the key to succeeding with a challenge like the Ben Nevis Push comes down to having a dedicated team, plenty of practice, and a strong wheelchair.
"Make sure everyone has a good level of fitness and that you've practised in advance. This challenge is a tough one. You need to have a team that you can rely on to roll up their sleeves and get on with some heavy lifting."
Have you been inspired to take part in a fundraising challenge? The Snowdon Push is happening next year on 4 July. Get in touch with Reece if you want to learn more or sign up.