Taking care of your emotional wellbeing
7 November 2018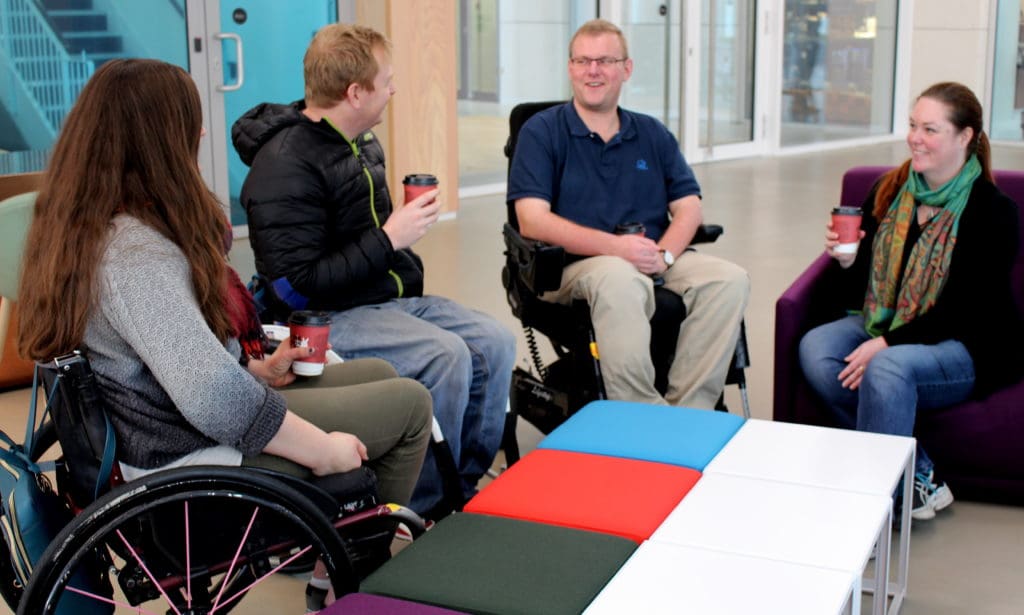 When someone sustains a spinal cord injury, they can often feel overwhelmed by the different practical considerations like bladder and bowel routines and learning how to use a wheelchair. Emotional wellbeing can often take a backseat, even though it's just as important to look after as your physical health.
We recently spoke to some of our staff members with a spinal cord injury who shared their tips and experiences on how they look after themselves.
How do you look after your mental health?
"My most recent decision to live alone was really important to me. I realised that living with flatmates meant I could never relax. I needed my own space – a space at home where I could really switch off, and not have to worry about making conversation at the end of a busy day."
"Fitness, long pushes and wheelchair rugby training – these all help me to distance myself from my frustrations and focus on other things."
"I try to keep a good balance in life with work, family time and my own free time. Just finding that balance between everything is huge for me."
"I keep occupied and try to find meaning in the things I do – whether that's socialising with my friends and going out, or just taking the dog for a walk and chatting to close friends."
"I enjoy watching bad TV whilst cooking, drinking tea, and going for a good wander!"
What things do you do to make yourself feel better when you're having a bad day?
"It can be tough if a bad day is injury-related. It might be a bladder/bowel thing or a bad spasm day, but you just need to say to yourself, 'I can deal with this. Take a breather. Move on.' It can be quite tricky but it's important to remember that these things don't define you."
"My spinal cord injury affects my hand function, which I can find really frustrating. When this happens, I try to take myself out of that environment by watching an episode of my favourite programme or calling my best mate and having a laugh."
"I have to be patient with myself and give myself space to acknowledge that having an off day is normal. I reassure myself that I'm able to deal with things most of the time, and it's completely understandable that some things might catch me off-guard or hit a nerve. It's important to acknowledge it."
"I reach out to my friends, particularly people who understand my situation. It's the people around me who have saved me because they understand that what I'm feeling is okay."
"I can get frustrated with my hands sometimes when they get stiff. It's just hard when this stops me from doing some things that I can normally do. But it's important to acknowledge your limits and just do something else to distract you, like watching TV or meeting friends."
What adjustments have you had to make to your life style?
"Before my injury, I did a lot of snow skiing. But when I got back into it after my injury, I had to learn to do it in a different way. It was rewarding in the end, but I didn't enjoy it for a year or two until I got to a point where I was able to do it to a standard I was happy with."
"Thinking outside the box is a big one. You can lose that element of spontaneity when you have a spinal cord injury, but it's important to not let that stop you. Sometimes the planning to go somewhere can feel like a hurdle, but it gets easier the more you do it."
"I used to have a very active outdoor lifestyle, and I had to change that around a bit after my injury. I still enjoy being active now but have had to do things like get a freewheel and learn different ways to go camping."
"I've always been really social, but I now need to make sure that the places that I go to with my friends are accessible. Not knowing whether I'll be able to get in or not, can cause me a bit of stress and anxiety. I can relax and be my best self when I know the place I'm going to."
"When using the gym, I've had to think about how to make things accessible for me and what equipment I might need. This includes using straps, bringing friends, asking people in the gym to help me, taking a spare cushion etc. It's also about finding ways to make it work for you and your needs."
"I used to play rugby before my injury and now I play wheelchair rugby for general fitness. This was a really amazing release for me when I first sustained a spinal cord injury. It helped me cope because I was meeting people who had been injured longer who could give me advice."
What tips do you have for newly injured people on the ways they can look after their wellbeing?
"Don't think you have to have everything in place all at once. It's a process and the sense of achievement you get in the end comes from going through that process. You look back on where you came from and become more confident and accomplished because of it."
"Cherry-pick everyone's advice and opinions. Try things out and see what works for you."
"If you're trying something for the first time after your injury, keep giving it a good few attempts. One mistake people can make, for example, is trying to hold things the same way that they did before their injury. You're learning new ways to do things so don't write it off too early and get downhearted. It takes a lot of perseverance."
"Familiarise yourself with what support is out there. In the beginning, you're faced with the practical challenges, but it's really important to know about the psychological stuff as well."
"The services that Back Up offer are so important. They lead to meeting other people in similar situations, having a social life with people who understand what you've been through, and having access to a vital support network."
If you have questions about any of the issues raised in this piece, please contact our outreach team or call us on 020 8875 1805. You can also visit our support for you section to find out more about the services we offer and how we can help.