2020 Christmas appeal: Emerson's story
30 November 2020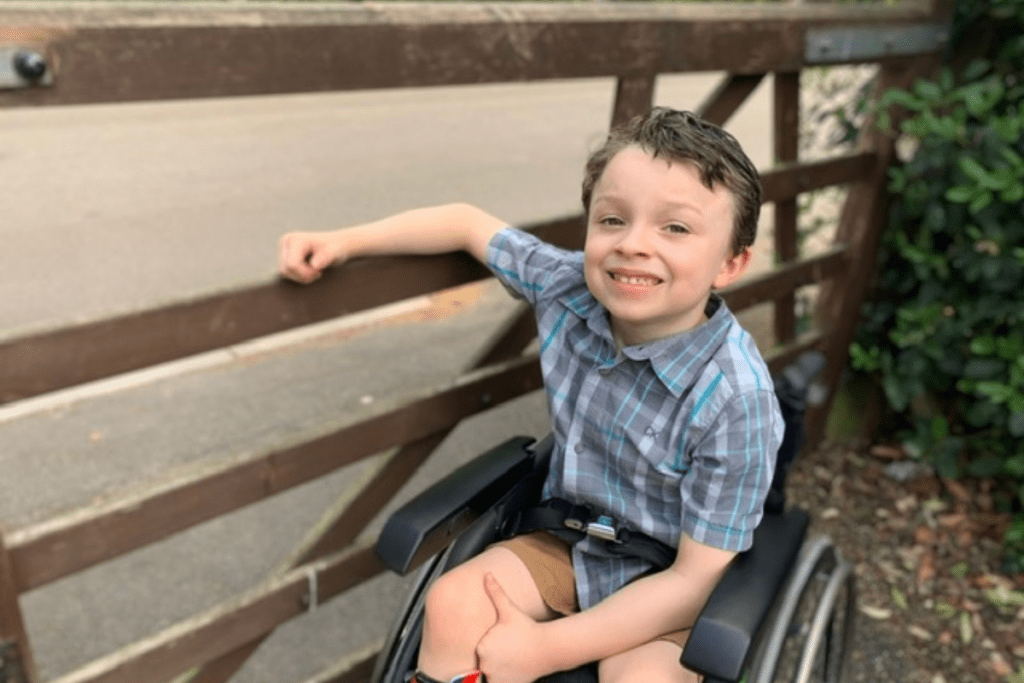 Read our Christmas appeal and learn how you can help transform even more lives affected by spinal cord injury.
Aged 19 months, Emerson was your average toddler. He was full of energy, and loved nothing more than kicking a ball around. This changed dramatically when a cyst formed on his spinal cord. The cyst compressed a spinal nerve, leading to him being paralysed from the chest down. Emerson's spinal cord injury meant that he was unable to walk, or control his bladder and bowels.
For his parents, Anna-Marina and Lee, this was a very overwhelming time. They were struggling to adapt to this new chapter in their lives.
""We had to dig deep to fully understand and accept our many mixed feelings; denial, worry, distress, anger, uncertainty, fear, ignorance, fault, and great sadness."
Four years later, Back Up has been a lifeline for the family. We taught Emerson that he could live life to the full as a wheelchair user, and helped them find a community of people in a similar situation – people who understand the challenges they face daily.
Last year, Emerson attended our multi-activity course. Here he was able to try fun, adventurous activities like kayaking, rock climbing, and horse riding – all specially adapted for young wheelchair users. He also had the chance to learn essential wheelchair skills for living independently. Our volunteers taught him how to balance on his back wheels, and improve his special awareness. This course helped Emerson's confidence soar.
2020 has been tricky for everyone, but for Emerson's family it has been even more difficult. The coronavirus pandemic meant that Emerson needed to shield. To make matters worse, Emerson contracted coronavirus. Thankfully, after five worrying days spent in hospital, Emerson made a full recovery. After he recovered, Back Up was there to support him and his family once again. Our Education Inclusion team liaised with his school to help him return, and he is now back in education with his friends.
This year, Back Up has seen a huge jump in demand for our services. Now more than ever, families like Emerson's struggle with additional challenges after spinal cord injury. We responded rapidly, developing new digital services and resources, but we still need your support so we can be there for everyone affected by spinal cord injury. You can help us by making a donation to our 2020 Christmas appeal.