Covid-19 and me: A parent's account of their son contracting coronavirus
28 May 2020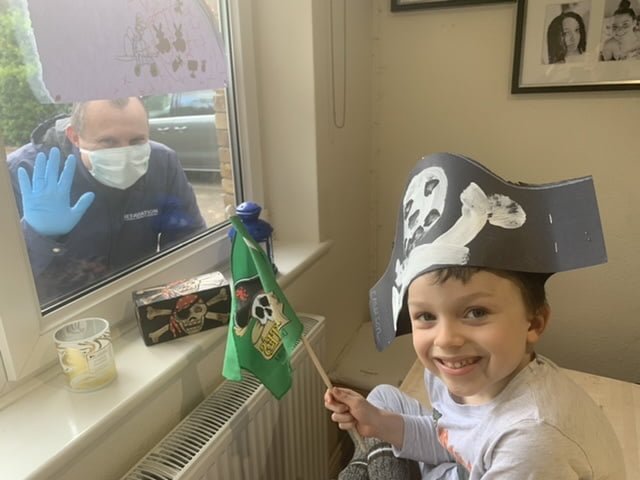 This is a guest blog written by Anna-Marina whose son, who has a spinal cord injury, contracted Covid-19. Read on to find out how their family navigated both this illness as well as spinal cord injury. 
Living with a child who has a spinal cord injury is challenging at the best of times. Over the past 3 years our life as we knew it became an emotional rollercoaster ride. Our worst fears became reality recently though, when we found out that our son had tested positive for Covid-19.
Life dramatically changed for our family on August 15 2016. Our son, an extremely energetic toddler who loved nothing more than being active was diagnosed with an incomplete spinal cord injury. His injury was caused by a reoccurring arachnoid cyst that was compressing on his spinal nerve level C6/C7 – T1. He is now paralysed from the chest down.
At the time of his injury we felt emotionally overwhelmed learning that our energetic child would be unable to walk or use his bladder and bowels independently. We knew he would require specialist care throughout his life and we had to dig deep to fully understand and accept our many mixed feelings; denial, worry, distress, anger, uncertainty, fear, ignorance, fault, and great sadness.
We have taken the necessary precautions to keep our son medically and physically fit, being aware and careful not to wrap him up in too much cotton wool, allowing him to grow into an independent young boy, using a manual wheelchair for his mobility and not allowing his disability to define him. We are teaching him that he can still do all the things he dreams of doing, but may need to find another way to do them.
Everything was in place and we thought we were in total control. Our son was attending school, wheelchair basketball, wheelchair tennis, swimming lessons and having play dates, like any other child, but with a few tweaks here and there.
But, just like that, the life we knew and had accepted was about to change very quickly again. The Covid-19 global pandemic, a disease that affects the respiratory and immune systems struck. These are two of the most fearful medical complications that we worry about with our son. He has a weak respiratory and compromised immune system because of his level of spinal cord injury. We knew he was deemed "extremely vulnerable" and this was going to raise the risk level for managing his health.
As a precaution, everyone in our household, myself along with my 3 children, began self-isolating from the start of the pandemic. It was a tough, heart breaking decision, that meant normal co-parenting access for our son and his dad would now be through a closed window or via FaceTime on the iPad for at least the next 12 weeks. His dad would be unable to have his continued weekly access, feel the warmth and hugs from his only son, have random funny conversations or watch him grow.
Just 10 days into isolating, our son suddenly became unwell. He was fine all day, no issues noted, he was eating, drinking well and had a relaxing day at home. Suddenly his temperature became very high, he became vacant and withdrawn, lethargic and then begun shaking (possibly rigors due to the high temperature), his heart rate was rapid, he was not his normal self.
The ambulance arrived within 10 minutes. Two paramedics arrived wearing protective medical gloves and face masks. They made a quick assessment, then confirmed our fears, he was seriously unwell and needed to be blue lighted to our local hospital. Sadly, only one parent was permitted to travel with him in the ambulance.
He was tested fully on arrival due to the additional complications of having a spinal cord injury – he was tested for UTIs, had his blood pressure checked for signs of Autonomic Dysreflexia, and had his skin checked. He was given all the appropriate treatment to stabilise him and thankfully he responded well. Within 24 hours the results came back as Covid-19 positive.
We were devastated. We had done everything in our power to keep it away from our son, we could not have done anything more. Hearing this news my head was full of mixed feelings, a million thoughts running through my head.
"How can this be, after everything we've been through?"
"Will it affect his lungs?"
"Is he going to get worse?"
"Does this mean we will be immune to the virus?"
It was presumed that both of us, and my other two children were most certainly Covid-19 positive as well. We have no idea how we caught the virus, it's almost impossible to figure it out.
Prior to isolating, we had stopped attending all social and sporting events and limited our time outside around other people. Lee had stopped working from the office the same date that we started to self-isolate, Wednesday 18 March.
My worst fears were that my mild symptoms would become worse, how would I care for my son and my other two children who were currently at home, if I was in hospital? Only one parent was allowed onto the ward, so I only was able to speak to Lee via Facetime and telephone.
There were and still are so many unanswered questions, especially since the coronavirus has no cure. Yet we were able to draw on our experiences over the last 3 years; with all the medical challenges that we had already gone through this made the situation a little easier and bearable. It is true what they say – your past shapes your future, making you into a stronger person.
We heard the success stories via the nurses of children as young as 12 days old recovering from Covid-19. These facts gave us hope and allowed us to focus on our son's recovery. The nurses and the other key workers at the hospital that we met during this time had been amazing and without them our situation could have been much worse.
Our son was discharged after 5 days. We continued to isolate at home in order to free up the beds for other patients and protect ourselves from catching anything else; hospitals can be a dangerous place when your immune system is low, especially when your health is already compromised.
I was extremely anxious when we first arrived home, without the medical team around us. That anxiety never leaves, but with all his equipment and medication here, I felt confident in being able to monitor him closely and if we needed to return to the hospital they would be prepared.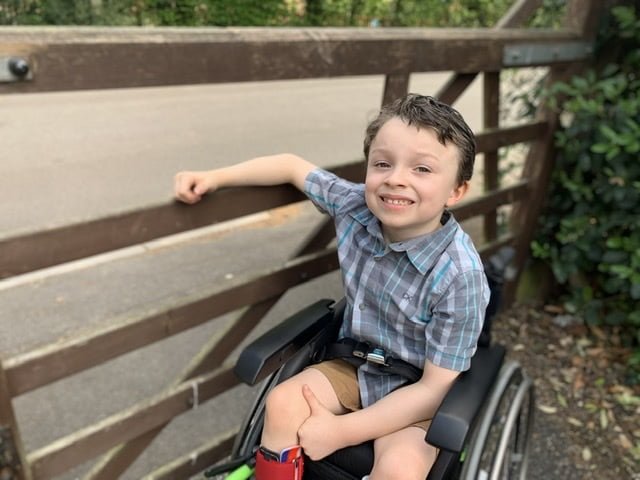 We feel extremely grateful that our experience was mild. Today we add Covid-19 to the additional medical complications that we manage, but now this new normal is shared with the rest of world. We cannot predict the future, it's a matter of chance, knowing how our bodies will respond or react to Covid-19.
We can however protect our family, loved ones and the community by adhering to the government advice, making balanced and informed decisions on how best to stay safe during these very uncertain times.
Do you have any questions about young people, spinal cord injury, and coronavirus? Get in touch with Ella@backuptrust.org.uk.