Your guide to car adaptations and vehicle conversions
9 July 2019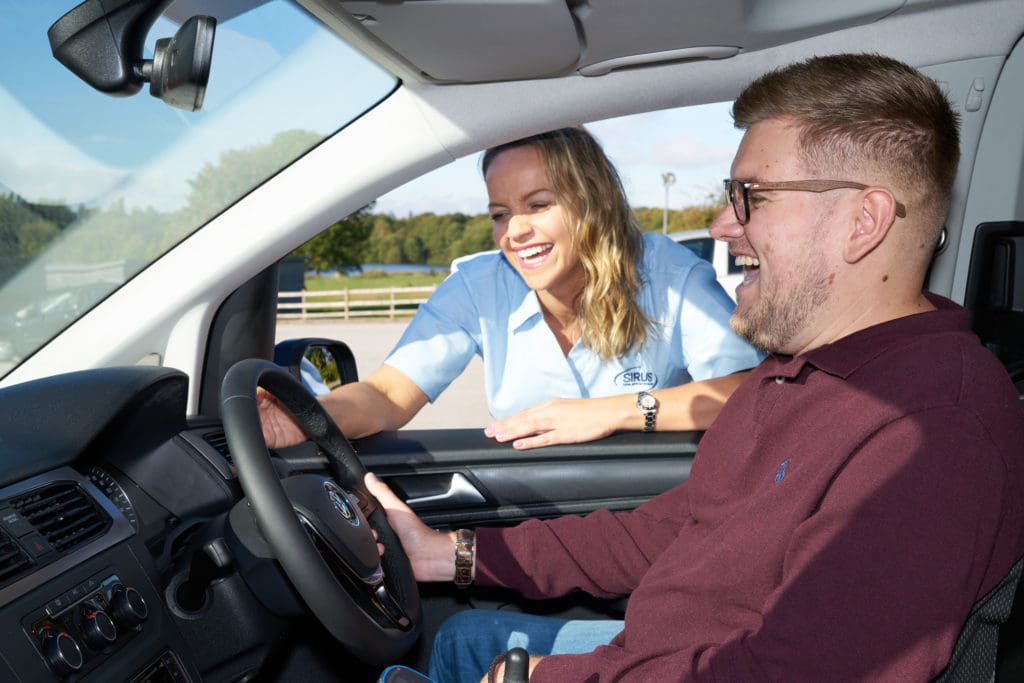 This article was sponsored by Sirus Automotive. 
---
If you have sustained a spinal cord injury and are considering your next car, the most important thing to think about is your level of mobility and what you need to be able to travel independently. With a wide range of car adaptations and vehicle conversions available, this guide should help you to start thinking about the right option for you.
A brief outline of the options
To find out which adaptations you need, visit your local Driving Mobility centre. Each centre provides professional driving assessments and advice for individuals with reduced mobility. This support signposts you to suitable adapted controls, wheelchair accessible vehicles, training or further services. For more information, visit their website.
Standard car with adaptations
If you are a manual chair user with the ability to transfer independently, you might consider a standard car (some chair users might need more than space than a standard car allows) fitted with bespoke adaptations which can help you to transfer and/or allow you to drive.
One of the most commonly used adaptations are push/pull hand controls, which allow you to drive with your hands. The mechanical lever is pulled back to accelerate and pushed forwards to brake. It's fitted to either the left or right of the steering wheel depending on your preference. Additional adaptations can be fitted to assist getting in and out of the vehicle and to stow your wheelchair if required.
Wheelchair accessible vehicles
Both power chair and manual chair users may want to consider a wheelchair accessible vehicle, commonly known as a WAV. They are referred to as vehicles because many WAV conversions are derived from commercial vehicles (i.e. VW Caddy Life, Ford Tourneo Connect etc.). This is due to the fact that a minimum height is required to allow you to comfortably travel in the vehicle from your wheelchair – while still maintaining good visibility and comfort.
If you use a power chair and are unable to transfer without assistance, a drive from WAV conversion could be a good option for you. It eliminates the need for a strenuous transfer as you remain seated in your power chair while you travel to your destination. You will need a crash tested wheelchair, which will be safely and securely locked into position automatically. Some drive from wheelchair vehicles are designed to enable you to travel upfront as a passenger – as and when you don't want to drive.
If you are a manual or power chair user and can transfer independently, you may want to opt for an internal transfer WAV instead. To further assist you, a rotating seat can be fitted which allows an easier transfer to the driver's seat.
The conversion process
Conversion companies sell a fully converted vehicle. The base vehicle is purchased from the manufacturer, and the conversion is carried out in the factory. Once complete, any bespoke adaptations will be fitted. Depending on your requirements, it's advisable to select a conversion company who can convert your 'base' vehicle and fit the '2nd stage' adaptations as well. You will find the cost of a wheelchair accessible vehicle is quite a bit higher than a standard unconverted vehicle, due to the level of complexity and often lengthy conversion process.
Whilst choosing your next vehicle, consider the following:
Do you want to drive, travel as a passenger, or both?
How many seats do you need for additional passengers?
What size vehicle are you comfortable driving and parking?
What equipment do you need to transport?
Where will you park, and will the vehicle fit in your garage or on your driveway?
What is most important to you, i.e. fuel economy, low Co2 emissions, features and options?
Does the vehicle have a lowered floor to ensure you have a good visibility out of the windscreen?
When selecting a conversion company, consider the following:
Select a company with a good reputation, with knowledge and experience within their field.
Ask around for recommendations or check out customer testimonials and online reviews.
Ensure they offer no pressure, no obligation home demonstrations with experienced mobility advisors.
Make sure the product quality is a very high standard. You can have as many home demonstrations as you need, and many conversion companies will welcome you to their premises to check out their factory and meet the team.
Check out the service and warranty – find out what is covered and make sure they have mobile engineers who can come out to your home should you need assistance. This is particularly important if you are an independent driver.
Does the conversion company also fit adaptations? It makes life easier if you can deal with one supplier.
For more information on driving independently, visit the Sirus website. We encourage all readers to undertake their own independent research, and Back Up are not responsible for following any of the advice stated in this piece.
Sponsored by