Back Up recruits first Outreach and Support Coordinator in Scotland
6 December 2017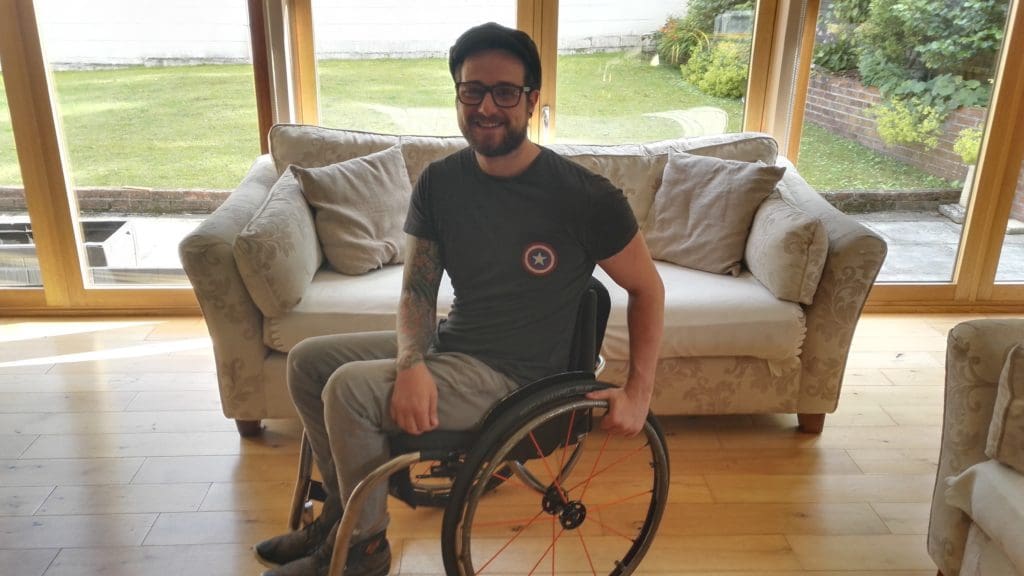 Back Up has been working across Scotland for a number of years, providing mentoring, outreach and courses to people with a spinal cord injury. However, we knew that there were many more newly injured people who we could be reaching. Now, with the support of an incredible four-year Big Lottery Fund grant, as well as ongoing support from the R.S. Macdonald Charitable Trust among others, we have just recruited our first ever Outreach and Support Coordinator in Scotland, Rich Osborn.
His role will focus on increasing the wheelchair skills sessions we can offer, expanding our patient education sessions, referring people to our services and other charities' services, as well as recruiting more local volunteers. Like all of our Outreach and Support team members, Rich has a spinal cord injury that he sustained in 2009 from a scuba diving accident. It was during his first time at the Queen Elizabeth National Spinal Unit in Glasgow that he first met Back Up.
"I remember having my wheelchair skills session in the unit with Michael, one of Back Up's Outreach and Support Coordinators, so clearly. I just remember being struck by how important and amazing it was to be given these skills that formed the building blocks of my new life."
After taking some time to focus on getting comfortable with his new body as well as get his house in order, Rich participated on one of Back Up's ski courses and then became one of our wheelchair skills trainers, inspired by the impact it had on him.
"I remember how much the session meant to me so to be able to give to other people what Michael gave to me – to be part of their journey – is incredibly important."
When the opportunity arose to join the team in Scotland, Rich found applying was a very easy decision to make. "I just looked through the job description and the work that I've done so far with Back Up and how rewarding it was. It strikes me as a charity that is very passionate about what it does. Everyone is a family working towards a common goal and I just wanted to be a part of that even more because Back Up has done so much for me so if I can do things for other people, I just can't think of anything better."
There are some challenges for people with a spinal cord injury in Scotland, with many living in exceptionally rural areas or not having the opportunity to access specialist support. While there are some support systems providing help with housing and peer support, Rich believes that there is scope for a lot more and he's looking forward to being part of that.
"I'll be liaising with the Queen Elizabeth National Spinal Unit to organise when Back Up will be running wheelchair skills sessions, patient education and more. I'll also be visiting other general hospitals within Scotland to try and reach people who have sustained a spinal cord injury but haven't made it to the spinal unit to help us get a better picture of spinal injury across the country. Additionally, I'll be trying to get as many people involved with Back Up as possible and just spreading the word about the work we do."
For Rich, outreach is hugely important, especially when led by people who also have a spinal cord injury. "Very little compares to the peer support element that we bring to the work that we do – we can empathise with other people and their situations. They might not have someone in their family unit or friendship circles who will understand spinal cord injury."
"To have someone that you're on a level with and who will treat you like a human can mean the world to someone when they're going through a tough time."
With Rich now having joined the team, we look forward to providing even more support to people affected by spinal cord injury in Scotland.
"Back Up does so much great work to enrich people's lives. Just the opportunities that Back Up can offer people is amazing so I'm really looking forward to playing a part in expanding the reach of the charity."
For more information about our work in Scotland, please email rich@backuptrust.org.uk.