Yasmin's story: An active life with an incomplete spinal cord injury
4 August 2021
Yasmin was very sporty and active. She loved the gym, swimming, and sports. In January of 2018, she sustained a life-changing spinal cord injury. While free climbing on a climbing wall, she fell and damaged her spinal cord at the T12 – L3 level. Yasmin's injury caused significant impacts to her life.
"I constantly feel like I need to fight to prove myself. There is a lot of pressure to be and do as well as I did before my injury.
"There's a lot more difficulty now – but I still have the same desires. I'm still the same person deep down."
Yasmin has an incomplete spinal cord injury. This means that her spinal cord can still transmit some signals from her brain to parts of her body. Because of this, Yasmin can walk with some support. She uses orthotics and walking sticks, alongside using a wheelchair occasionally for longer distances. Although she can walk with aids, she has faced some difficulties specific to people with an incomplete injury. For instance, Yasmin says there was a lot of uncertainty in the early days of her injury.
"The thing with incomplete injuries is that you often don't know what your future will be like. Since I could get about on my legs to some degree, I left hospital thinking I would be able to return to my 'normal' life. I was very naïve.
"I eventually approached Back Up for support. I went in with the mentality that I needed help from a mentor, because I realised that since leaving hospital I was no longer surrounded by similar people with a spinal cord injury."
We paired Yasmin up with a mentor, who helped her set goals and plan for the future. This has helped boost her confidence, and learn how to live life to the full with an incomplete spinal cord injury.
"My mentor also had an incomplete spinal cord injury. Although all injuries are different, I felt a lot of the same feelings my mentor had. We both felt the same level of hurt and frustration – as well as the same humour.
"I became more confident by sharing my feelings with my mentor. She had similar experiences to me, even though she was eight years down the line. This made me feel not alone."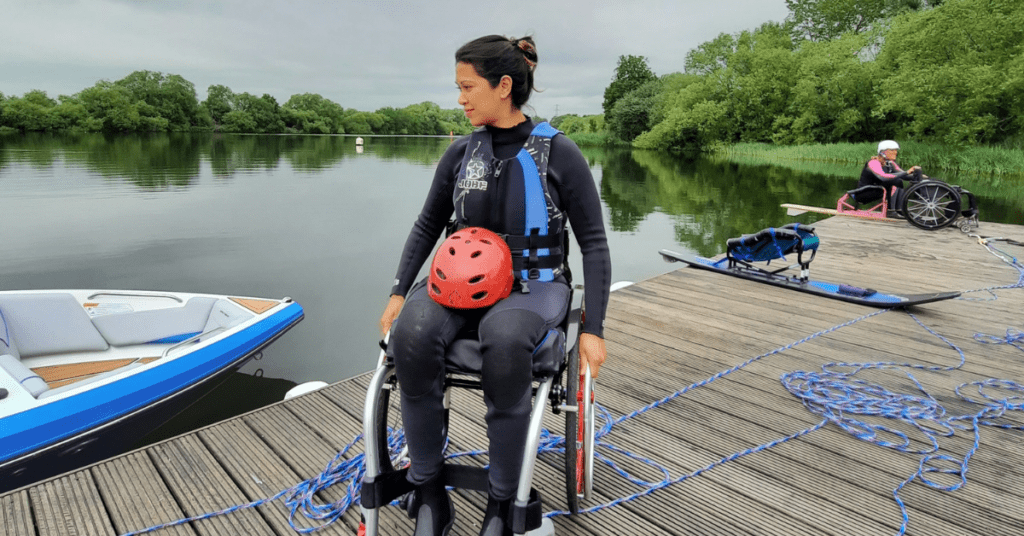 For Yasmin, one of the biggest things mentoring gave her was a new desire to be around other people with a spinal cord injury. She has since become a regular at our Walker's Lounge – an online space for people with an incomplete spinal cord injury who can walk. After having a difficult lockdown, Yasmin says the walkers lounge benefitted her mental health at a hard time.
"It's great to speak to the same people online every fortnight. It makes me feel like I'm not alone, and we've formed a shared bond – I really appreciate how Back Up did this.
"I can share how I truly feel with other people who have a spinal cord injury."
Now, Yasmin has been able to rediscover sport after her injury. She uses exercise to improve her wellbeing. Currently, one of her mid-term goals is to learn how to waterski independently.
"I didn't take sport that seriously before, it was more of a hobby. Now I know sport isn't just sport. It's good for my mental and physical health. I see it a lot more holistically now."
We're glad that we were able to support Yasmin in living an active life with an incomplete spinal cord injury. Discover how you can register for support too.