Volunteering at Back Up | How can you get involved?
3 April 2017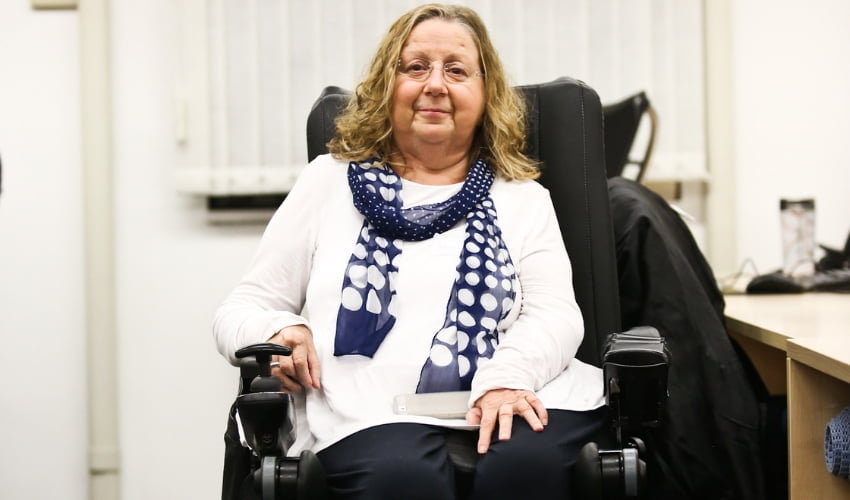 We believe that all of our team of over 400 volunteers make a unique and vital contribution to our work. Back Up was founded by volunteers and volunteering remains at the heart of everything we do. Our volunteers govern Back Up, run wheelchair skills sessions, group lead courses, raise awareness and funds, and support and develop our work in so many different ways.
If you'd like to become a Back Up volunteer, here are three options you could consider: become a mentor, volunteer as a nurse or personal assistant (PA) on one of our courses, or volunteer in the office.
Mentoring
If you or a loved one has a spinal cord injury, you could use your own personal experience to support others in a similar situation as a volunteer mentor.
Passing on those vital words of wisdom to someone adjusting to life post injury can be a life-changing experience for both you and your mentee.
"I have been a family mentor with Back Up for almost six years. When my son had his accident 13 years ago there was nobody to talk to when I needed to, as the mentoring service was not in operation at that time.
Being able to offer some of my time, share experiences and listen to other parents to support them through times of adjustment is very rewarding for me. Every call is different, every case is different yet we all go through the same pain.
Volunteering for Back Up is a way for me to help the charity to reach out and transform lives of families as well as those who are injured." (Caroline, Family Mentor)
To find out more about becoming a mentor, please contact Polly by email or give her a call on 020 8875 6721.
Nurse or Personal Assistant (PA)
Back Up runs a range of residential courses for people with spinal cord injury to help them rebuild confidence and independence. To ensure that our participants can enjoy themselves and get the most out of our courses, we rely on the vital support of Nurses and Personal Assistants (PAs).
The role involves assisting with the personal care needs of spinal cord injured participants and volunteers, supporting participants to develop their skills and independence, and contributing to the positive experience of the group as a whole.
Getting the chance to see people grown in confidence – and being a part of that transformation – can be a truly rewarding experience. It also offers a unique chance to work with people with spinal cord injury outside a clinical environment whilst having plenty of fun along the way!
"Volunteering with Back Up has given me fantastic experiences and the knowledge that I'm helping to make a big difference. Seeing how the participants grow and develop on courses is so amazing and makes me feel really proud to be involved. Being a PA on courses has also improved my employability. Volunteering looks great on anyone's CV, but volunteering with Back Up is a real plus.'' (Amanda, PA)
To find out more about volunteering as a Nurse or PA, please get in touch with Merryn by email or give her a call on 020 8875 6741.
Office Volunteer
We are always on the lookout for volunteers to help out with admin and marketing support at our offices based in Wandsworth, South West London. Whether you know your way around an excel spreadsheet, have an eye for design, or some regular time to help out with general administration, we would love to hear from you!
Whilst you may not be out on the front line delivering the services, you will have the opportunity to do invaluable behind-the-scenes work that ensures the smooth running of our services and fundraising events. You'll also have the opportunity to develop professionally and work alongside a bright and passionate team who will ensure that your time spent in the office is enjoyable and fulfilling.
''I really look forward to going into the office and it has been an ideal stepping stone back to the world of work, but with the added  'safety net' that I am working alongside colleagues who understand what it is like to have a spinal cord injury and the complications that go with it. I feel valued and supported and it has been excellent for building up my confidence, gaining new friendships and adding structure to my week.''  (Tracy, Office Volunteer)
To find out more about our office volunteering opportunities, please contact Alex, Merryn or Lia by email or give them a call on 020 8875 1805.
You can also visit the volunteering section of our website to see all our other volunteer roles.