Rhys's story: The Golden Caster award
5 December 2018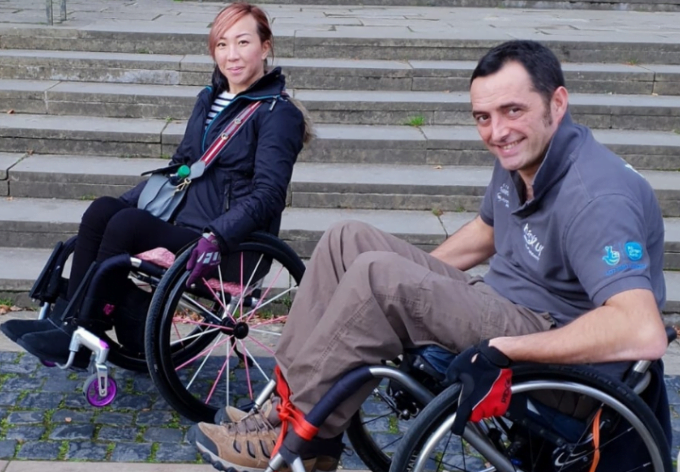 We recently presented Rhys with our Golden Caster award. He earned this recognition through volunteering as a wheelchair skills trainer and running sessions at every spinal centre in the UK. This is a significant feat, considering that there are 11 centres across England, Wales, Scotland and Northern Ireland!
Rhys sustained his injury in December 2000 after attempting a jump on his mountain bike. He met Back Up when he was newly injured at the Inter Spinal Unit Games – an event which introduces people with a spinal cord injury to adapted sports. Rhys continued to follow what Back Up was doing, and he soon came across an opportunity that would begin his journey towards becoming one of our most dedicated volunteers.
"In 2005 there was an advert in a Back Up newsletter for wheelchair skills trainers. I went on a training weekend in Exmoor, got trained up by Back Up, and started volunteering straight away."
Rhys has been working with us regularly since then, kindly donating his time and effort and getting "a hell of a lot" out of volunteering in turn. His favourite part of being a volunteer is seeing how people's confidence as wheelchair users can bloom over just a week on one of our courses. It fills him with a great sense of pride and achievement.
"At the start of the course, you see people using the stabilisers and taking the long way round to avoid difficult obstacles. By the end of the week, they take them off and start feeling confident to go over obstacles."
Rhys is particularly interested in tailoring wheelchair skills to suit the needs of course participants. He works with them to find creative solutions for tackling obstacles like kerbs and uneven pavements.
He adds: ''I'm very much into the improvised side of wheelchair skills – the problem solving and seeing how we can overcome the barriers wheelchair users encounter every day."
Rhys would advise anyone considering volunteering to "go for it."
"There are skills you take for granted that someone else may not know, and may make a massive difference to their life. It's good to feel like a part of something too. Volunteering is a great chance to socialise and mix with other people with a spinal cord injury."
For Rhys, volunteering isn't just about directly teaching skills, it's just as much about sharing experiences and teaching each other that "lots of things are doable."
Rhys admits that it was a very happy moment in his volunteering career when he was presented with the Golden Caster.
"When I was given the award, it was a total surprise, but a good one. I was at a wheelchair skills session and they paused it all of a sudden to present me with it. It was a very proud moment for me, and the Golden Caster now has pride of place on my shelf next to my wheelchair mountain bike chariot racing trophy and my Wales volunteer of the year award."
We are incredibly thankful for the time Rhys and all of our fantastic volunteers give us to Back Up, and we're thrilled that they get so much out of volunteering.
If you are interested in becoming a volunteer wheelchair skills trainer, you can find out more on our website or email our team. You can also find out all the other ways you can get involved as a volunteer.