Jacques's Top Travel Tips
7 June 2017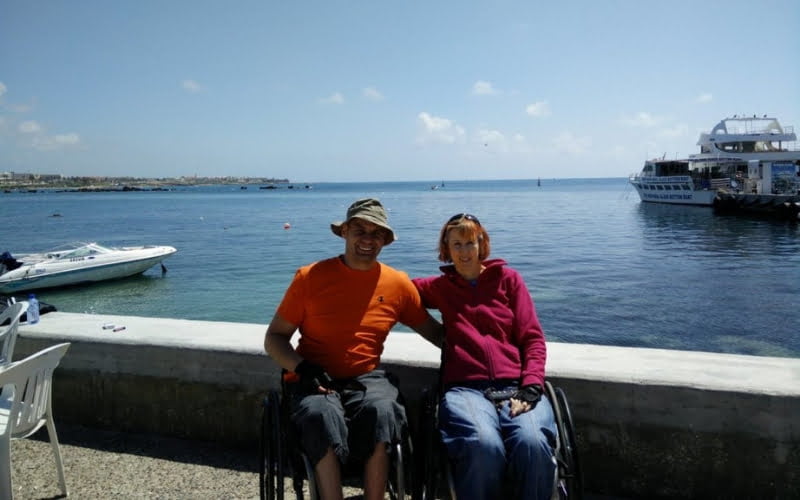 Booking accommodation – is it really accessible?
Don't be scared to use mainstream tools like booking.com and trivago, but make sure you select the accessible search option. These sites will request that option, but you should always follow up with the accommodation provider directly for confirmation. AirBnB has a filter option for accessible accommodation too, but it's worth checking your potential host's reviews and cancellation policy, as some hosts may cancel your booking with little notice.
Holiday Inn, and all IHG hotels, will provide a free room for a carer if you ask. Premier Inn, Travelodge, Hilton, Ibis Hotels, Novotel (Sofitel), Crowne, Best Western, Marriott and Radisson Blu all offer accessible bedrooms.
It pays to do your research. Before you book, contact the accommodation provider directly and ask for pictures and investigate all room options. Don't make assumptions; ask all the questions you need to know *. There may be a wet room and a lift but are there steps into the main entrance? The more confident you are with your arrangements, the more you'll look forward to the trip. Be prepared to adapt, as things may not go entirely to plan but people are generally helpful and keen to assist if they can.
If the bed is too low, improvise: raise the bed with bed raiser blocks, or lift the mattress up and put spare blankets underneath. If you need extra pillows and towels ask when you check in at your hotel, or make a note in your booking.
*If you're unsure which questions to ask, here's an example of a hotel accessibility enquiry (which you could adapt for your own purposes).
Travelling with luggage:
A wheelchair caddy is two small pegs that attach to the frame of your wheelchair and can be used to carry luggage on the front. You can also secure your luggage to your chair with bungee cords. Pack cleverly – keep things you need to access quickly in a side pocket or the top of the bag. If you're travelling alone, only take what you can manage.
If you need your hands free to walk with crutches, or push a wheelchair, use a backpack or small bag with a cross body strap. If you're a wheelchair user, you can also use under seat storage and hook a backpack on the back of your chair (see images below).
EU regulations stipulate that you can take up to two pieces of mobility or medical equipment free of charge on flights within the EU. But always double check with your airline, especially if you're travelling further afield.
Research renting a shower chair from a mobility equipment company in the country you're visiting. If this proves difficult, consider taking your own shower chair or purchasing a travel shower chair (which can be expensive).
Research renting a hoist if you can't travel with one. It's advisable to bring your own sling even if you plan to hire a hoist. Further information can be found on the ceiling hoist user club
Keep your medical supplies both in your hand and hold luggage in case of loss. Bring a list of your medication with you in case you need to replace anything that you lose. Be prepared for the cost of purchasing medical supplies abroad.
Care and personal assistance on holiday:
First speak to your care agency to find out what they are able to offer.
Search online for Personal Assistants (PAs) willing to travel. You can also hire directly through services like 'PA pool'.
Make sure your PA is covered by travel insurance or their agency, as they are working and need to be covered for the duration.
Be clear with your PA what expectations you have of them on your holiday. Some people choose to have a family member as a PA on holiday. Talk through how that would work and how it might affect your relationship (especially if they haven't been your PA before).
Bear in mind extra costs that will be incurred travelling with a PA – travel, accommodation, food etc.
Travel insurance:
Do your research. Find out what is and what isn't covered by your policy and make plans accordingly.
When applying for travel insurance, make sure you disclose infections, medical conditions and risks. Don't lie about your medical history, as this will invalidate your insurance.
Make sure your wheelchair is covered by your contents insurance or a wheelchair insurance policy in case it gets damaged abroad. Be explicit about the cost of your wheelchair.
If you put your medical equipment in your hold luggage and it goes missing you can claim it from your insurance. If your airline looses your baggage, they may be liable for covering the costs of the medical supplies you need in the interim, but make sure you always consult with the airline first.
Apply for a free European Health Insurance Card (EHIC) which gives you the right to access state-provided healthcare during a temporary stay in another European Economic Area (EEA) country or Switzerland. The EHIC card is free and you can apply online. Don't let second party sites make you pay to get one (this card is still applicable to UK residents, but keep abreast of Brexit negotiations in case this changes in the future).
Car hire:
You can take your mobility vehicle into the EU as long as you have your VE103 certificate of ownership. For more information on using your motability vehicle abroad, visit their website.
Wheelchair accessible vehicles are available to hire abroad – look for reputable companies, not just the cheapest one on offer.
Make a note of the measurements of your chair and the height at which you sit then send this information to the hire company to make sure the vehicle is suitable.
If you're driving with hand controls, make sure you're familiar with the type of controls in the car you're hiring.
If you have any further questions about travelling, please contact our Outreach team at outreachandsupport@backuptrust.org.uk or call them on 020 8875 1805. You can also visit the websites below for further information.
Additional resources and travel links: